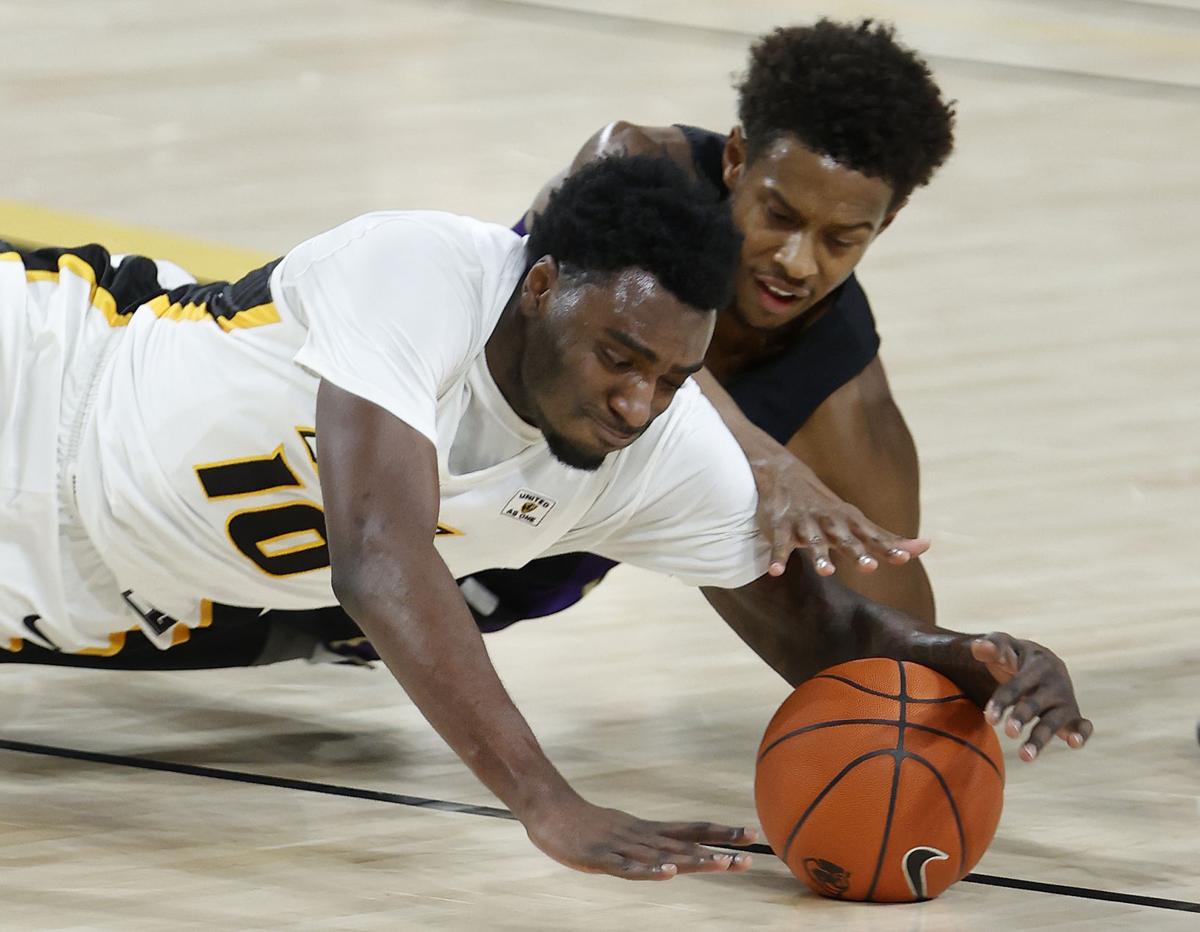 In the days ahead, coming off its narrow escape of a victory over James Madison Tuesday, the tape from the game will turn into a tool for VCU.
The Rams had been cruising before the final six minutes Tuesday. Coming in, they won a string of games by margins of 18, 36, 23 and 25 points. And they were up by 20 in the second half against the Dukes.
But unlike the previous four games, discipline slipped mightily in the closing stretch Tuesday. While JMU was rallying in that last, six-minute period, VCU went 1 of 5 from the field leading up to an important stepback jumper by Vince Williams with about 41 seconds to go, after the Dukes cut the Rams' lead to 3. Turnovers mounted, too.
VCU coach Mike Rhoades, after the game, credited JMU for not quitting but also expressed how his team hurt itself, too. There was some poor shot selection, he believed, a symptom of getting loose — letting the foot off the gas — with a lead.
But heading into the start of Atlantic 10 league play next week, the sequence of events Tuesday may reveal itself to be a gift in disguise.
"I'm not going to say I'm glad it happened, but I'm glad it happened. Right?" Rhoades said. "Because we can watch tape and say, 'OK, situation, we're up 12 with the ball, we just get a great stop, we come down and have a lousy turnover.'
"Or, 'First pass into the offense, with four minutes left on the clock and we rip it and travel on the first pass. That's not smart basketball, that's not disciplined basketball. That's not what we do, not what we talk about.' Those are learning experiences."
VCU surrendered 10 of its 17 turnovers in the second half, and most of those occurred in about the last 11 minutes of the game.
Despite the Rams' propensity for forcing opponent turnovers, turnovers allowed has been a weak point, and it reared its head Tuesday. VCU entered the contest giving the ball up 14.8 times per game, tied for 216th in the country.
Rhoades would prefer that number to be in the 10 to 12 range.
"We just had some ill-advised turnovers, bad-timing turnovers," he said. "And as much as the turnovers, I thought we took some poor shots [Tuesday]. Or shots that some of our guys don't take, or don't work on."
The fouls racked up, too. VCU committed 20 of them, though JMU didn't fully take advantage. It could've been a different game if the Dukes did — they went 15 of 27 at the line.
That, to Rhoades, was another symptom of the slip in discipline.
JMU, after struggling offensively at times in the first half, wound up with 50 points in the second half. That was the most the Rams allowed in a half since Rhode Island scored 50 points in the second half in a 71-65 VCU loss in January 2019.
VCU had done a good job maintaining big leads before Tuesday, though. And it seemed after the game, in the postgame press conference, that the follies against the Dukes were already sinking in.
KeShawn Curry called it a teaching point.
"Don't allow your opponents to come back. And don't allow them to get easy baskets. Finish games," he said. "Step on their neck while you're ahead. We were up 20, we let them score 50 points in the second half. So that's not us."
And while Rhoades wasn't happy with the close final score, he was glad the Rams got an experience like they had Tuesday.
They faced the most adversity that they have in a while, and now it'll be something to learn from.
"This will recalibrate you a little bit and say, 'Alright, we got to get back to what we're good at and do a little bit better,'" Rhoades said.
(804) 649-6442
Twitter: @wayneeppsjr