VCU guard/forward David Shriver says there are two stoplights in his hometown of Philippi, West Virginia.
The city's webpage notes it was the site of the first land battle of the Civil War, and it has three banks and the famed Covered Bridge, "the only two-lane covered bridge in the federal highway system." Located in the northern part of the state about an hour from Morgantown, it's a college town, home to Division II Alderson Broaddus University.
With a population of 2,870, Shriver said there really wasn't a lot to do growing up except play basketball.
"There's a bowling alley," he said. "That's about all the extracurricular activities you can find out there."
Shriver was maybe 5-foot-10 as a freshman at Philip Barbour High, so he spent hours working on his shooting with his father. His mother is a teacher at the middle school, and he and his father went there a lot, often putting up about 1,000 shots a day.
Shriver grew to 6-2 early in his junior year, then 6-4 by the time he finished his senior year, when he averaged 21.6 points and was a Class AA first-team all-state pick. But Division I opportunities for players from Philippi have been rare, he said, and none came for the sharpshooter.
"I didn't get much exposure out there, just playing in small town," he said.
Shriver stayed home and took the only route available, going to nearby Alderson Broaddus. He made 215 3-pointers in three seasons, shot 40.3% from behind the arc and averaged 12.4 points.
"Great people," he said. "They taught me a lot."
Yet Shriver yearned to play in Division I. His Alderson Broaddus coaches sent out tapes. Division I Hartford took notice.
The Hawks had just gone to their first NCAA tournament. Shriver saw a fit and accepted.
Not long after, he was blindsided.
Hartford's Board of Regents announced it was transitioning its athletic programs from Division I to Division III by Sept. 2025 to better align with the school's mission and goals.
Shriver still managed to lead the America East Conference with 88 3-pointers, shooting 41.3% behind the arc while averaging 10.7 points.
"The coaches were good, the community, the players, it was all nice people. I enjoyed my time there," he said. "Just some unfortunate events occurred, and it was best for me not to stay there.
"It opened this amazing opportunity that I have now that I'm very, very grateful for."
With a COVID year available from the NCAA, Shriver went into the transfer portal. VCU was in search of a guard/forward shooter. With some coaching connections at Hartford, the Rams went after the 6-6, 220-pound Shriver.
He also considered Western Kentucky and Marshall, but VCU associate head coach Jamal Brunt stayed after Shriver. The Rams sold him on how they could deploy him and help him become better this year, as well as what they could do for him in the future as a potential pro.
"This has been a winning program for years," Shriver said. "That's a big reason. They said it's a basketball town, people love it here. So I came here. I want to spend my last year winning."
Shriver had some moments in the nonconference portion of the season for VCU, but he struggled overall to find consistency on his 3-pointers.
He made 9 of 23 treys in the first four games, then went through a stretch of seven games where he was 4 for 27. His coaches and teammates kept telling him to shoot, infusing confidence.
"I felt like I needed to make some shots," he said. "That's what I'm here to do.
"They just kept telling me, 'We know what you can do.' But they've always told me, 'We believe you're more than that. Even though you may not hit shots, there's other things you really impact for us.' That kind of relieved some pressure to know that."
The pressure valve blew open against Davidson on Jan. 7 at the Siegel Center. Shriver nailed 6 of 8 3-pointers, some from the nothing's-too-deep range reminiscent of Troy Daniels, while displaying the kind of can't-stop-him hand opponents fear from a pure shooter. Following his lead, the Rams made 15 of 24 treys in an 89-72 victory.
He followed that by going 3 for 3 from deep in a 78-64 victory at Loyola Chicago.
Shriver had his biggest moments Friday at preseason A-10 favorite Dayton. With VCU trailing by 14 at halftime, he buried six 3-pointers in the second half, helping pull the Rams back for a 63-62 victory.
"He's just more comfortable with what we're doing," VCU coach Mike Rhoades said. "He's never played defense the way we have and played as hard as we do. It's been a huge adjustment for him and some of the new guys. It's taken a little bit of time.
"I've been impressed with his effort and his approach. It's not surprising that it's led to him shooting the ball so well."
The surge has pushed Shriver's 3-point shooting percentage to 39.5 and his average to 7.2 points in 18.7 minutes going into Tuesday's game against Massachusetts (11-6, 2-3 in A-10) at The Siegel Center. He's been a huge part of an improved Rams (13-5, 4-1) team that has won eight of its past nine games.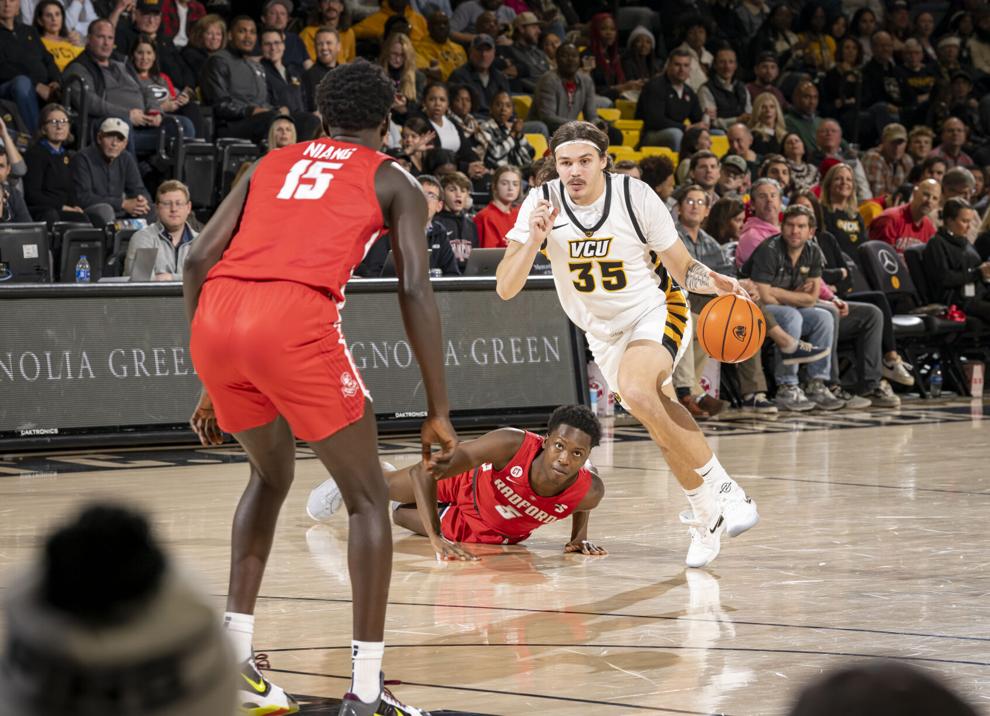 "This is the most confident I've felt about myself as a basketball player in a long time," he said last week. "That's really what I was kind of hoping and expecting coming in, to be the best basketball player that I've been throughout my college career. I feel like that's definitely starting to take place."
His goal is to play professionally somewhere. And then he hopes to do something to give back to his community in Philippi.
"It's so small there," said Shriver, whose parents Randy and Tina go to every Rams game.
"To hopefully eventually start my own gym and a training kind of thing and be able to give back to the kids that didn't have access to things. … I had my father of course, which is basically a free trainer, but being able to have access to something like that locally is something I wish I could have had."