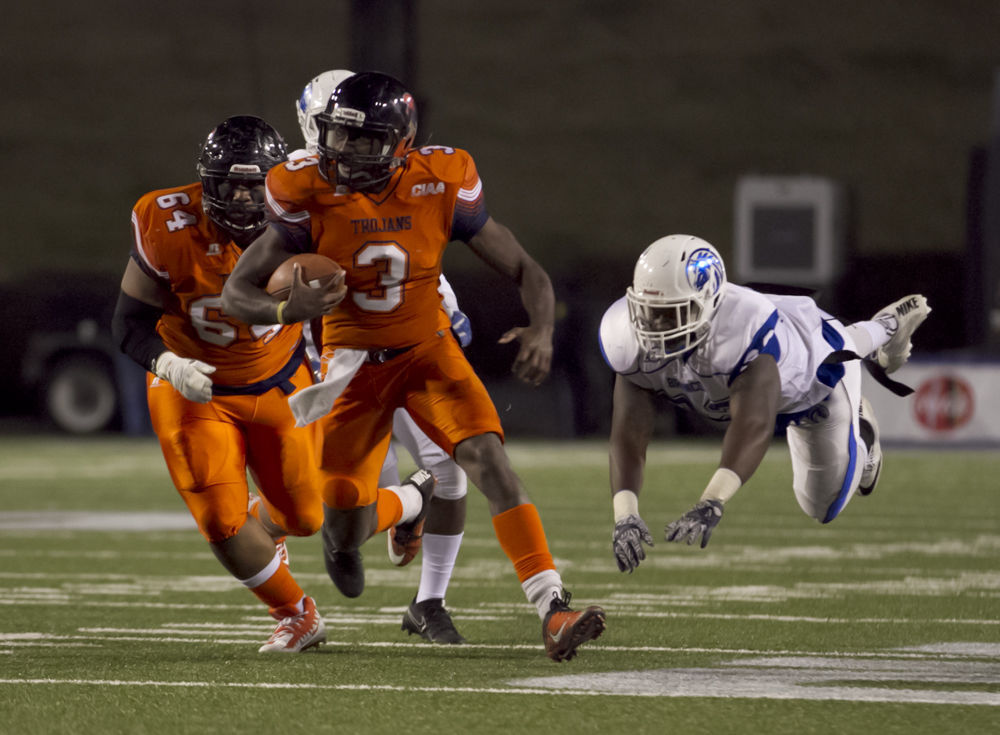 Virginia State's football team is having a season for the record books.
When the Trojans, 10-0 for the first time, host West Georgia on Saturday in the first round of the NCAA Division II playoffs, it will mark just the second home playoff game in program history. The first came in 2014, the team's last playoff appearance, when the Trojans hosted LIU-Post and won 28-17.
The Trojans (7-0 CIAA) got a home playoff game and a No. 2 seed after beating Fayetteville State 42-19 in the CIAA championship last Saturday.
Virginia State coach Reggie Barlow said playing at home this week will provide an advantage.
"An opportunity to not have to travel and to be able to practice here all week, walk through here on Friday, is a blessing," Barlow said.
On paper, Virginia State appears to have an edge.
Led by running back Trenton Cannon, VSU's all-time leading rusher, the Trojans have the fifth-best rushing offense in Division II with 275 yards per game. Cannon has racked up 1,573 yards and 17 touchdowns this season, while quarterback Cordelral Cook averages 72 yards per game and has 18 rushing scores.
West Georgia (8-3, 5-3 Gulf South) runs a 4-2-5 defense, a formation that features five defensive backs and is typically built to defend passing offenses. The Wolves, a No. 7 seed, have the 47th-ranked rushing defense in the nation at 132 yards per game.
"They're smart coaches," said Barlow. "They ain't got this far without knowing their opponent.
"I imagine they'll have a plan to prevent us from running it by probably adding another guy down in the box."
The Wolves are dangerous because many of their players are transfers from Power Five conferences, such as the SEC and ACC, Barlow said. Leading receiver Shaq Roland spent two seasons at South Carolina, while starting linebacker Korie Rogers started at Clemson.
The home game will be a special treat for Virginia State fans, who have seen the Trojans play in Rogers Stadium just three times this season.
For the team, Barlow said the game provides an opportunity for "free football."
"It's extra innings for us," Barlow said. "You get the regular season, but you earn the postseason."
Kickoff is scheduled for 1 p.m. at VSU's Rogers Stadium. If the Trojans win, they will host the winner of Wingate and West Florida in the second round.
804-649-6891
@CharlieBroaddus