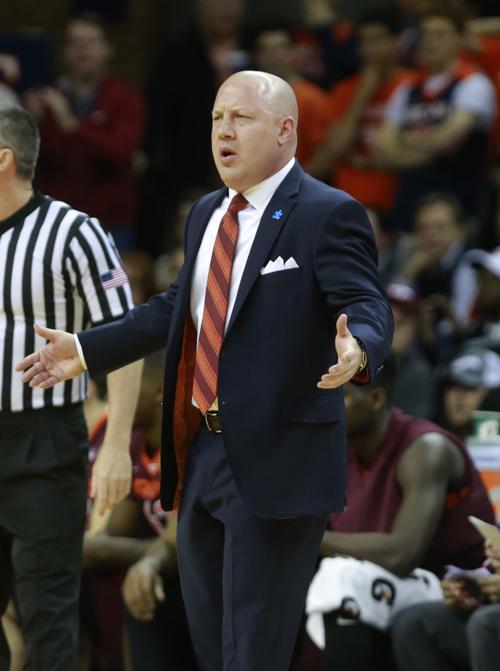 BLACKSBURG — The calendar says it's February, but Buzz Williams spent the weekend pushing his Virginia Tech basketball team through rigorous practices the coach normally reserves for October.
"I did not think that we competed at the level that we needed to compete at Virginia," said Williams, whose Hokies were roughed up at rival U.Va., 71-48, last week. "We took Thursday and Friday off. We went incredibly hard on Saturday. We went incredibly hard on Sunday."
The time off from practice gave Williams, whose team plays at Miami tonight, the chance to reflect on his own approach the past few weeks and the always-introspective coach said the blame for the breakdown in effort and intensity may lay at his feet as much, if not more, than the players'.
Williams said his up-and-coming team needs to play "incredibly hard," "together" and "tough" to have a chance to compete in the ACC. In recent games, Williams said he focused more on making tweaks and adjustments to the game plan than making sure his players were ready to check those to-do items of the list.
The Hokies (16-6, 5-5 ACC) have played more zone than Williams' preferred man-to-man, and have shuffled starting lineups. While the X's and O's may have been sound, Williams thinks the team hasn't had the fire it needs.
"I think we've lost a little bit of that," Williams said. "I think the reason why is, because I personally got too caught up in, if we can do this and we can do that and we can do this, then it will work out perfect. It's not fairy tale land in this league. You have to stay true to your convictions."
Tech has lost two of its past three games and has been outscored 729-659, going 4-5, since its Dec. 31 upset of then-No. 5 Duke.
One of the Hokies' biggest issues has been rebounding. They rank next to last in the 15-team ACC in rebounding margin, getting outgained on the glass by an average of 1.3 rebounds.
Tech has been outrebounded in seven of its 10 ACC games.
Things don't get easier tonight in Coral Gables. Miami (15-7, 5-5) is second in the league in rebounding margin, outworking opponents by 6.7 rebounds per game, and second in offensive rebounding percentage.
"When the shot goes up, if you're second in our league in offensive rebounding, that's as much mentality as it is talent, skill and heart," said Williams. "It's the combination of all those things."
All of those things are what make Miami senior forward Kamari Murphy one of the conference's top rebounders, Hurricanes coach Jim Larranaga said.
Murphy ranks seventh in the ACC in rebounding, averaging 7.9 boards, and seventh in offensive rebounds (2.9 per game). At 6-foot-8, Murphy is far from the biggest player crashing the boards in the conference. But Larranaga said he's one of the most driven.
"He thinks 'rebound,'" Larranaga said. "Whether we shoot it or the opponent shoots it, his mindset is, 'Hey, I have to get in there and get the rebound.'"
Part of that mindset, Larranaga said, is the belief that defense doesn't end until the other team no longer has the ball. In that regard, the former George Mason coach compared Murphy to an ex-NBA All-Star.
"Like Dennis Rodman was, I think Kamari's got to be one of the top three or four defenders in the league, the way he guards people," said Larranaga. "And defense doesn't end until you get the rebound."