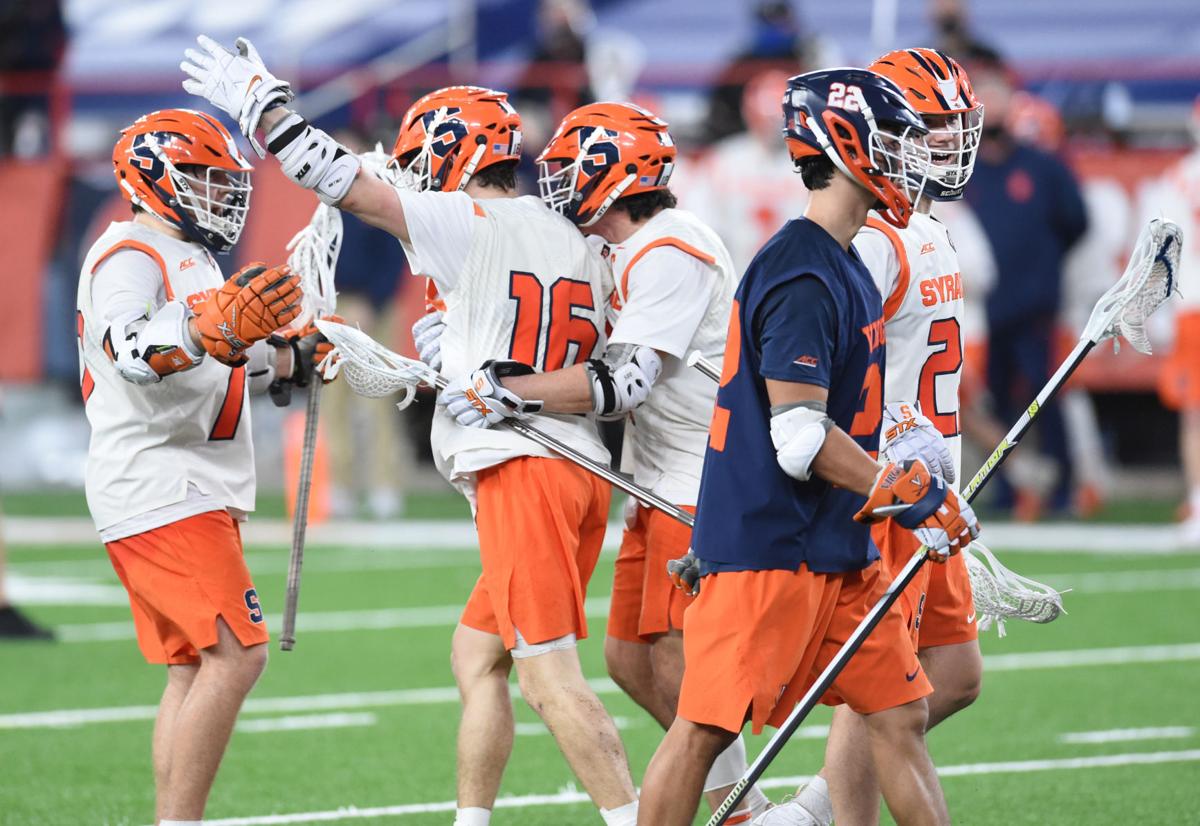 Going into Saturday night's Top 10 lacrosse showdown between No. 3 Virginia and No. 10 Syracuse, a graphic circulated on social media touting just how incredibly close the rivalry has been since the first meeting in 1938.
The two teams had split their games 18-18, and even the goals scored were dead even – 466-466.
It wasn't nearly that close Saturday at the Carrier Dome.
The Orange outscored Virginia 11-3 in the second half and won 20-10, its most lopsided victory in the all-time series. It's also the largest margin of defeat in the regular season for UVA coach Lars Tiffany in his five year tenure in Charlottesville.
"There were a lot of things that didn't go well today," said Tiffany. "There's a lot of face-offs they won. There's a lot of extra loose balls they picked up. And we weren't comfortable in our clear. It just felt like Syracuse was a step ahead of us all game."
Junior midfielder Brendan Curry, sophomore midfielder Tucker Dordovic, freshman attack Owen Hiltz and senior attack Stephen Rehfuss all scored three goals for Syracuse (1-1, 1-0 ACC), which bounced back from its season-opening 18-11 home loss to Army.
"They played like a team that was trying to avenge something," said Tiffany. "(Coach John Desko) got that team to bounce back in great fashion."
Syracuse had 39 shots on goal, to Virginia's 23, and controlled faceoff draws 22-11 in the game.
Senior attack Ian Laviano scored three goals for Virginia (3-1, 0-1), which got two each from senior attack Charlie Bertrand, sophomore attack Payton Cormeri and freshman attack Connor Shellenberger.
Senior attack Matt Moore didn't score, seeing his 29-game goal streak come to an end in the ACC opener for both clubs.
"They did a good job engaging him," said Tiffany. "They were able to tie up his hands and not leave a defender on an island. They did a nice job there."
Senior goalkeeper Alex Rode, who missed the past two games, returned to action Saturday and made big saves in the third quarter – including two on Dordevic – that helped keep UVA in the game. Rode finished with 18 saves.
"They took it to us today," said Rode. "They were shooting well and getting a lot of shots. I was giving up a lot of rebounds, giving a lot of second opportunities."
Things started in the traditional tight fashion between the two national powers.
Laviano's second goal of the night tied the game 7-7 with 5:28 left in the first half, but Syracuse scored twice before the break, including a goal from Stephen Rehfuss with 26 seconds left, to take a 9-7 lead to the locker room.
UVA trailed 13-8 in the third quarter after sophomore Tucker Dordevic's goal with 8:22 left in the period.
Laviano tried to spark a comeback, taking a pass in the crease from Shellenberger and scoring to cut the deficit to 13-9 with 6:34 left in the third. Sophomore defender Scott Bower followed with a goal to pull Virginia within three, but that would be the last time the Cavaliers found the back of the cage.
The two teams are scheduled to meet again on April 24 in Charlottesville.
UVA opens a four-game home stand next when it hosts High Point in a non-conference game Wednesday.
"How do we react to getting knocked down?" asked Tiffany. "We got knocked down hard."