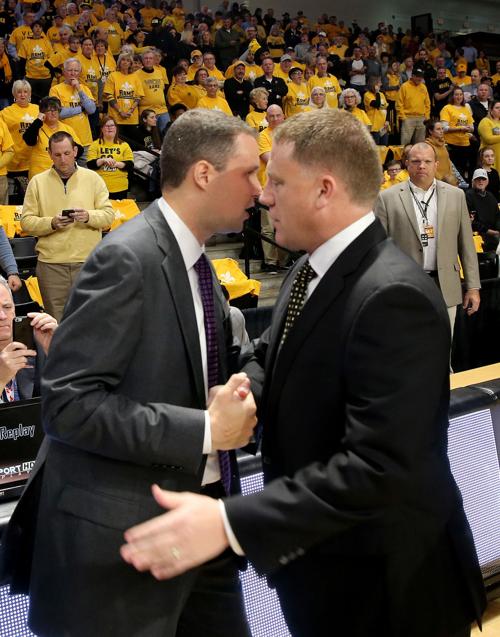 The second round of VCU vs. LSU will not happen after all.
The matchup, the second in a home-and-home series between the schools that was activated when coach Will Wade moved from VCU to LSU in 2017, originally was scheduled for this past December.
But it didn't take place, as LSU dealt with COVID-19 issues within its program.
Now the game is not slated to be made up either.
CBS Sports' Jon Rothstein first reported the development Monday afternoon, and it was confirmed by The Times-Dispatch.
"LSU is not on our schedule," Ed McLaughlin, VCU vice president and director of athletics, said in a statement.
According to an LSU spokesperson, "We wanted to play the game, but VCU did not."
The series came about via a clause in Wade's contract at VCU that's been a routine inclusion in the school's pacts with its men's basketball coaches dating to Jeff Capel (2002-06). If a coach leaves VCU for another school, the clause stipulates that the hiring school has to play the Rams in a home-and-home series, unless it chooses to buy out the games. Wade was VCU's coach from 2015 to 2017.
VCU and LSU contested the first game of their series in November 2019 at the Siegel Center, and the Rams upset a Tigers team ranked No. 23 in the AP Top 25 84-82.
But the second bout, scheduled to be played in Baton Rouge, was a third consecutive game LSU scratched this past December because of COVID-19 protocols. Wade tested positive for COVID-19 that month and missed time.
The date of last season's matchup was supposed to be Dec. 22. VCU coach Mike Rhoades said that the Rams tried to move the game to Dec. 23 or Dec. 24. But it didn't work out, and the Rams scheduled a home game against James Madison for Dec. 22 instead.
That, at the time, left the status of the second game of the series as to be determined. Now it's not on the table.
LSU will not be paid for the canceled game, according to school spokesperson. The contract between VCU and LSU, agreed to in November 2018, states that, "If either of the parties to this agreement seek cancellation, it shall be agreed to by mutual consent with adequate notice provided in advance. If this agreement is breached by either party for failure to appear and participate in the game(s) provided for in this agreement, the breaching party shall pay to the nonbreaching party an amount of $50,000 to offset the damages caused as a result of the failure to appear."
(804) 649-6442
Twitter: @wayneeppsjr