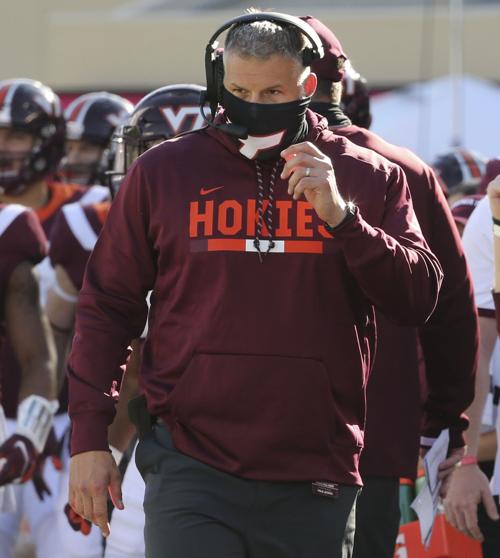 Justin Fuente will remain football coach at Virginia Tech, multiple sources told the Richmond Times-Dispatch on Monday evening.
Athletics director Whit Babcock is expected to announce the decision Tuesday when he speaks to the media.
Questions circled around the future for Fuente, who is just 19-18 the past three seasons, as his team endured a late-season four-game losing streak. But Saturday's win over rival Virginia and a buyout that drops from $12.5 million to $10 on Tuesday apparently were enough to keep Fuente in Blacksburg for at least one more year.
Babcock's failure to offer any public statement of support for the beleaguered coach, especially with the NCAA's early-signing period set to begin Wednesday, further fueled speculation that Tech might make a change.
It also raised questions about the relationship between the coach and AD after Fuente interviewed for the Baylor job in the offseason. Word of his dalliance leaked to the media, potentially fracturing the relationship on both sides.
For his part, Fuente said he believes he's done right by the "list of people" who matter to him.
"I understand coaching football at Virginia Tech and I understand it's important to a lot of people," Fuente said. "But I don't concern myself with anybody other than a small group. That is the players, our coaches, the staff. That's my family, and it's God. I sleep really well at night if I'm in line with those people."
Even after a trying six-month run through stressful COVID-19 protocols, a four-game losing streak and swirling rumors about their coach's future, Virginia Tech's football players had no trouble getting emotionally up for Saturday's regular-season finale.
And sure, finding motivation for the annual rivalry clash with UVA shouldn't be too hard to do, but throughout Fuente's tenure as Tech's coach, playing hard has been a hallmark of the Hokies, something that figures to factor into the school's decision to keep the coach or move on.
"I take a lot of pride in what we try and do and how we try and teach it," Fuente said after Tech's 33-15 win over Virginia on Saturday night. "And I know there's a bigger picture of what we do on a daily basis, and I get wins and losses and those are important to me too. But really, our job is different than that. And we all take a lot of pride because we're actually in this for the right reasons. And we played against another coach today that's in it for the right reasons too, I can tell you that much. And we enjoy pushing and helping and trying to get the best out of young people, and I do take pride in those things. And I think our kids should, too."
For a program that takes pride in grit, some of Fuente's team's grittiest efforts have come in the final weeks of the regular season. Tech is 8-2 in its final two regular season games the last five years under Fuente, with one of those losses coming this year to No. 3 Clemson.
In 2016, Fuente's first year after taking over for the retired Frank Beamer, Tech ended the year with a thrilling comeback win at Notre Dame, erasing a 17-point deficit. It followed that with a romp over UVA.
In 2017, it closed out the regular season with wins over Pittsburgh and Virginia, the former culminating with a goal line stand to deny the Panthers a game-winning score.
For emotional fortitude, perhaps no conclusion can match 2018's last two regular-season games. At 4-6 and mired in a four-game slide, the Hokies had to beat UVA and then an additional game against Marshall, tacked on to replace the East Carolina game that had been canceled because of Hurricane Florence.
A loss in either contest would have ended the program's streak of bowl appearances, a run that began in 1993 under Beamer.
Fuente's team pulled out an overtime win over the Cavaliers, then hammered Marshall 42-20 to earn a trip to the Military Bowl.
Saturday, this year's Hokies — who have endured all that's come with playing college football in a pandemic, including playing the first two games down dozens of players — turned in a resounding performance against UVA.
After the win, safety Divine Deablo expressed his support for his coach.
"I love him," Deablo said. "He's just a people person. I love him, I'm proud of him and I'd do anything for the guy. Going back, I think I came in with Fuente. I was being recruited and I came in with Fuente. Every step of the way, he's had my back, and I appreciate it."
The team's effort level against UVA didn't surprise Fuente.
"I see our kids every day, guys. I know what they are doing. I know how hard they are working," Fuente said. "I know how much they care. They know how I feel about them too. It's a cool group. Again you can talk about the record, the close losses or whatever, but the bottom line is through incredibly adverse circumstances these kids stuck together and tried to play their tails off for each other and for Virginia Tech. I would saying the same thing if we hadn't won. They should be commended."