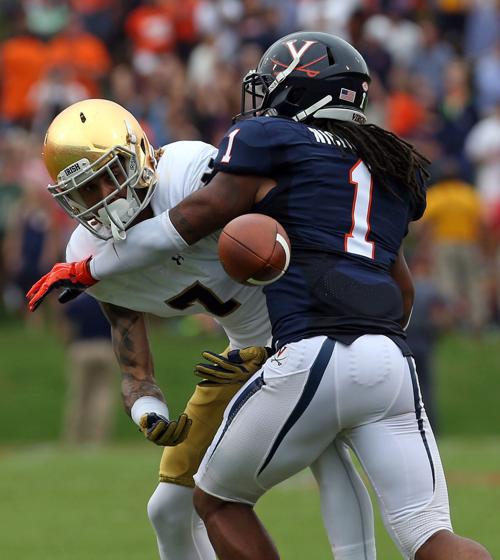 Impromptu, late-night business meetings often coincide with ominous news, and such was the case Thursday when the ACC's 15 athletic directors gathered virtually.
The Big Ten had just adopted conference-only schedules for all fall sports, erasing marquee football dates such as Penn State at Virginia Tech, Ohio State at Oregon, Michigan at Washington, and Notre Dame-Wisconsin at Lambeau Field. With a relentless pandemic diminishing the prospects for fall seasons by the day, the ACC group debated whether to follow suit.
Competing solely within your conference affords total control over COVID-19 precautions, creates scheduling flexibility, saves money on guarantees and has been among the options leagues have considered since sports shut down in March. The ACC has outlined that contingency, but the consensus Thursday was to delay any decision.
Commissioner John Swofford told me in April that the ACC likely would include Notre Dame in a conference-only football plan, and he reiterated that probability during a virtual news conference in May. In light of the Big Ten news, I tweeted a reminder of the ACC-Notre Dame linkage late Thursday afternoon.
Reaction was immediate, considerable and decidedly negative. Which is a shame, because Notre Dame's partial ACC membership has elevated both parties from the start, especially the conference.
"Partial" is the word that irritates the anti-Notre Dame contingent.
The Fighting Irish joined the ACC in 2013 for sports other than football, the latter a program that has never belonged to a league. Those who govern Notre Dame and manage the athletic department have treasured that football independence — and the national scope it provides — for generations, and that's unlikely to change.
"We didn't bring Notre Dame in with the assumption they would bring football," Swofford told me late last month. "That's never been the case."
Then why invite the Fighting Irish in the first place? Yes, Notre Dame fields quality Olympic sports teams and has won national championships in women's basketball, men's soccer and co-ed fencing since joining the ACC, but what is the economic value?
Let's count the ways, and the money.
Annual ACC media revenue has increased 96.9%, from $146.6 million to $288.6 million, since Notre Dame's arrival. The Irish aren't solely responsible for the escalation, but their role was XXL.
Here's why: Per its commitment to play, on average, five ACC football opponents each year, Notre Dame has visited every league city except Atlanta during the last six seasons — that omission is scheduled to be remedied Nov. 14 when the Irish face Georgia Tech in Mercedes-Benz Stadium. Those games are part of the ACC's television package.
Notre Dame men's and women's basketball, plus its Olympic sports, also enhance the league's TV appeal. Indeed, the Irish's presence was invaluable in stabilizing conference membership and convincing ESPN to partner on the ACC Network that launched last August.
But it's not just television revenue. In the last six seasons alone, Notre Dame has sold out football stadiums at Virginia Tech, Virginia, Florida State, N.C. State, Clemson, Boston College, Syracuse, Miami, Pittsburgh, Louisville and Duke.
The 2019 opener between Notre Dame and Louisville attracted a Cardinal Stadium record 58,187, and two months later, the Irish drew 40,004 to Duke, the Blue Devils' first capacity crowd since Wallace Wade Stadium was reconfigured in 2016. Notre Dame has also sold out off-campus venues Fenway Park and Met Life Stadium (East Rutherford, N.J.) for games against Boston College and Syracuse, respectively.
Finally, there's March Madness money. Thanks in large measure to Elite Eight appearances in 2015 and '16, Notre Dame men's basketball has contributed 10 NCAA tournament units to the ACC, valued at approximately $16 million.
The Irish are fleecing their ACC colleagues? Hardly.
Notre Dame's average annual share of conference revenue is $6 million. That's a meager 3.5% of the $169.5 million in athletics revenue the Fighting Irish reported to the U.S. Department of Education for 2018-19.
In the most recent six years for which the ACC's tax forms are available, Notre Dame's entire take is $35.9 million. The Irish's NCAA tournament units alone account for nearly half of that "cost" to the conference.
During the same span, the ACC's 14 full-time members received, on average, $154.2 million, more than 400% north of Notre Dame's share.
Let's also not forget there's a keen appreciation for the Fighting Irish's independent streak among ACC leaders. Wake Forest president Nathan Hatch served on Notre Dame's faculty and as provost; Duke athletic director Kevin White held the same position at Notre Dame; North Carolina AD Bubba Cunningham and N.C. State AD Boo Corrigan are Notre Dame graduates and former UND administrators.
I understand the optics. The Fighting Irish have their own television contract for home football games with NBC, cling to their independence and yet land in the ACC's bowl lineup when they don't make the College Football Playoff.
Due to Notre Dame's national brand, that access occasionally relegates ACC teams to lower-rung bowls. But the Irish's potential availability helps the conference negotiate better bowl contracts.
Notre Dame is set to play six ACC opponents this season — Clemson, Louisville and Duke at home, Pitt and Georgia Tech on the road, and Wake Forest in Charlotte, N.C. — and folding the Irish into a conference-only schedule is certainly doable.
"If they're willing to share their [NBC] money, sure," Duke coach David Cutcliffe said Friday of including Notre Dame in a conference-only season. "You don't get something for nothing. I would welcome them as a coach to be a part of ACC football."
Many ACC fans concur. They see this summer's football scheduling chaos — the Pacific 12 announced Friday that it, too, will play only league opponents, costing UND traditional contests against Southern California and Stanford — as an opportunity to strongarm Notre Dame into full membership with an all-or-nothing edict.
Not going to happen. Nor should it. The Irish more than carry their weight.
Moreover, their independence is about culture, not economics. They'd likely make more money all-in with the ACC.
Now if Notre Dame, contracted with the ACC through 2035-36, had an epiphany and asked ACC officials for full membership?
As Swofford has often said, always with a wry grin: "That would be a short conversation."