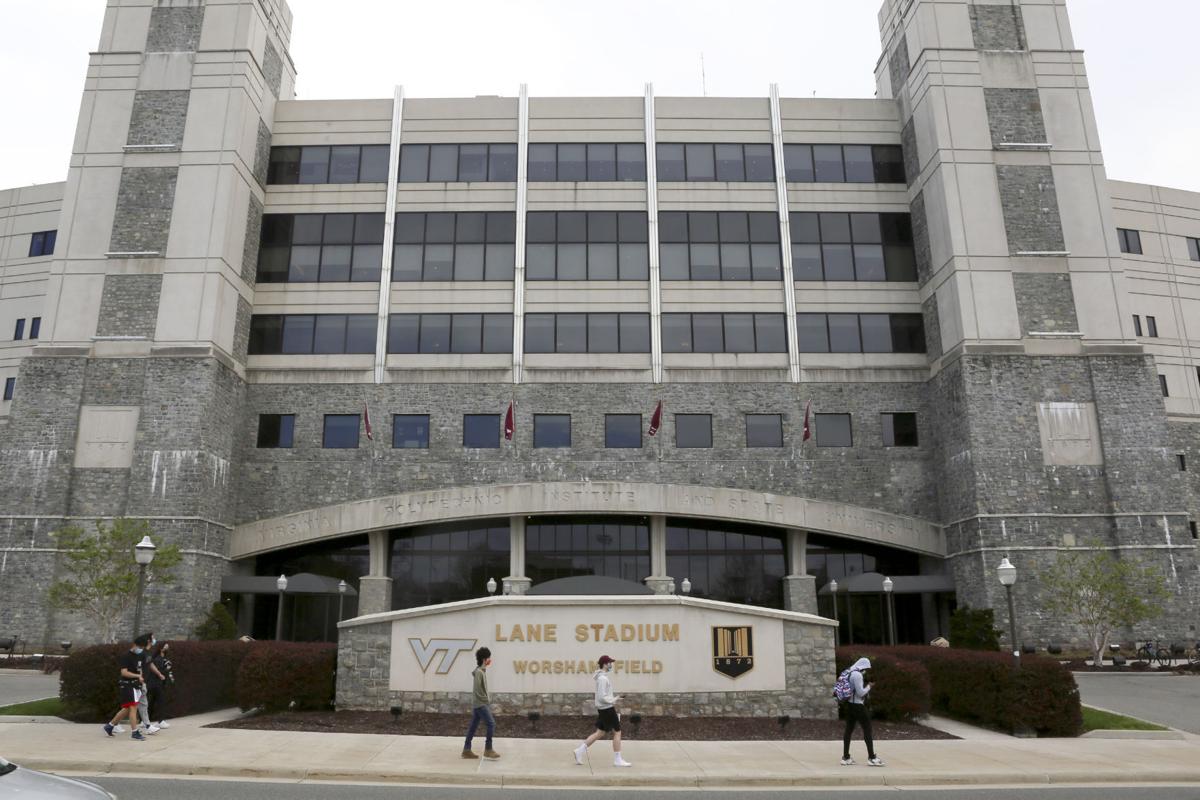 Expenses by school
| School | Revenue | Donations* | Tickets | Expenses | Sports | FB Asst.** | FB support*** |
| --- | --- | --- | --- | --- | --- | --- | --- |
| Clemson | $129.9M | $43.4M | $29.9M | $131.8M | 19 | $8.7M | $7.2M |
| Florida State | $129.5M | $36.8M | $17.3M | $155.7M | 20 | $7.0M | $3.6M |
| Ga. Tech | $86.4M | $11.M | $10.4M | $96.1M | 17 | $4.5M | $1.7M |
| Louisville | $140.9M | $30.4M | $27.5M | $138.8M | 23 | $4.6M | $2.4M |
| UNC | $110.4M | $21.6M | $24.8M | $113.0M | 28 | $5.8M | $2.7M |
| N.C. State | $86.6M | $15.1M | $23.5M | $88.7M | 23 | $4.9M | $3.0M |
| Virginia | $110.3M | $27.7M | $15.5M | $111.8M | 27 | $4.6M | $2.8M |
| Virginia Tech | $99.2M | $21.8M | $19.2M | $97.5M | 22 | $4.3M | $2.3M |
When Justin Fuente first became a head college football coach, nearly a decade ago at Memphis, he was confident in all his abilities — except fundraising.
"After about a year and a half," Fuente said, "I realized I'd better be OK asking people for money."
Entering his sixth season at Virginia Tech, Fuente and the university's administration are asking current and prospective donors to fund enhancements to the athletic department's budget that would make the Hokies more competitive with their peers fiscally and, in theory, on the playing field.
Detailed annual financial reports filed by the ACC's eight public institutions to the NCAA and obtained by The Times-Dispatch — the documents submitted by the league's six private schools and one public-private are not available through open-records requests — reveal how far behind Virginia Tech is.
The Hokies trail in not only their overall funding but also their support of football, the financial centerpiece for all of major college sports and an economic engine for southwestern Virginia. Those shortcomings explain why Fuente, university president Tim Sands, athletic director Whit Babcock and others believe the $400 million Reach for Excellence campaign announced last week is urgent.
Their concern is well-placed. While money is not a cure-all, and while the cost of living in Blacksburg is lower than in some ACC markets, ranking last among the conference's public schools in compensation for assistant football coaches and next-to-last in compensation for football support staff is not a good look for a school whose fans treasure the sport.
"To me, it's unacceptable … and a recipe for mediocrity," said Charlie Phlegar, a lifelong Hokie and Virginia Tech's vice president for advancement.
"Evolve or die, right?" said Brad Wurthman, senior associate athletic director for external operations. "… If we wait three years, all we're doing is falling further behind. We have to make a massive leap, and then we have to stay ahead."
Each January, Division I athletic departments file a financial report of about 80 pages to the NCAA for the previous academic year. For 2019-20, Virginia Tech reported $99.2 million in revenue, $97.5 million in expenses.
Those amounts rank sixth among the ACC's eight public schools, ahead of N.C. State and Georgia Tech.
Using different accounting methods, the U.S. Department of Education's Equity in Athletics website posts data for public and private institutions, and for 2018-19, the most recent year available, ACC private schools Notre Dame and Miami, and public-private hybrid Pittsburgh, also spent more than the Hokies.
The Equity in Athletics reports do not separate assistant coach and staff compensation by sport.
Virginia Tech aspires to elevate its 2021-22 operating budget to $125 million and annually into the top five among the ACC's 15 schools. The fundraising drive targets several areas, including a $75 million renovation of Cassell Coliseum, the Hokies' 59-year-old basketball arena, but the campaign's impetus was football, and a cornerstone of the effort is a $30 million football enhancement fund.
Phlegar grew up in Blacksburg, and his father, Archie, was the university's dean of admissions. Charlie graduated from Tech in 1978, and upon returning several years later for graduate school, he worked in the athletic department and spent a summer selling football season tickets.
After Fuente interviewed for Baylor's head-coaching position in January 2019 — he was tempted, in part, by the Bears' massive investment in football — Phlegar, the leader of Virginia Tech's academic fundraising since 2015, asked what he could do to help the program.
With the blessing of Sands and Babcock, Phlegar met several times with Fuente, who itemized the Hokies' deficiencies. Assistant coaches and the undermanned support staff don't make enough. Team areas such as the locker room, training room, weight room and players' lounge were inadequate.
After researching Tech's ACC and Power Five peers, Phlegar concurred. The Hokies have since opened a new football weight room and athletics wellness center, and lounge renovations are scheduled to start in July.
Fuente called the upgrades "an incredible example of Virginia Tech generosity" during a pandemic, and Phlegar has offered to tap into his donor connections to further assist funding efforts for the operating budget.
As the accompanying chart shows, Virginia Tech's reported 2019-20 revenue from donations collected and spent, $21.8 million, was fifth among the ACC's eight public institutions. Not coincidentally, the Hokies' compensation for football support staff, $2.3 million, was $500,000 less than Virginia's, not a third of Clemson's $7.2 million and more than only Georgia Tech's $1.7 million.
Salaries, bonuses and benefits for Virginia Tech's 10 assistant football coaches, $4.3 million, were $300,000 less than UVA, $1.5 million less than North Carolina and roughly half Clemson's $8.7 million.
Translation: Per assistant coach, the Cavaliers spent approximately $30,000 more than the Hokies, the Tar Heels $150,000 more, the Tigers $440,000 more.
No one at Virginia Tech is suggesting the resources Clemson, winner of six consecutive ACC championships, dedicates to football.
But when the Hokies, whose most recent league football title was in 2010, lag behind Coastal Division rivals Virginia and UNC, alarms sound in Blacksburg.
Four months ago, North Carolina hired Tech's director of on-campus recruiting, Alex White, to coordinate Tar Heels coach Mack Brown's interactions with prospects and donors.
A UNC graduate, she spent the 2020 season managing the Hokies' recruiting database and organizing the virtual campus visits of prospects mandated by the pandemic.
Shortly after taking over as Virginia's athletic director in December 2017, Carla Williams directed the department's fundraising arm to subsidize an expansion of football's support staff that coach Bronco Mendenhall has deemed invaluable to the Cavaliers' steady growth.
Financial reporting to the NCAA does not include the number of support staff for each sport, and varying job descriptions make comparing the sizes of those staffs difficult. But Fuente and Phlegar agree that Virginia Tech is outmanned.
"Recruiting transfers and high schools, and [with the] accessibility to [prospects] everywhere that technology affords, that's a daunting task and that's a lot of information," Fuente said. "… The 10 assistant coaches can't handle all that. …
"When we got here we knew we were behind, and we went about gradually growing our staff. … We started off with two people in recruiting, and in six years we've added quite a few more. But we're not growing fast enough. We've got to put the pedal to the metal. … We made up some ground, just not enough. Just your ability to constantly be in touch, to constantly have a personal touch. It strains you when you don't have enough people. It's a pure volume issue."
Creating positions and hiring quality people are the first steps.
Retaining them is the next.
"There is a bonus to living in Blacksburg," Fuente said. "There is a quality of life here, I think, with the camaraderie of our staff and the professionalism of our staff and the ability to live in this community that you can't put a price tag on. But we still need to be competitive with the market. We have a bunch of people up and down this hallway that love Virginia Tech — many of them went to school here — but also there comes a point in time where they can't keep saying no. There comes a point where they have to take that pay raise, when that becomes a determining factor."
Of the $30 million football enhancement fund, $10 million is earmarked for assistant coaches' salaries, $8 million for capital projects, $5 million each for recruiting staff and quality control coaches, and $2 million for athlete development.
Fuente believes the backing of Sands and Phlegar make a "powerful" statement to the entire university community and that few presidents would take such a public stance. But they aren't the only influential Hokies voicing support.
In a message-board post on 247sports.com's Virginia Tech site, Board of Visitors member Mehul Sanghani strongly endorsed the administration's involvement in the athletics drive.
"The university, they are going to make a concerted effort to help us financially, not just through the pandemic, but in the long-term, and that had to happen," Fuente said. "Charlie Phlegar volunteered for this job and reached across the aisle and said, 'What can we do to help?'
"Charlie Phlegar is Virginia Tech. That's above and beyond his job description. To me, that's pretty cool."
"I'm a tiny piece of this," Phlegar said. "This is Whit Babcock, Tim Sands, the Board of Visitors, other strong volunteers, important donors and the university agreeing to align."
Phlegar is a seasoned fundraiser with experience at Cornell, Johns Hopkins, South Carolina and East Carolina. Wurthman oversees the Hokie Club, engaging with its nearly 20,000 donors and continuing the drive to reach 25,000.
But both consider Fuente essential, "mission critical" in Wurthman's words, to Reach for Excellence, and they have connected him in recent months with about 15 benefactors.
"He is an excellent fundraiser," Phlegar said. "He's engaging, he's passionate, he's articulate about what his needs are, very transparent and open about what he's trying to accomplish. …
"He still has to go out in September and start winning football games and we have to get out and start raising money. We all understand what it's about."
Expenses by school
| School | Revenue | Donations* | Tickets | Expenses | Sports | FB Asst.** | FB support*** |
| --- | --- | --- | --- | --- | --- | --- | --- |
| Clemson | $129.9M | $43.4M | $29.9M | $131.8M | 19 | $8.7M | $7.2M |
| Florida State | $129.5M | $36.8M | $17.3M | $155.7M | 20 | $7.0M | $3.6M |
| Ga. Tech | $86.4M | $11.M | $10.4M | $96.1M | 17 | $4.5M | $1.7M |
| Louisville | $140.9M | $30.4M | $27.5M | $138.8M | 23 | $4.6M | $2.4M |
| UNC | $110.4M | $21.6M | $24.8M | $113.0M | 28 | $5.8M | $2.7M |
| N.C. State | $86.6M | $15.1M | $23.5M | $88.7M | 23 | $4.9M | $3.0M |
| Virginia | $110.3M | $27.7M | $15.5M | $111.8M | 27 | $4.6M | $2.8M |
| Virginia Tech | $99.2M | $21.8M | $19.2M | $97.5M | 22 | $4.3M | $2.3M |
* Contributions collected and used in 2019-20.
** Total salaries, benefits and bonuses for the 10 assistant coaches permitted by the NCAA.
*** Total salaries, benefits for football support staff such as quality control coaches and recruiting assistants.