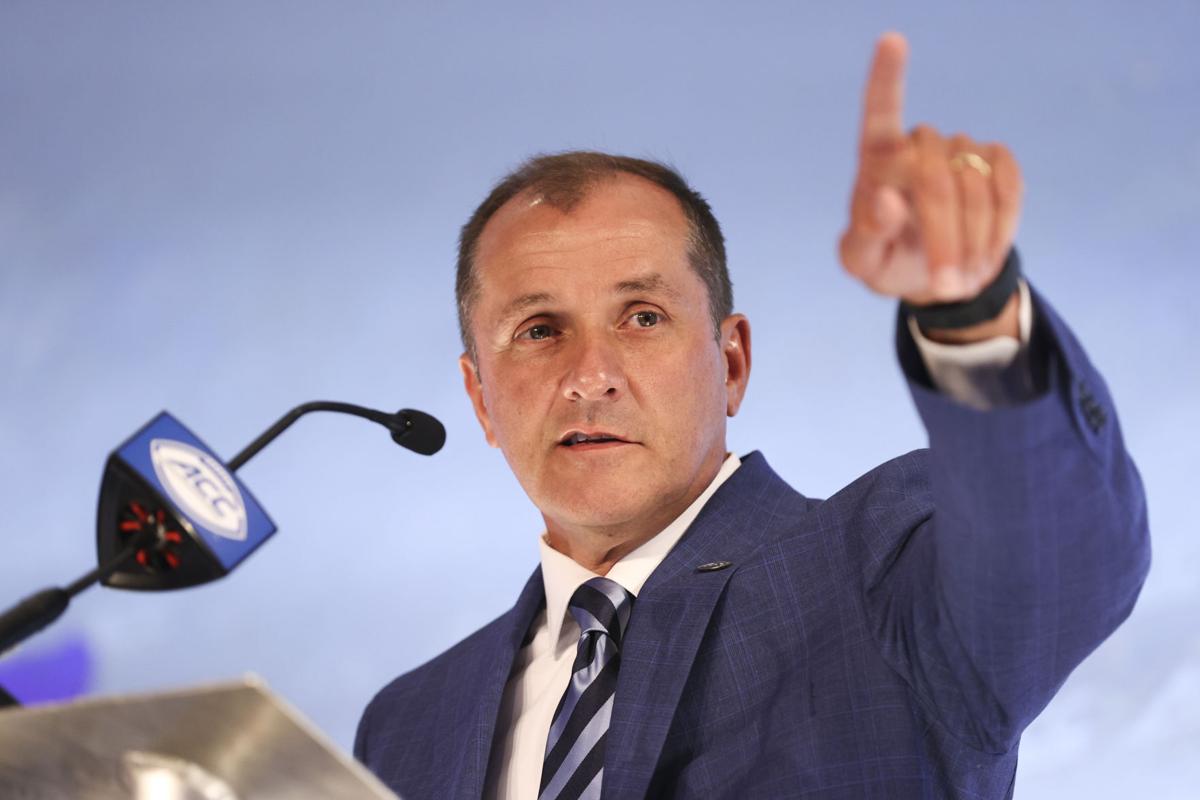 On the evening of July 20, the ACC saluted retired commissioner John Swofford with a soirée at the Charlotte Westin hotel. More than 200 invited guests attended, including SEC commissioner Greg Sankey.
Few, if any, in that second-floor ballroom, many of them high-ranking administrators from across the country, realized Sankey was poised to upend their world.
Less than 24 hours later, the Houston Chronicle revealed his secret: The SEC is adding Big 12 cornerstones Texas and Oklahoma to its already unrivaled football riches, igniting 24/7 realignment conjecture throughout the industry, including the ACC.
If you think Sankey's appearance in Charlotte was brazen, understand that he served alongside Big 12 commissioner Bob Bowlsby on the working group that crafted the proposal to expand the College Football Playoff from four to 12 teams.
The subsequent anger, tension and mistrust across the spectrum are staples of any realignment wave, as everyone retreats to their bunkers and plots what's best for them, regardless of collateral damage.
We in Virginia lived this Darwinian, Byzantine existence in 2003-04, when the ACC planned to exclude Virginia Tech from an expansion but was strong-armed into welcoming the Hokies by state politicians and business titans.
Given the conference's revenue shortcomings, potential expansion figured to be central for new ACC commissioner Jim Phillips. But Texas, Oklahoma and the SEC likely accelerated those discussions.
In FAQ form, here's a primer to realignment and its impact on the ACC.
How do the ACC's finances work?
A 1984 Supreme Court ruling (NCAA v. Oklahoma Board of Regents) gave conferences the freedom to negotiate their own television contracts, specifically for football, and such agreements are the economic engine of the entire major college sports enterprise.
In its most recent federal tax filing, for the 2019-20 academic year, the ACC reported $496.7 million in revenue, two-thirds of which ($332.8 million) came from television. The league collected another $125 million in bowl income, a lion's share from the College Football Playoff.
In short, football accounts for 75-80% of conference revenue.
Similar to its peers, the ACC distributes about 90% of total revenue to member schools in virtually equal shares. The average 2019-20 share for the league's 14 full-time members was $32.4 million, and each of these amounts was an all-time high for the conference.
The full shares ranged from Clemson's $37 million to Georgia Tech's $30.9 million. Notre Dame, an ACC member for sports other than football, received $10.8 million.
What's the ACC's money problem?
Record numbers aside, the league's average distribution ranked last among the Power Five conferences. Moreover, it lagged far behind the Big Ten's $54.3 million and SEC's $45.5 million, gaps that soon will widen.
While the ACC's exclusive TV deal with ESPN runs through 2035-36, the Big Ten is negotiating new contracts that will start in 2023 and were projected, pre-COVID, to boost distributions to $70 million by 2025. The SEC already has announced a new arrangement that, starting in 2024, gives ESPN exclusive rights to its football and men's basketball.
The notable change for the SEC and ESPN is the move of the league's marquee 3:30 p.m., Saturday football game, currently aired on CBS, to ESPN/ABC. For that one weekly game, ESPN agreed to pay a reported $300 million annually, almost as much as it pays for the entire ACC sports portfolio.
Add the Texas and Oklahoma brands, and the SEC package becomes even more valuable.
There are three primary reasons: football, demographics and membership instability.
Just as the Big Ten and SEC were planning their dedicated television networks, the ACC was enduring an ill-timed football drought. For 12 consecutive seasons, 2001-12, no team from the ACC finished among The Associated Press' top five.
This compounded the league's unique demographics.
The ACC has the Power Five's most diverse mix of public and private institutions, which translates to smaller student bodies, fan bases and television audiences, even as the conference stretches from Boston to Miami and includes other top-30 media markets such as Atlanta, Pittsburgh and Raleigh.
Average full-time undergraduate enrollments in the Big Ten (31,557) and SEC (24,164) tower over the ACC (15,867), according to U.S. Department of Education data.
Instability blindsided the ACC in November 2012, when charter member Maryland announced its intention to join the Big Ten. The Terps' motivation, of course, was money.
In large measure, these hurdles explain why the Big Ten Network launched in 2007, the SEC Network in 2014, the ACC Network in 2019.
Virginia Tech president Tim Sands said in April that the conference's presidents and chancellors made clear to commissioner candidates that closing, not erasing, the revenue gap is "a major expectation" and that Phillips is "the right guy" to do it.
Unlike the other new Power Five commissioners — the Big Ten hired Kevin Warren from the NFL's Minnesota Vikings, and the Pac-12 hired George Kliavkoff from MGM Resorts — Phillips is connected throughout the college sports universe. He's a former administrator at Arizona State, Notre Dame, Northern Illinois and Northwestern, the latter two as athletic director, invaluable experience in this turbulent time.
But absent Notre Dame bringing its marquee football brand to the table, there is no obvious path to a revenue windfall. Anticipated in late September, a carriage deal to make the ACC Network available to Comcast Xfinity cable subscribers would help, but not enough.
Social and mainstream media teem with suggestions.
ESPN basketball analyst Jay Bilas recommends an ACC-SEC merger, a union that would make Phillips expendable and might not be of greater television value than the sum of its two parts. The Athletic's Stewart Mandel wrote of a potential marriage with the Pac-12, an improbable arrangement that might work more simply as a scheduling alliance for football and perhaps men's basketball.
One issue there is that many football programs, including Virginia Tech, have booked their nonconference schedules through the decade, and escaping those contracts can be pricey.
Fans on Twitter pine for schools such as West Virginia, Central Florida and even Penn State, though the Nittany Lions would have to check out on the Big Ten's riches.
On former ESPN radio host Dan Le Batard's new podcast, former ESPN president John Skipper envisioned four "super conferences" with at least 16 teams each, a concept many have advocated for years. A University of North Carolina graduate, Skipper was central to the ACC Network's creation, and on the podcast he imagined the ACC rescuing a Big 12 leftover.
"Oddly enough, [the ACC] wouldn't be a bad home for Kansas, though geographically it's crazy," Skipper said. "[The Jayhawks would] bring in another state for the conference network, and that has to be kept in mind.
"If you add a college from a state you're already in, you don't get any more distributor fees. … Even with fairly small populations, it's still a lot of money for those networks. [It's] a dollar for every good citizen of the state who has a pay [cable subscription], which is declining but is still a lot of people."
Skipper's a television genius, and Kansas' basketball heritage is unquestioned. But the Jayhawks are 26-108 in football over the last 12 seasons, and if you want to plant the ACC Network in a new state, why not the seventh-largest by population, one that is next door to conference member Louisville?
That would be Ohio, home to the Cincinnati Bearcats. Cincinnati has not only a proud basketball tradition but also a football program that is 31-6 in the last three years.
But would Cincinnati and the Ohio market, or any other school, group of schools or alliance make more money for the ACC? The league's media consultants and ESPN will run the numbers, and at the risk of math overload, here's a pretty straightforward equation:
Any new ACC member would need to generate approximately $32.4 million annually, the conference's average share, just to keep everyone's piece of the pie static. To bump that per-school distribution by $1 million in what would then be a 15-team league, add $15 million to that $32.4 million, or $47.4 million.
To increase distributions by $3 million, we're talking $77.4 million in additional revenue from one school, the original $32.4 million plus three multiples of $15 million, or $45 million.
The ACC's expansion calculations could take time, but how much likely hinges on whether officials believe any potential target is primed to jump elsewhere.
Notre Dame football has long been the ACC's target, even before the school joined the league as a part-time member in 2013 and agreed to play five football games annually versus ACC opponents. But as Fighting Irish athletic director Jack Swarbrick has said repeatedly, football independence is part of Notre Dame's DNA.
The Irish-ACC relationship has been mutually beneficial, providing Notre Dame a quality home for its basketball programs and Olympic sports while enhancing the conference's television appeal/revenue and selling out its football stadiums. Indeed, the Irish were an essential lure in selling ESPN on the ACC Network.
The Notre Dame-ACC dynamic veered suddenly last year as the pandemic prompted leagues to curb most, if not all, non-conference football competition. Swarbrick and Co., were stuck, and the ACC offered a lifeline, welcoming them into the league for a cameo that paved their path to the College Football Playoff.
With the ACC in a financial pinch, generosity suggests that Notre Dame return the favor, as Irish football would enrich both parties. But Notre Dame relishes independence and its national schedule more than the windfall of full conference membership.
An all-in-or-all-out ultimatum to the Irish might ease any frustrations with their selfishness, but if they declined and departed, ESPN would have cause to renegotiate its ACC deal and offer considerably less money.
Two related forces could prompt Notre Dame to bring its football brand to the ACC, the conference to which it is contractually obligated through 2035-36: playoff access and ability to schedule.
The Irish have qualified for the four-team College Football Playoff twice in seven years, as an undefeated independent in 2018 and once-beaten ACC member in 2020. Swarbrick chaired the working group that developed the 12-team CFP proposal — the field would include the Bowl Subdivision's six highest-rated conference champions and six at-large selections — and said the model would strengthen Notre Dame's independence.
But if Skipper is correct that the Big 12 will dissolve and leave four super conferences, does that model still work? Will resentment of Sankey — SEC officials believe their teams will dominate the at-large bids — prompt resistance to the CFP plan?
Also, would larger super conferences playing more league games hamper Notre Dame's ability to schedule as an independent?
Those answers rest on where realignment takes us.
Is the ACC vulnerable to poaching?
The answer was a resounding yes when Maryland bailed in 2012. Speculation swirled about Florida State and Clemson bolting for the SEC or Big 12, Virginia Tech and N.C. State to the SEC, and Virginia, North Carolina and Georgia Tech to the Big Ten.
But the ACC moved decisively to add Louisville, and in April 2013, the conference's 15 current members signed a binding grant of media rights through 2026-27. When ESPN agreed in July 2016 to create the ACC Network, the schools extended the grant until 2035-36, the duration of their contract with ESPN.
The document is not public, but the concept is that any school leaving a conference cedes its media revenue to the remaining members. The 15 years between now and 2036 almost certainly translate to hundreds of millions of dollars in forfeited revenue for any departing ACC school, cost-prohibitive for most anyone.
Any addition to the league would not void the grant, though it's interesting to note that only three of the 15 ACC presidents/chancellors who agreed to the original deal — Boston College's William Leahy, Notre Dame's John Jenkins and N.C. State's Randy Woodson — remain in those jobs.
"It seems to be positive and unified," an ACC source said of the collective mood. "I think we will be OK, but not sure where it all ends."