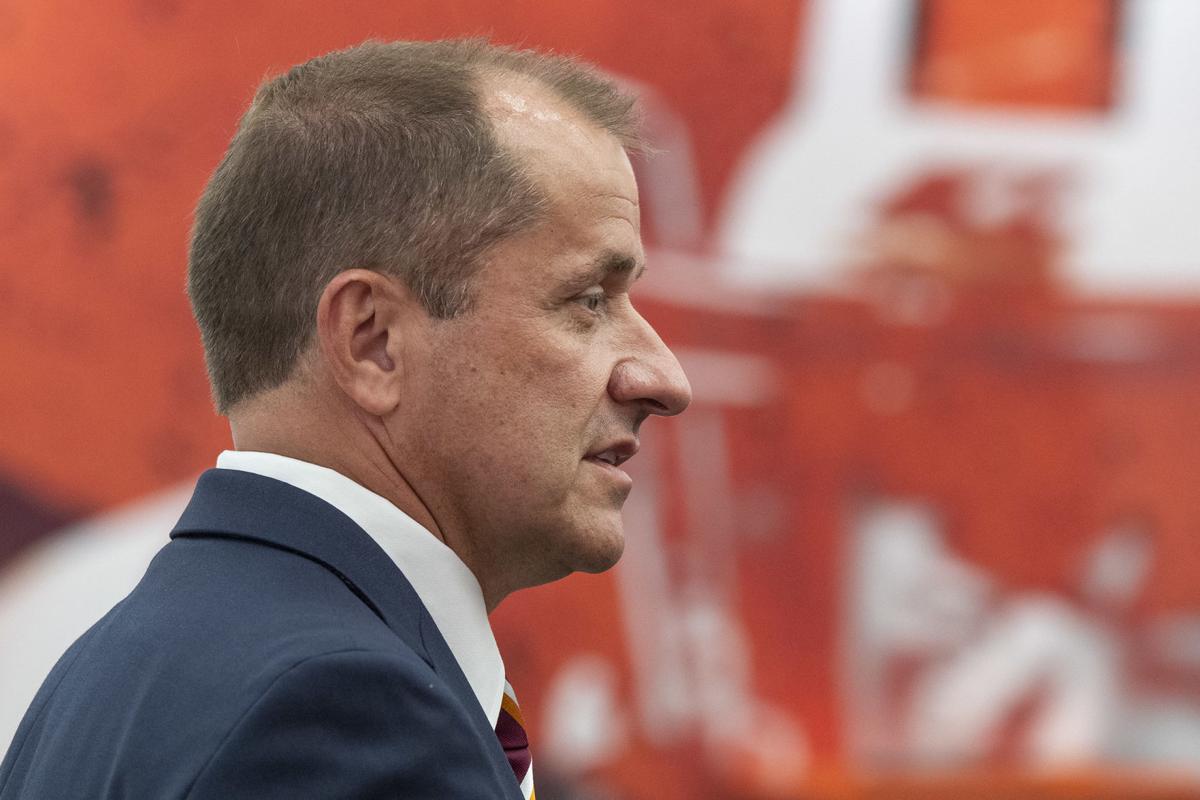 College athletics' earnings season is upon us, and the ACC's mixed results underscore the potential windfall of the league's television network but also the financial challenges facing new commissioner Jim Phillips.
First, the upside: ACC revenue increased 9.1% to a league-record $496.7 million in 2019-20, according to the federal tax filing the conference provided The Times-Dispatch on Friday. Moreover, the ACC's average distribution to its 14 full-time members was $32.4 million, the largest bump, 12.5%, among the Power Five.
Despite COVID-19 interrupting the fiscal year's final 3½ months, television fueled the league's improved financials. TV revenue increased 15.3% to $332.8 million, a reflection of the ACC Network, which launched in August 2019.
How much of the upturn is directly attributable to the ACC Network is unknown — television revenue has risen each of the 13 years I've collected the conference's tax return — but the network's debut certainly helped.
Television enabled the ACC to navigate a 62.4% decline in NCAA revenue, from $59.8 million to $22.5 million, the dip expected in the wake of a pandemic that prompted cancellation of NCAA winter and spring championships. Most costly was the scrapping of the men's basketball tournament, which generates 80-90% of the association's income.
ACC bowl proceeds also jumped markedly, to $125 million, in large measure because the Orange Bowl was not a College Football Playoff semifinal, guaranteeing the conference a team in the game and a payout of more than $25 million.
In years when the Orange Bowl hosts a CFP semi, such as 2018-19, ACC revenue falls.
Now, the downside of Friday's numbers: The ACC's per-school share continues to rank last among the Power Five and lag far behind the Big Ten and Southeastern Conference. As USA Today's Steve Berkowitz reported Thursday, the Big Ten distributed, on average, $54.3 million to its 12 longest-standing members, the SEC $45.5 million to its 14 schools. Big 12 shares ranged from $37 million to $40.5 million, and the Pacific 12's average was $33.8 million.
Before succeeding John Swofford as commissioner Feb. 1, Phillips spent 13 years as a Big Ten athletic director at Northwestern, and he made enhancing ACC revenue a priority from the start.
"It instantly becomes something you start to think about," Phillips told me in March. "It's still really early in my tenure, but it is something we have to address. It's something that's really important for us, if we're going to continue to not only maintain but elevate our programs."
Virginia Tech president Tim Sands echoed Phillips last month when he said the conference's finances were a focus of the presidents and chancellors' interviews with commissioner candidates.
"It's not just the money," Sands said, "but you can't [compete] without that kind of support. … That's a major expectation of the presidents and chancellors. I think we got the right guy."
Per the various tax filings, Swofford's $4 million in total compensation was fourth among Power Five commissioners, ahead of the SEC's Greg Sankey ($2.9 million).
Revenue shortcomings have not precluded ACC teams from excelling nationally.
Though ACC squads went 0-6 in bowls following the 2020 season, the SEC and ACC are the only conferences to qualify a team for the College Football Playoff in each of its seven years. Virginia, North Carolina and Duke have won three of the last six national championships in men's basketball, and Olympic programs continue to thrive — UVA's 2021 NCAA title in women's swimming was the ACC's first in that sport.
The ACC's 2019-20 distributions ranged from Clemson's $37.0 million to Georgia Tech's $30.9 million. Virginia's $33.6 million was second to Clemson's and rooted in the Cavaliers' Orange Bowl appearance, while Virginia Tech's $32.2 million was just a tick below the average.
Notre Dame, an ACC member for sports other than football, received $10.8 million, a 58.8% increase over its 2018-19 share. Why a percentage jump more than four times above full members?
In Notre Dame's first six years of partial conference membership, it collected a fractional revenue share. But the Fighting Irish are full partners in the ACC Network, and with the network launching in 2019, their take of overall league revenue was bound to mushroom.
Due for release next spring, the ACC's 2020-21 tax filing will reflect not only a full year of pandemic economics but also Notre Dame's one-season cameo as a football member. In joining ACC football for 2020, the Irish agreed to share their NBC television revenue while receiving a full cut of the conference's other football income, including TV from ESPN.
ACC revenue last 10 years
* Average share for full-time members
** As a partial member, Notre Dame does not receive a full share
| Years | Total | TV | Bowl | NCAA | Avg. share* | Notre Dame** |
| --- | --- | --- | --- | --- | --- | --- |
| 2010-2011 | $167.2M | $79.3M | $36.7M | $18.2M | $12.3M | N/A |
| 2011-2012 | $223.6M | $130.5M | $43.8M | $17.7M | $16.9M | N/A |
| 2012-2013 | $232.4M | $146.6M | $36.7M | $18.2M | $17.6M | N/A |
| 2013-2014 | $302.3M | $197.2M | $48.8M | $17.5M | $19.3M | $4.9M |
| 2014-2015 | $403.1M | $217.9M | $94.2M | $18.4M | $26.2M | $6.2M |
| 2015-2016 | $337.4M | $226.1M | $85.8M | $20.6M | $23.8M | $4.3M |
| 2016-2017 | $418.1M | $236.0M | $113.2M | $24.2M | $26.6M | $5.8M |
| 2017-2018 | $464.7M | $277.2M | $114.9M | $56.6M | $29.5M | $7.9M |
| 2018-2019 | $455.4M | $288.6M | $88.4M | $59.8M | $28.8M | $6.8M |
| 2019-2020 | $496.7M | $332.8m | $125.0M | $22.5M | $32.4M | $10.8M |