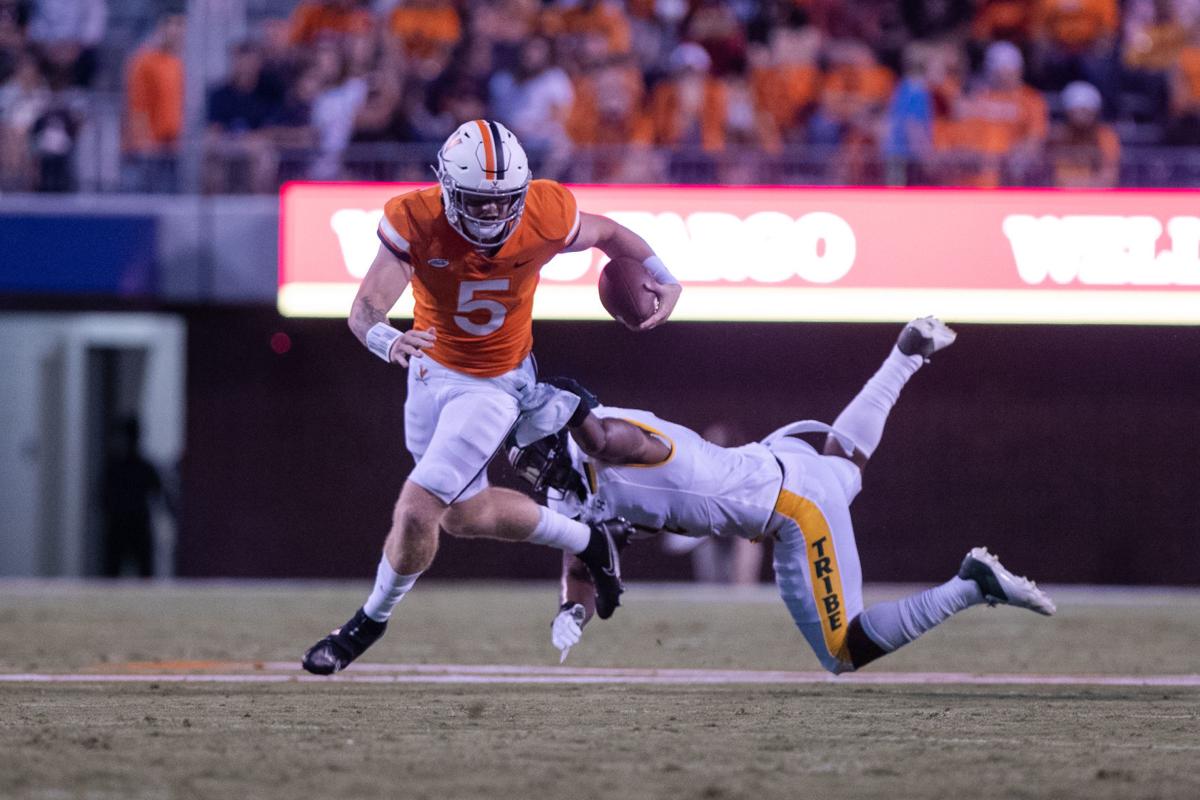 Virginia's escalating margins over Football Championship Subdivision opponents continued Saturday night as the Cavaliers opened their season with a 43-0 romp over William & Mary. But 545 yards and no turnovers notwithstanding, much work remains for the offense as the schedule quickly shifts gears.
"It got cleaner and better as it went," UVA coach Bronco Mendenhall said of his team's performance.
Fair. The Cavaliers averaged 3.7 yards per snap in the first quarter, followed by 8.0, 12.1 and 10.7.
Conversely, their defense was assertive throughout, forcing three-and-outs on the Tribe's first five possessions and yielding just 3.5 yards per play for the night. Linebacker Nick Jackson affirmed his preseason all-ACC nod with a dozen tackles and two quarterback hurries, and safety Joey Blount, healthy after missing five games last year, was a missile in the secondary with eight tackles and a team-high five unassisted stops.
"We tackled well for an opening game," Mendenhall said. "We didn't tackle much in [preseason] camp in working to keep our depth as healthy as possible for a long season, and so that was a little bit of an unknown, except that we have experienced players. … It looked like it was the right call based on what I just saw."
What wasn't the right call was the early offensive approach.
There's a time for gadgetry, and no one should doubt offensive coordinator Robert Anae's creativity. But a season opener against an outmanned FCS opponent is not that time.
Rather than simply line up and bully a team they should have been bullying, the Cavaliers, at Anae's direction, wasted much of the first half trying to be cute. Worse yet for the orange and blue-inclined, the Tribe were having none of it.
The most glaring example was backup quarterback Ira Armstead taking a shotgun snap and handing off to starter Brennan Armstrong on an end-around — Armstrong was split wide on the play — for what appeared to be an attempted pass. Inside linebacker Isaiah Jones blew up the play for a 7-yard loss.
Early in the second quarter, on a fourth-and-1 from W&M's 27, up-back Keytaon Thompson took a direct snap and was stuffed by nose tackle Zyquan Bessant for no gain.
Once Anae turned more conventional, the offense hit another gear.
Armstrong (339 yards passing) connected with Dontayvion Wicks on passes of 23 and 29 yards before capping a 60-yard touchdown drive with a 2-yard run. He threw a perfect, 5-yard fade to Ra'Shaun Henry for a touchdown just before halftime and found Derrick Starling on a post route for a 65-yard score early in the third quarter.
"As the game went," Mendenhall said, "our protection and our blocking also improved — I would say adequate but not dominant."
Since 2017, UVA's margins over FCS teams have increased from 18 to 29 to 35 to 40 to Saturday's 43. That speaks to mature players and sound preparation.
The inevitable talent and depth gap between the Bowl Subdivision and FCS is wide enough without injuries complicating matters, but such was W&M's plight. Quarterback Hollis Mathis, running back Malachi Imoh, outside linebacker Tyler Crist, offensive tackle Andrew Trainer and return specialist Bronson Yoder missed the game with various injuries.
Replacements such as freshman quarterback Darius Wilson and junior running back Donavyn Lester had moments that may translate to the Colonial Athletic Association, and a defense led by end Nate Lynn and outside linebacker Kevin Jarrell held up for nearly three quarters.
"He didn't flinch," Tribe coach Mike London said of Wilson.
But fatigue, cramps and sheer numbers took their toll late.
An FCS opponent disposed of routinely for a fifth consecutive year, the Cavaliers now embark on what figures to be their defining stretch of 2021.
Late-November Coastal Division contenders? Marginal bowl candidates hovering around .500?
The next five weeks will offer considerable clarity.
On deck is a Saturday brunch (11 a.m., kickoff) date with Illinois of the Big Ten at Scott Stadium. The Illini opened with a victory over Nebraska before flopping Saturday against Texas-San Antonio.
UVA then encounters four straight ACC opponents: at North Carolina, Wake Forest, at Miami and at Louisville. Three of four on the road is a challenging stretch, especially for the conference's worst road team during the past five years.
Moreover, each of those teams starts a dynamic veteran quarterback: Sam Howell, Sam Hartman, D'Eriq King and Malik Cunningham, respectively.
To be charitable, Howell and King struggled in their respective openers, and the Cavaliers have won four straight against UNC. But Virginia has dropped five in a row at Miami and is 0-3 at Louisville since the Cardinals joined the ACC.
Armstrong for one is eager to test this group against a Power Five peer.
"A good little icebreaker this week," he said.