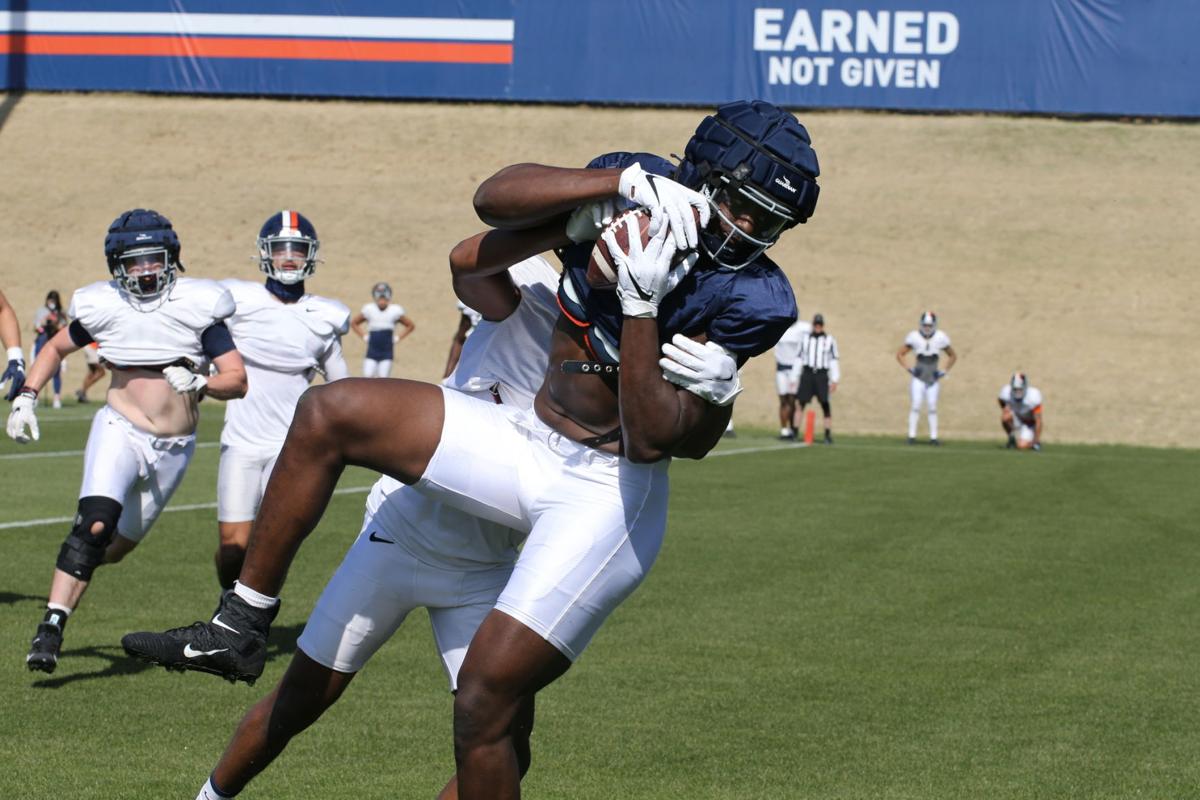 Imagine Virginia Tech's football team last year without Khalil Herbert and Brock Hoffman. Similarly, envision Virginia sans Keytaon Thompson and Tony Poljan, Miami absent D'Eriq King, Jaelan Phillips and Quincy Roche, and Boston College minus Phil Jurkovec.
You know what they had in common: Each had transferred from another Bowl Subdivision program and was making his ACC debut.
Incoming transfers figure to be even more influential in the league this season, and that's a mighty high bar.
Running behind a line that Hoffman directed from his center position, Herbert shattered the Hokies' season record for yards per carry (minimum 100 carries), his 7.7 average far north of Andre Kendrick's previous standard of 6.3 in 1999. Hybrid Thompson and tight end Poljan combined for 12 touchdowns, and Thompson saved UVA's upset of North Carolina by converting a fake punt with athleticism and ingenuity.
King compiled the Hurricanes' highest passer rating since Heisman Trophy winner Vinny Testaverde in 1986, while Phillips and Roche ranked second and third, respectively, among ACC defenders in tackles for loss. Jurkovec became the first BC quarterback since Matt Ryan in 2006 to throw for at least 2,500 yards with a completion percentage above 60.
Myriad outlets release preseason all-conference teams, but here's a preseason All-ACC squad comprised only of transfers set to compete in the league for the first time in 2021.
Quarterback: Florida State's McKenzie Milton (Central Florida). If Milton is fully healed from his gruesome 2018 leg injury and regains his 2017 form, look out. He threw for 4,037 yards and 37 touchdowns, rushed for 613 yards and eight scores and led UCF to a 13-0 season.
Running back: North Carolina's Ty Chandler (Tennessee) and Florida State's D.J. Williams (Auburn). Neither crushed it in the SEC, but both averaged 4.9 yards per carry. With the departures of 1,000-yard rushers Michael Carter and Javonte Williams, Chandler fills a position of need in Chapel Hill.
Receiver: Miami's Charleston Rambo (Oklahoma) and Georgia Tech's Kyric McGowan (Northwestern). McGowan was the No. 2 receiver for the Big Ten's West Division champions last season, and Rambo was the same for a College Football Playoff semifinalist in 2019, averaging 17.3 yards on 43 catches.
Tight end: Virginia's Jelani Woods (Oklahoma State). Woods' modest stats don't reflect his value for the Cowboys. He started 28 games and was twice voted honorable mention All-Big 12. At 6-foot-7, 275 pounds, Woods is a capable blocker and receiver, and UVA coach Bronco Mendenhall raves about his versatility.
Center: Virginia Tech's Johnny Jordan (Maryland). Academic obligations at Maryland prevented Jordan from participating in the Hokies' spring practices, but he started 16 games for the Terps during his career there, and Pro Football Focus graded him the team's best offensive lineman in 2020. His emergence would allow Hoffman to slide to guard.
Offensive tackle: Georgia Tech's Devin Cochran (Vanderbilt) and Pitt's Marcus Minor (Maryland). Cochran sat out last season after starting 32 games from 2017-19, while Minor started 13 times in four seasons.
Guard: Louisville's Bryan Hudson (Virginia Tech) and Wake Forest's Terrance Davis (Maryland). Able to play anywhere on the line, Hudson will be a versatile addition for the Cardinals. Davis will have to earn his time on an experienced Deacons front.
Defensive end: Georgia Tech's Keion White (Old Dominion) and Florida State's Keir Thomas (South Carolina). Lack of Power Five chops notwithstanding, White can play. After converting from tight end to defensive end after his freshman season at ODU, he led all underclassmen (freshmen and sophomores) in tackles for loss two seasons ago with 19. Thomas started 32 games at USC, with 142 tackles and 18½ sacks.
Defensive tackle: Virginia Tech's Jordan Williams (Clemson) and N.C. State's Cory Durden (Florida State). Williams was a valuable reserve in a defensive line room that's usually among the nation's deepest. Durden's best season at FSU was 2019, when he shared the team lead in sacks with five.
Linebacker: Florida State's Jermaine Johnson (Georgia) and Georgia Tech's Ayinde Eley (Maryland). The Seminoles list Johnson as a defensive end, but he played outside linebacker for the Bulldogs, registering five sacks last season, and since there is an abundance of transfer defensive linemen and shortage of transfer linebackers, we'll use him here in a 4-2-5 alignment. Eley is the son of Alabama State coach and former Virginia Union player and assistant coach Donald Hill-Eley.
Cornerback: Miami's Tyrique Stevenson (Georgia) and UVA's Anthony Johnson (Louisville). Johnson impressed Virginia coaches during the spring with his physical presence against the run, and Stevenson, a top-50 prospect in the Class of 2019, logged four starts in two seasons for the Bulldogs.
Safety: Louisville's Kenderick Duncan Jr. (Georgia Southern) and Boston College's Jaiden Lars-Woodbey (Florida State). Both started 22 games and recorded more than 100 tackles at their previous schools, and at 6-foot-3, 225 pounds, Duncan has NFL size.
Nickel: Florida State's Jammie Robinson (South Carolina). The Seminoles recruited Robinson (136 tackles in two seasons at USC) out of the portal specifically to play the nickel.
Not to suggest these are the only notable transfers entering the ACC. Virginia Tech safety Tae Daley (Vanderbilt), Boston College tight end Trae Barry (Jacksonville State), Miami defensive end Deandre Johnson (Tennessee), N.C. State safety Cyrus Fagan (Florida State), Syracuse quarterback Garrett Shrader (Mississippi State) and Duke offensive lineman Carson Van Lynn (Pitt) are among the others who could earn significant snaps.
Oh, and there are still more than two months before training camps open, plenty of time for programs to add even more transfers.