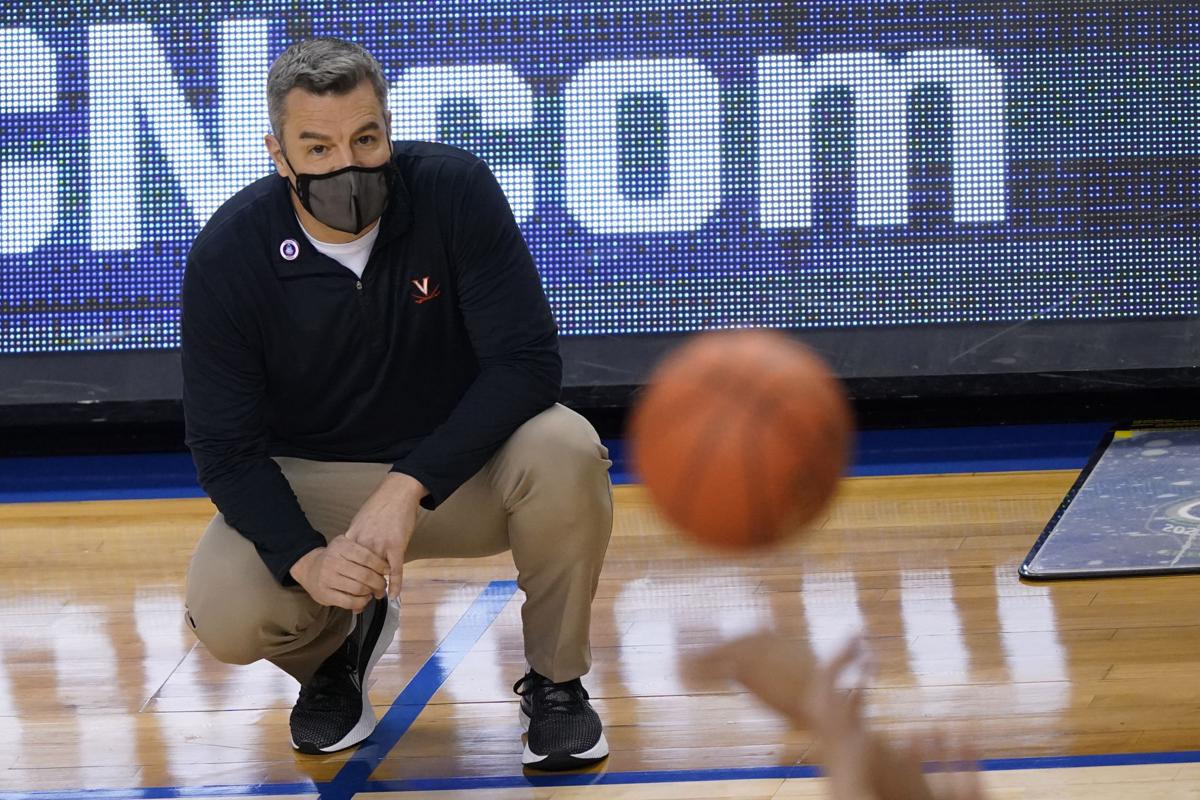 College basketball royals Virginia, Duke and Kansas withdrew from their respective conference tournaments this week because of COVID-19 cases, imperiling or, in the Blue Devils' case, dooming their NCAA tournament aspirations.
Which prompts a very reasonable question: Given the seven days of negative virus tests required prior before traveling to Indianapolis for the national tournament, why in the name of John Wooden would you stage league championships so close to Selection Sunday?
As is often the case — or is it always? — the answers revolve around television and money.
But before shouting for the ongoing conference events to be canceled, understand that Duke's exit from the ACC tournament Thursday, followed Friday by Virginia's from the ACC and Kansas' from the Big 12, were not necessarily caused by traveling to Greensboro or Kansas City.
Medical experts say it can take up to a week after exposure before a person tests positive, meaning these transmissions could have occurred elsewhere — the Duke and UVA campuses have seen recent upticks in virus cases.
For example, Virginia bused to the ACC tournament late Tuesday afternoon, defeated Syracuse in Thursday's quarterfinals and experienced a positive result in postgame testing. The Cavaliers' semifinal Friday against Georgia Tech was scratched about six hours before tipoff, on the anniversary of last year's tournament shutdown.
Syracuse reported Friday night that all its players tested negative and will not be required to quarantine.
Commuting to Greensboro from its season-long bubble in Durham, Duke beat Boston College on Tuesday and Louisville on Wednesday. But a subsequent positive test forced the Blue Devils to quarantine and withdraw from their Thursday quarterfinal versus Florida State.
Out of an abundance of caution, did conference officials consider scrapping Friday's North Carolina-Florida State semifinal and Saturday's title game to protect UNC, FSU and Georgia Tech? After all, each of those teams, COVID permitting, is assured of an NCAA bid.
When the NCAA established its tournament calendar and protocols, did the ACC explore adjusting its championship dates to give teams a longer runway to the national tournament in Indianapolis?
While leaning heavily on medical advisors, I would have seriously pondered both options.
A sober explanation of this whirlwind would have been welcomed from ACC commissioner Jim Phillips, on the job since Feb. 1. The timing of his arrival, during a pandemic and late in a basketball season rife with disruptions, is an unfortunate burden, but he's yet to grant any interviews beyond the conference's television network.
Friday was another opportunity to answer questions and offer transparency. Instead, he issued a tame statement expressing empathy for UVA and Duke.
Absent further advancement in Greensboro, Duke was not ticketed for the NCAA tournament. Regular-season champion Virginia is, and the overarching concern is whether the Cavaliers can travel to Indianapolis and pursue a second consecutive national title.
"We are exhausting all options to participate in the NCAA tournament," UVA coach Tony Bennett said in a statement.
Virginia did not share details of its virus case, but contact tracing could be paramount. Will local health guidelines force lengthy quarantining of players? Even if they continue to test negative?
As during the regular season, athletes and coaches at the ACC men's and women's basketball tournaments wore/are wearing Kinexon tracing devices, sewn into jerseys or tucked into socks for games. That data is critical.
The NCAA tournament roster minimum is five available players, and teams have until 11 p.m. on Saturday to inform the association if they are unable to meet that standard. The 68-team bracket will be unveiled Sunday evening, with First Four games scheduled for Thursday and the 32 opening-round contests for Friday and Saturday.
Atlantic 10 commissioner Bernadette McGlade serves on the 10-member NCAA selection committee, and her conference's decision to stage the first four rounds of its tournament last week looks more shrewd by the moment. The league still must sweat Sunday's title game at the University of Dayton between VCU and St. Bonaventure, but at least the Rams and Bonnies spent this week in their home bubbles to minimize risk and address any issues.
The A-10 did not move its Selection Sunday tournament final because of the national CBS television exposure, and far more lucrative media contracts explain why leagues such as the ACC, Big Ten, Big East and Big 12 did not move their tournaments.
The NCAA could have delayed its tournament to give conferences more time to meet testing standards, but the NCAA's television deal with CBS/Turner is worth approximately $1 billion annually, and the networks were not eager to adjust their traditional schedules.
We can only hope that money grab does not nuke the entire event.
Georgia Tech coach Josh Pastner was on a routine Zoom with ESPN's Jay Bilas and Dan Shulman on Friday morning to advance the Yellow Jackets' semifinal against Virginia when the ACC called with news of the cancellation.
He said the Yellow Jackets never considered "for a second" bailing on the league tournament for safety reasons ahead of time, or Friday. He said they relished an opportunity to play UVA, the lone ACC program they have not beaten in his five seasons as coach.
"But we do have to protect ourselves," Pastner said.
The ACC is housing teams at two large hotels, with Georgia Tech and Virginia both assigned the Grandover Resort, about a mile from conference headquarters. Pastner instructed his players to ride elevators by themselves and interact with family only outside while wearing masks.
"It's awful, and it stinks," Pastner said, "but it's the only way to protect the bubble. We've tried to do everything we can, but you have to get a little lucky along the way. … We're at this point where we've just got to get to the finish line, and the finish line is we've got to get on that plane … to Indianapolis.
"And we're right there, and we … have a chance tomorrow to win a championship. So we want to do that. You're trying to handle that and then get on that plane to get to Indianapolis. It's kind of a two-fold deal."
Do Virginia's issues cause Pastner any anxiety?
"Anxiety's an understatement," he said.