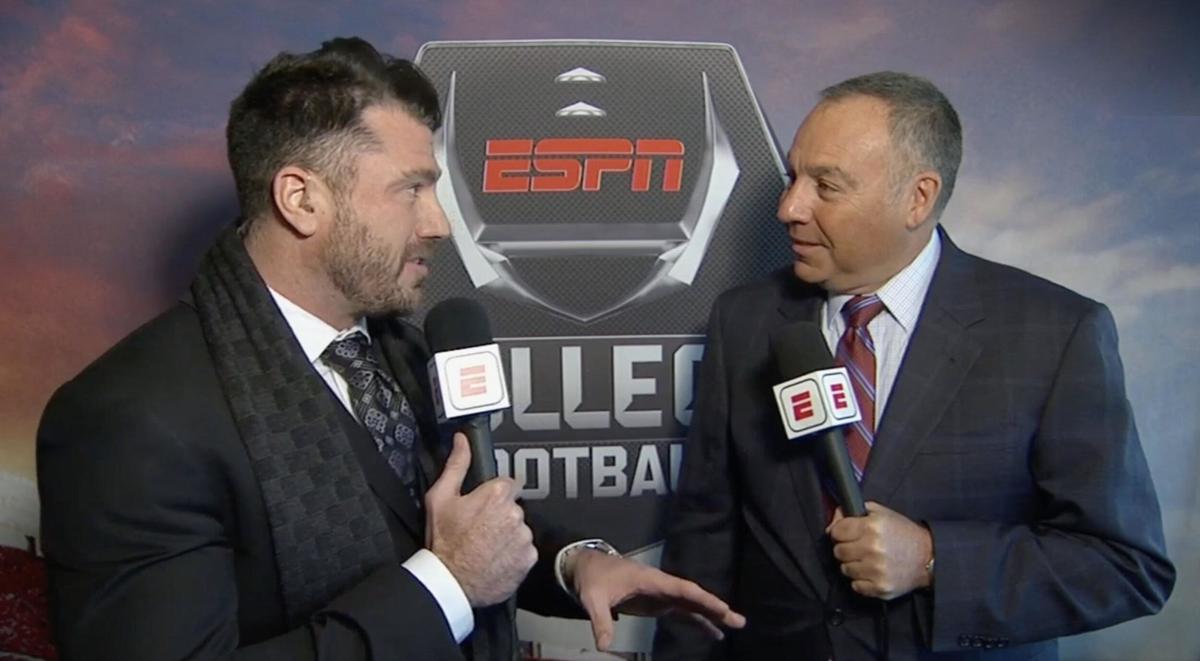 Absent from a Lane Stadium broadcasting booth for six seasons, Bill Roth is scheduled to work two games in the next two weeks from his familiar perch, with Shane Beamer's head coaching debut sandwiched between.
Oh, and for that second Virginia Tech contest, Roth will be teaming with a former receiver who played 51 games for the Hokies, all of which Roth announced.
Assignments don't get more compelling and comfortable for the 2013 Virginia Sports Hall of Fame inductee and veteran of 337 Virginia Tech football broadcasts.
"It's very cool to be back," Roth said.
His first Lane Stadium gig since Tech's 2015 spring scrimmage comes Friday when the Hokies open against No. 10 North Carolina. Roth is calling the game on Westwood One's national radio network, with former NFL linebacker Ben Leber as analyst.
The following night, Roth partners with former NFL receiver Chris Doering for the ESPN+/SEC Network+ telecast of Eastern Illinois-South Carolina, Beamer's first game leading the Gamecocks. One week later, Roth is back at Lane for Middle Tennessee State-Virginia Tech and a telecast that marks Eddie Royal's inaugural game as an ACC Network analyst.
Like all top-shelf broadcasters, Roth researches teams meticulously and memorizes depth charts. But many of the storylines for these three contests are in his blood.
Roth was Virginia Tech's radio voice from 1988 to 2015, blending seamlessly with his analyst and dear friend Mike Burnop. Lured by the nation's second-largest media market, Los Angeles, Roth left Blacksburg in the spring of 2015 for UCLA but came back east after a year to start a second career in academia.
He became a professor of practice at Virginia Tech and helped create the department of communication's sports media and analytics concentration as part of the multimedia journalism major. While recruiting and mentoring the next generation of broadcasters, Roth has stayed fresh by calling games for ESPN's cadre of networks and Westwood One, but none of those events involved the Hokies.
Westwood One ticketed him for Virginia Tech's 2020 football opener last September against Virginia in Blacksburg, but COVID-19 issues among the Hokies forced postponement of the game until December, by which time both teams had played their way out of national radio consideration.
Roth's return to Lane last year would have been in a virtually empty stadium. Friday's contest is sold out, and the Hokies' radio network, led by Jon Laaser and Burnop, is welcoming Roth back with a pregame interview.
"Half the student body at Virginia Tech [freshmen and sophomores] has never seen a football game at Lane Stadium," Roth said. "A night game against a top-10 team with a Heisman Trophy candidate quarterback [Sam Howell] and a Hall of Fame coach [Mack Brown]? That's nationally captivating. …
"I think even Tar Heel fans are ready to jump up and down. … I can't think of two better places in college football to be on the opening weekend than Lane Stadium in Blacksburg and Williams-Brice Stadium in Columbia."
Sending Roth to South Carolina for Beamer's opener was an inspired choice, the only choice.
The son of retired Hokies coach/icon Frank Beamer, Shane was 11 years old when Roth arrived in Blacksburg. Today he's a 44-year-old rookie big whistle whose mentors include Lincoln Riley, Kirby Smart, Phil Fulmer, Steve Spurrier and, naturally, his dad.
Frank Beamer will be in Columbia on Saturday and is scheduled to make a booth appearance with Roth.
"Every big play in Virginia Tech football history you can hear Bill Roth's radio call," Shane said. "At least I can. Games I wasn't even there for are ingrained in my head."
Shane can still hear Roth's signature "touchdown Tech!" and still has a CD of the top-25 Roth football moments that the Hokies compiled in 2012. Roth still has visions of Shane's first sideline duties.
"He was holding Frank's headset cables [as a kid]," Roth said. " … I can't imagine how proud Frank is, with his son basically taking over the family business."
Friday will be Roth's first Virginia Tech football game since the Hokies' 2014 Military Bowl victory over Cincinnati. Tech's interim coach that afternoon was Shane Beamer, subbing for his ailing dad. The Bearcats' athletics director was Whit Babcock, now the Hokies' AD.
And this: Frank Beamer's final game as Murray State's head coach, in the 1986 Division I-AA playoffs, was against Eastern Illinois, the same program the Gamecocks face Saturday.
Shane Beamer's memories of that Murray-Eastern Illinois game include the opposing quarterback: current New Orleans Saints coach Sean Payton.
Royal provided Roth and Hokies faithful many memories from 2004 to 2007, playing on two ACC championship teams and earning first-team, all-conference honors as a senior. Roth instantly recalled three Royal touchdowns: An 80-yard, fourth-quarter reception at Georgia Tech in '04; a 39-yard catch at Miami that same season to clinch the ACC title, and an 81-yard punt return at Clemson in '07.
"You definitely can't forget those times," Royal said. "At least I can't."
Royal played nine NFL seasons, enjoyed his media interactions as a collegian and pro, and first auditioned for the ACC Network in 2019.
"He's going to be so good," Roth said. "He's articulate. He knows the game. He's got a great personality. You'd be hard-pressed to find a more likeable player to interview than Eddie. … He's a clear rising star in broadcasting. He's got an infectious smile. He's got everything."
Royal also is appearing on ACC Network studio shows and understands the preparation ethic he honed at Virginia Tech and in the NFL is necessary as a broadcaster. He aspires to not only offer game insight but also share athletes' off-the-field stories.
There will be no shortage of advice as Royal embarks upon his second career, and Roth's will be especially valued.
"I couldn't ask for a better person to help break me in to color commentating," Royal said. "I know I can learn so much from him."
Might Roth break out "touchdown Tech" on Friday and beyond?
"You'll have to listen," he said.