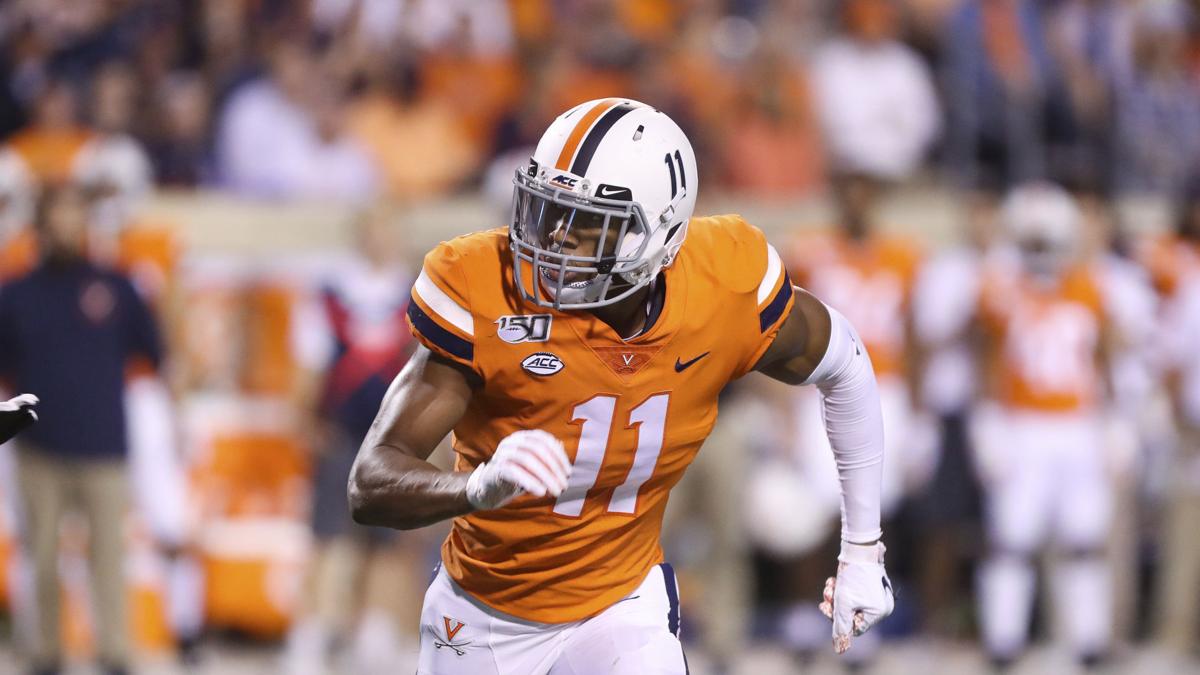 Charles Snowden's message is fundamental and timeless, and given voter turnout trends among his peers, that message needs to be heard again.
"Voting is our civic duty," said Snowden, a senior linebacker on Virginia's football team, "and if you want to see change in this country, whatever that looks like to you — I can't tell people [what] to believe or what their trust in the government should be — but it's definitely … an action that you can look to yourself and say I did my part to make change."
Tuesday is Election Day, the second presidential election in which Snowden is eligible to vote. It's the first for thousands of college students nationally, newly enfranchised young people whose politics are as diverse as their races, backgrounds and religions.
This is also the first Election Day the NCAA has made a mandatory off day for college athletes, a largely symbolic gesture in this year of early voting, and perhaps an inconvenience for some routine-obsessed coaches.
No matter. Like Snowden's words, the NCAA's action is spot-on.
"We can tweet out, and we can voice our opinions and we can have meetings, but there needs to be action, right?" Boston College football coach Jeff Hafley said. "I think that this is one of those examples of taking action."
The 2020 confluence of a presidential election, global health and economic crisis, shocking instances of racial injustice and NCAA debate on name, image and likeness have engaged and empowered college athletes like never before.
And that power is likely to endure.
"With everything going on and with me someone who just turned old enough to make an impact in that way," Virginia sophomore defensive lineman Jowon Briggs said Monday, "it's really been important for me to read up on things and sort of delve deeper into how … politics actually work. So I can pick and choose … where I want to throw my ballot. So it's really important for me to know what I'm fighting for, quote-unquote, and what I'm really pushing for as far as change goes."
That doesn't sound like an occasional voter. That sounds like a lifelong voter.
A redshirt senior, North Carolina linebacker Tomon Fox is older than Briggs and more accustomed to elections. But 2020 is different.
"I did find myself more civically engaged," Fox said, citing racial tensions as a primary cause. "I actually voted early this year. … I think the NCAA did a great job."
The NCAA's action came in response to a grassroots social media campaign started by Georgia Tech men's basketball in early June.
Meeting remotely because of the pandemic, Yellow Jackets players and coaches were discussing George Floyd's death at the hands of Minneapolis police and subsequent protests in Atlanta and elsewhere. Senior guard Malachi Rice mentioned the disconnect between folks protesting but not voting, which especially resonated with associate head coach Eric Reveno, a former Stanford player.
Two days later, he began a Twitter drive to make Election Day a day off, complete with the #AllVoteNoPlay hashtag. For all of Twitter's ugliness, especially regarding politics, this was a shining example of its power.
"Voting isn't politics," Reveno told ESPN's Adam Rittenberg. "It's the backbone of our country."
Since, voting drives have become standard operating procedure on campuses and within athletic departments. Professional athletes and leagues have chimed in, too.
"So I've already chosen to mail in my voting ballot, [and] the team has that option," UVA football coach Bronco Mendenhall said. "But [voting] is a core issue that has significant value to us, and there are some things certainly that are more important than football. …
"I would like every player on our team to have the … very best opportunity to have his voice be heard and to cast his vote. And the [practice schedule] can always adjust."
Virginia Tech offensive lineman Brock Hoffman applauded Hokies coach Justin Fuente and his staff for making current events a topic of conversation throughout the spring and summer and pronounced himself "100%" more attentive to current events.
"I saw a tweet … that was saying we need to get this country to be like a football locker room, and that is true," Hoffman said. "You've got guys from all different areas, different races all coming together for one common goal, and that's to win. … You get different perspectives and views on life and you gain a lot of things from your teammates."
Turnout among the 18-29 demographic has lagged far behind all others in every presidential election since 1980, according to the Census Bureau. Only twice in that span have more than 50% of registered young voters cast ballots — Bill Clinton versus George H.W. Bush in 1992, and Barack Obama against John McCain in 2008.
Tuesday could well top the 52% turnout among young voters in 1992, but while civic engagement often starts with presidential elections, the fervent hope is that young people also discover the importance of local and state elections, and, moving beyond politics, the rewards of community involvement.
A Silver Spring, Md., native, Snowden marched in Washington, D.C., earlier this year and has already voted by mail. He plans to use Tuesday for catch-up sleep and game preparation but welcomes the NCAA's Election Day stance.