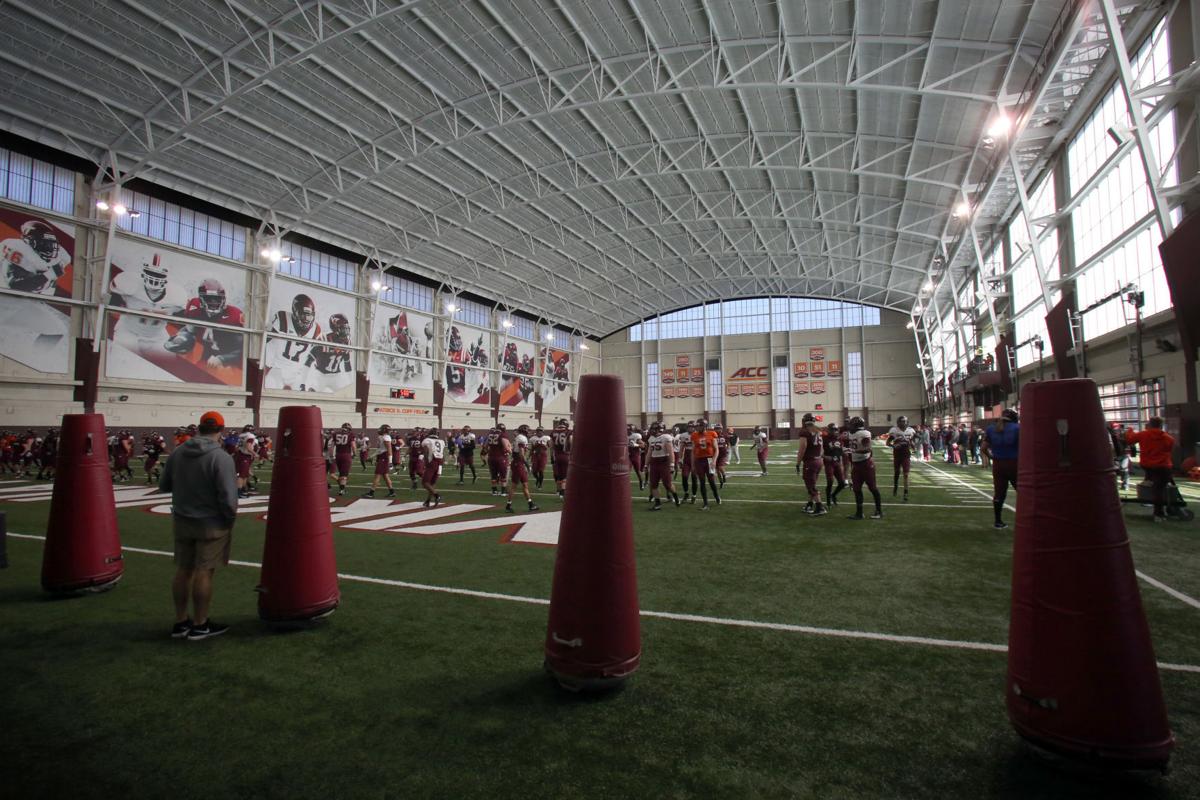 As the Wake Forest athletic department's health care administrator, Murphy Grant has devoted the last three-plus months to coordinating the return to campus of Deacons athletes amid the COVID-19 pandemic.
He and a 32-member team specializing in sports medicine, training, nutrition, psychology, strength and conditioning crafted intricate procedures that guide staff and athletes' every movement. But Grant knows how tenuous this quest for a fall college sports (read: football) season is.
"One individual," he said Thursday during a National Sports Media Association webinar, "could shut down an entire team."
We have, or should have, known this instinctively for weeks. But hearing the words, spoken matter-of-factly and calmly, by a professional health-care provider drives home the reality:
One misstep, no matter how unintentional, by a player, coach or staff member could derail training camp and subsequently the fall season. Indeed, with scores of returning athletes already having tested positive for COVID-19, you could argue the derailment has commenced, albeit in slow motion.
And as Karen Weaver, an associate clinical professor in Drexel's sports management program, somberly noted during the webinar, football teams haven't even begun to practice, let alone compete, against other schools.
"We still haven't introduced the entire team," said Weaver, a former college sports administrator and Division III national champion field hockey coach. "We still haven't introduced multiple teams, and we still haven't introduced entire campus populations into the mix, and those are all big ifs."
No doubt. The return of students from around the country, and the globe, will create a campus Petri dish that athletes almost certainly won't be able to avoid. The spike in COVID-19 positive tests in many regions compounds the challenge.
A senior associate athletic director at Wake Forest and a former director of sports medicine at Kansas, Grant serves on the ACC's COVID-19 medical advisory group. The panel includes one representative from each of the conference's 15 schools, and Grant is the first to speak publicly.
"We are looking for a minimum standard for what we want from all ACC schools in regards to testing," he said. "We have put together some drafts. We've shared it back with the conference office. I know it also will be shared with presidents and chancellors within the league. We'll wait to hear what the feedback is."
Grant said testing costs vary by region, ranging from $80-$100. So, let's do some math on $90 tests.
Conservatively, football athletes, coaches and support staff number 120. Some Power Five officials have suggested 2-3 tests per week during the season, which on the low end would cost $21,600 per week.
Multiply that by the regular season's 13 weeks and you get $280,800 — for football only. Ratchet up testing to three times a week, and the tab becomes $421,200 — again, for one sport.
Power Five athletic departments such as Virginia Tech, Virginia, Wake Forest can absorb the added expense, but what about schools with fewer resources?
Grant confirmed what I've long suspected: The ACC advisory group is examining whether league teams should play non-conference opponents that don't meet the ACC's protocol.
That could imperil games such as Richmond at Pittsburgh, James Madison at North Carolina, Virginia at Old Dominion and Wake Forest at ODU.
Testing isn't the lone standard the advisory group is exploring. There's also contact tracing, essential to slowing the virus' spread but more challenging than a basic test.
Will athletes and coaches recall everyone with whom they've had contact? Which staff members should oversee contact tracing and determine whom should be quarantined after positive tests?
Grant said that Johns Hopkins University offers a free, six-hour, online contact tracing course that several of his Wake Forest colleagues have taken.
Grant spoke from his campus office, a mask hanging around his neck. Deacon athletes — the football team is currently returning in phases — are required to wear a mask during voluntary workouts and can access only one designated entrance and exit at the football complex.
Wake Forest is among the schools that are not releasing test results to the public, but the numbers shared by Texas, Kansas State, Boise State, Clemson, LSU and Oklahoma — the latter three competed in last season's College Football Playoff — are discouraging.
Will we have fall football?
"I think I get asked that question every single day," Grant said, "and I truly don't know how to answer that."
Weaver has written extensively this spring and summer for Forbes.com and believes it could soon be time to pivot toward a plan for spring football. She's not wrong.
"For a long time now coaches, and I can say this because I was one, you get in this mindset that all we have to do is pull together and we can overcome this," Weaver said. "And this is just not one of those situations where you can just physically or mentally overcome this. You have to reorient your thinking. …
"This coronavirus will not adhere to or abide by or follow our academic calendars. It has no inclination, no need to do that. For us to constantly try to fit our plans into a coronavirus schedule is not a good idea."
The Power Five conferences generate more than $3 billion in annual revenue, and football is responsible for a vast majority, one sport essentially funding the entire industry. As a former coach at Ohio State and administrator at Minnesota, Weaver understands that dynamic, but she also voiced a reminder that needs to echo.
"For us to look at [student-athletes] only as an economic opportunity is failing in the mission of higher education."