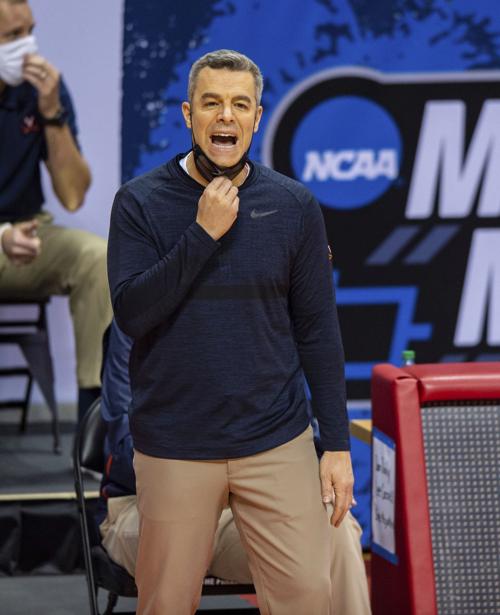 BLOOMINGTON, Ind. — COVID-19 short-circuited two college basketball seasons in the commonwealth Saturday night.
VCU's closed before the Rams even took the floor here in Indiana.
Virginia's ended with a 62-58 first-round NCAA tournament loss to Ohio at Assembly Hall, the Cavaliers clearly affected by a week in quarantine after a COVID case emerged within the team at the ACC tournament.
"What is it with us Virginia schools?" UVA coach Tony Bennett lamented. "Oh, man, I'm sorry to hear that for those young men. I didn't know that."
The reigning national champion, Virginia was the most intriguing team of this most peculiar tournament. How would the Cavaliers respond to their lack of preparation? How would the absence of Justin McKoy, their top frontcourt reserve, impact their rotation?
The magnitude of UVA even playing Saturday became all too evident shortly before tipoff against Ohio. And the evidence hit oh, so, close to home.
About three hours before VCU's scheduled first-round contest versus Oregon, the NCAA revealed that COVID-19 protocols precluded the Rams from competing, the tournament's first disruption. VCU officials said multiple virus cases within the program surfaced in the last two days, a gutting conclusion to the Rams' remarkable bounce-back season.
Disappointment aside, VCU coach Mike Rhoades and athletic director Ed McLaughlin quickly called a Zoom news conference to address the matter and answer questions. Their poise, perspective and transparency were as admirable as the Rams had been on the court since November.
COVID almost ended UVA's season before competing in Indiana, too.
When last seen, the Cavaliers were reveling in Reece Beekman's game-winning 3-pointer at the horn to defeat Syracuse in the ACC tournament quarterfinals. Had the team's subsequent COVID infection, discovered in postgame testing that afternoon, occurred a day later, contact tracing guidelines would have prevented UVA from traveling to Indiana in time for Saturday.
"We're thankful it didn't happen a day later," senior forward Sam Hauser said.
The Cavaliers' ACC tournament was over. But their NCAA tournament aspirations remained, the daily anxiety of COVID testing ramped up exponentially.
Scheduling Virginia for a Saturday, rather than Friday, first-round window was a gracious and understandable nod from the tournament selection committee. You want the most deserving teams in the bracket, especially when it's your reigning champion.
UVA opened 5 of 20 from field Saturday, futility attributable almost certainly to a practice-free week of quarantine. But the Cavaliers defended well enough to lead 28-27 at halftime, and when Casey Morsell's blocked shot ignited a fast break that Kihei Clark completed with a layup, their advantage grew to 38-31.
But UVA wilted on both ends.
The Cavaliers missed 11 consecutive shots. They yielded open looks, and the Bobcats seized command with a 16-2 run that gave them a 47-40 cushion.
Ohio shot 50% in the second half and made all 10 of its free throws after intermission as well. 
During one stretch, Ohio's Ben Vander Plas, the son of former Bennett college teammate Dean Vander Plas, scored 10 consecutive Bobcats points en route to a game-high 17.
UVA countered, but it wasn't enough. The Cavaliers never regained the lead.
The ACC's regular-season champ, Virginia committed a season-low three turnovers, but settling for 3-pointers throughout, the Cavaliers shot a season-worst 35% overall and 25.8% beyond the arc. They entered the game ranked second among ACC teams in 3-point accuracy at 38.1%.
Senior All-ACC forwards Hauser and Jay Huff, the team's best players, were a combined 2 of 14 from deep, their shots often short, a sign of fatigued legs. Moreover, Huff encountered early foul trouble, and with McKoy sidelined and Francisco Caffaro ineffective off the bench, Bennett used a small lineup for much of the second half with Hauser, Clark, Morsell, Beekman and Trey Murphy.
Hauser refused to cite the recent quarantine as a factor Saturday.
"You can't make any excuse for not being able to make shots," he said. "You have to find other ways to score. Tonight we just left some baskets out there that we should have made."
The sentiment is commendable, but this was not the team that closed the regular season with victories over Miami and Louisville and excused Syracuse from the ACC tournament. 
"Don't know if we got tired down the stretch," Bennett said.
"We met all the protocols," Bennett said. "I know more about protocols than I care to, to be honest. We weren't sure after our Syracuse game if we were going to get a chance to play in the tournament. We were allowed that opportunity. ...
"I don't know if it would have mattered if it was a normal prep or not. How can you say? We played a good team, and that's this tournament."