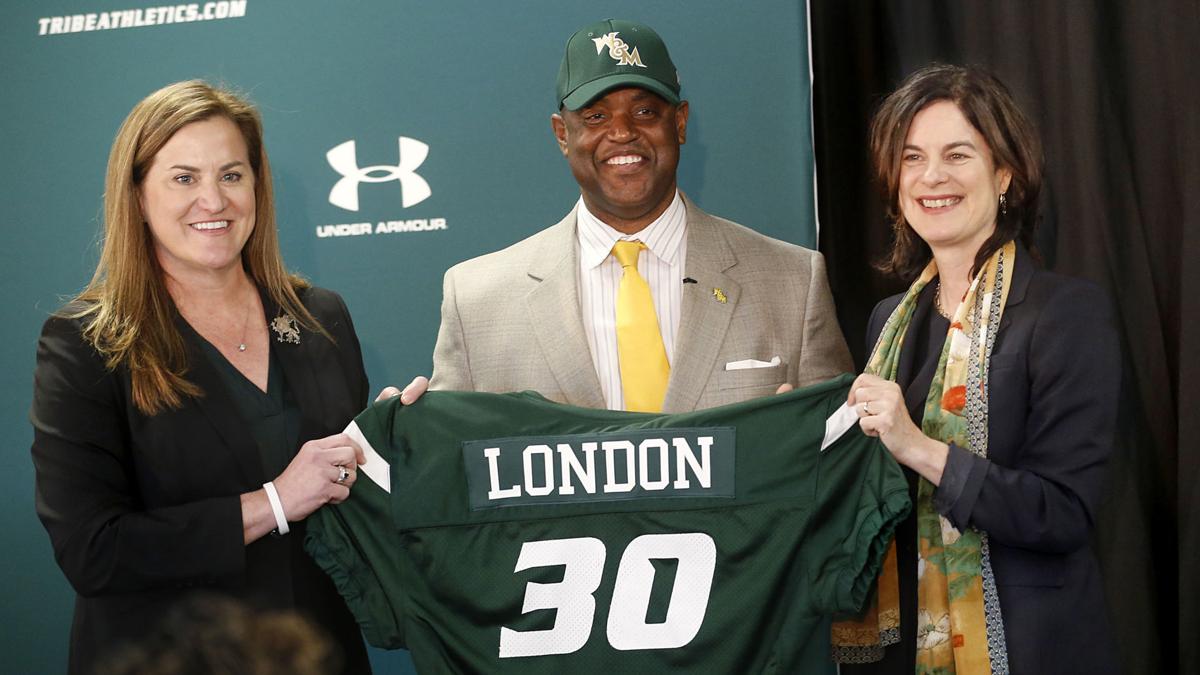 When colleges cut sports, the backlash is often immediate and forceful. Alumni, donors, students and even faculty mobilize and vow to save their preferred team.
Rarely does it work, and in announcing their purging of seven varsity programs last month, William & Mary officials said the decision was "final."
Translation: Politicking, protesting and fundraising weren't going to change their minds.
But given how W&M butchered the rollout, and given the information the relentless opposition has unearthed, I'm beginning to wonder.
Will Tribe men's and women's swimming, men's and women's gymnastics, men's indoor and outdoor track, and women's volleyball all be spared? Doubtful, but clearly W&M President Katherine Rowe, the Board of Visitors and athletic director Samantha Huge understand they owe the college community a far more detailed and better reasoned case — if that case exists.
"We firmly believe this was a misreading of the facts, in terms of the financial management of the athletic department," said Williamsburg resident Jeff Crisci, a 1994 W&M graduate.
Crisci has a vested interest. His wife, Kelley, is an assistant swimming coach, and their son Flynn competes on the team.
Crisci and others are challenging many of the tenets Huge, Rowe and Provost Peggy Agouris espoused in an open letter they jointly released Sept. 3 to W&M supporters. Moreover, they consider the decision an affront to the institution's values.
"William & Mary being a liberal arts university is about a diversity of experience," said former Tribe assistant track coach and All-American Ed Moran, "and now we're kind of consolidating our athletic programs around fewer and fewer sports. It runs counter to what William & Mary is."
Indeed, the Tribe's 23 varsity sports for an undergraduate student body of approximately 6,300 have long been a marvel, and perhaps an overreach. Far larger schools with exponentially more resources offer fewer opportunities.
That leaves W&M coaches, staff and athletes to attain more with less. They excel on and off the courts and fields, despite facilities and budgets that border on inadequate.
"I'm not saying we shouldn't strive to upgrade facilities and upgrade scholarships and things like that," said Matt Crispino, the former Tribe swimmer and head coach now leading the men's team at Princeton. "But the fact of the matter is, we took immense pride in going to national swimming competitions with William & Mary [athletes] because you're overachieving. Everyone looks at you and goes, 'How the hell are you doing this?'
"And that's what makes it worth your time. And for the AD not to see that and not embrace that … broad-based model where everyone overachieves … just suggests she doesn't really understand the ethos and the culture of the place she has been hired to lead. And that's frustrating."
W&M hired Huge, a veteran administrator with extensive experience in not only the Power Five but also the Football Championship Subdivision, in March 2017 and touted her connection to the college — her brother played FCS football there.
One year later, she unveiled a 27-page "strategic review" that said the Tribe's "23 varsity sports and its financial model are not sustainable within its current or foreseeable resources." The review also said W&M "has opportunities to strengthen its three high-profile sports of football and men's and women's basketball."
In March 2019, W&M fired accomplished men's basketball coach Tony Shaver, citing his program's inability to reach the NCAA tournament. Never mind that the Tribe has never made the NCAA tournament.
"Tribe 2025," a six-year roadmap released seven months after Shaver's dismissal, doubled down on the 2018 review. The 24-page document notes the national trend of schools shedding sports and funneling subsequent savings to other teams and touts the importance of basketball, men's and women's, and football in elevating "the William & Mary brand" and fostering school spirit.
"Success in those three [programs] attracts fans, generates revenue for all sports, increases national recognition and expands the admissions pool," the plan says.
W&M football and men's basketball generate considerable revenue, but let's be clear: No Tribe athletics program breaks even, much less turns a profit, a distinction the school shares with hundreds of peers nationally.
That's why more than half of its annual athletics funding comes from student fees — each full-time W&M undergraduate is paying a mandatory $2,002 intercollegiate athletics fee in 2020-21, plus $85 for athletics facilities. That's why Olympic sports teams such as W&M swimming, track and gymnastics must rely on donations from alumni and parents, and income from endowments.
The athletes in those sports revel in defying the odds.
"Who isn't a fan of the underdog, right?" said Mark Moran, 2014 track captain and no relation to Ed. "When you go to William & Mary, you're allowed to take that role. … It's one of those feelings that no one can take from you. … That's something I think is very formative in a person's development. ... You learn a lot about yourself and [when you succeed] it's something that's pretty magical."
Those revenue streams greatly ease the athletic department's financial burden, but the desire to increase funding for other programs, plus the pandemic-fueled economic crisis for all intercollegiate sports, led to W&M's decision.
In their Sept. 3 letter, Rowe, Agouris and Huge said the cuts would eventually save the department $3.66 million annually. They projected a three-year shortfall of $9.7 million otherwise.
Two quick points merit mentioning here.
First, while athletic directors take the brunt of criticism when sports are cut, they do not act unilaterally. Presidents and boards approve such drastic measures and also should be held accountable.
Second, schools at every level are dropping sports. Just last week, La Salle, a private school in Philadelphia with approximately half of W&M's enrollment, announced plans to cut seven of its 25 teams.
But W&M's announcement lost credibility when enterprising critics discovered that portions of the Rowe/Agouris/Huge letter were copied from the document Stanford released in July explaining its elimination of 11 sports. Stanford AD Bernard Muir is a mentor to Huge, and Huge and Rowe have apologized for their sloppy mistake and vowed to be better.
But that's not half the outcry.
Targeted sports are raising money — W&M swimming boosters say they've received $1.1 million in pledges, with men's track at $920,000 — and lobbying administrators. Students and faculty have objected to the Board of Visitors.
In concert, these groups are questioning the wisdom of sacrificing Olympic sports for the sake of football and basketball. And based upon online data Mark Moran gathered from the Commonwealth of Virginia Auditor of Public Accounts, their questions are valid.
A New York-based investment banker, Mark Moran served four years on the board of W&M athletics' fundraising arm. Among his findings, which the VAPA website confirms:
This summer, W&M spent $32,400 on "executive coaching" for Huge.
From fiscal year 2017 to 2019, Huge's first two years at W&M, combined operating expenses for football and men's basketball increased 8.9%, with a corresponding 11.3% decline in operating revenue. Hence, the programs' combined annual shortfall nearly tripled, from $898,094 to $2,547,474.
W&M's accounting methods differ from VAPA's and show "only" a $1.6 million combined deficit for football and men's basketball for 2018-19. But that doesn't erase the discouraging revenue trendline.
So is the solution to decreasing revenue and increasing expenses in football and men's basketball is to spend more on those sports? And what about the lofty goals championed in "Tribe 2025?" What about that plan's aspiration to win 35 Colonial Athletic Association team titles in six years?
If the goal is to win CAA championships, why eliminate men's swimming, winner of the last six conference titles? Why eliminate women's swimming, CAA champs in 2016 and '17?
Oh, and collateral damage here is almost certain to include men's cross country, the most dominant program in CAA history. W&M has won 20 consecutive league championships, the second-longest active streak for any Division I program.
But men's cross country faces probable gutting without men's track because of the sports' overlap.
"You're not going to get any good student-athletes to come and run just cross country," Mark Moran said. "It just paves the way to cut the cross country team. They're just not saying it."
The gutting is already in the works.
Responding Wednesday to a threatened lawsuit on Title IX grounds — Title IX is the federal law guaranteeing gender equity at institutions that receive government funding — W&M projected that the men's cross country roster would fall from 20 to 14 in 2021-22, while the women's roster increased from 23 to 26.
Huge announced Friday a series of meetings to hear constituents' concerns and explain W&M's approach. But it shouldn't have taken a barrage of criticism to prompt transparency.
"That doesn't sit well with anyone because it's simply, from our perspective, not true," Crisci said. "I have a kid on the team, my wife's a coach, I'm a donor to the College and haven't been asked to give money to swimming in any meaningful way. Nor have any other parents. It just didn't happen."
"Once again, it comes off as being disingenuous," said Ed Moran, the former track athlete and assistant coach. "You have a lot of very intelligent, driven people at William & Mary, especially the student-athletes, and if you would have come to us and said, 'Hey this is the issue, help me think through some solutions,' I guarantee you we would have found a solution."
"Tribe 2025" also aspires to maintain the highest graduation rate for athletes of any Division I public institution, and cutting the seven targeted sports could compromise that goal. Fifty-four athletes from those teams earned GPAs of at least 3.5 in 2019-20, qualifying them for the athletic department's annual Provost Awards.
"I think it's going to degrade the college over time," Crisci said. "This is an academic-first institution. Always has been, always will be, and that's why you're seeing this public outcry, because this perception that we're selling out to just prop up revenue sports is going to come at the expense of academics eventually. And alumni won't stand for it. Nor will faculty."