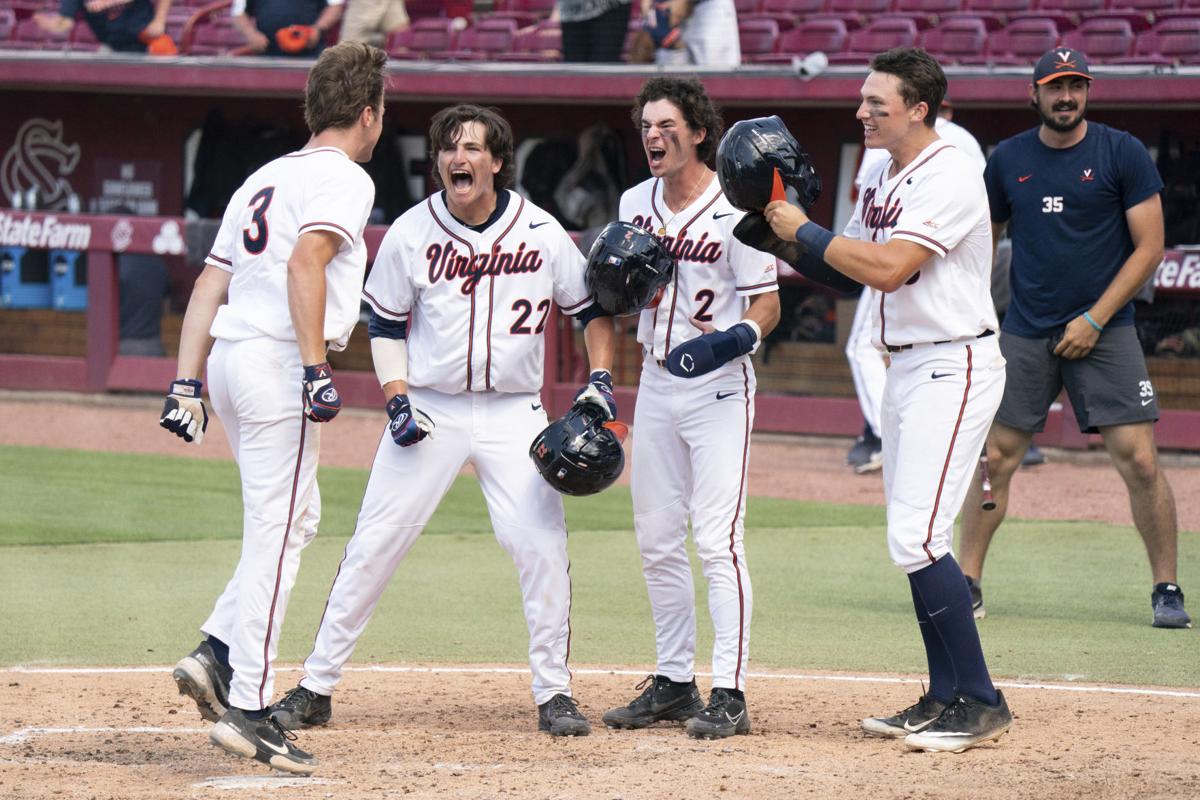 The lock-down reliever has stitches in his head from a recent weightlifting accident, while his battery mate is nursing a broken finger. The daring rookie outfielder is fast-tracking icon status, while the veteran shortstop never takes a game off.
With considerable assistance from their teammates Monday, this captivating cast lifted Virginia baseball to its fifth, and most implausible, College World Series appearance.
Understand this is a program steeped in wild postseason runs. The 2011 bunch needed Chris Taylor's two-out, two-run, walk-off single to beat UC Irvine in the decisive Game 3 of a super regional in Charlottesville. The 2015 club rebounded from a skittish ACC start, overcame a slew of injuries and earned an NCAA tournament bid that morphed into a national championship.
But none of Virginia's roads to Omaha has been this perilous, this dramatic, this clutch.
"Trust me," said Brian O'Connor, the Cavaliers' elated and exhausted coach, "I'd rather not do it that way."
That "amen!" you hear is from legions of spent UVA faithful.
Monday's Game 3 of the Columbia (S.C.) Super Regional was Virginia's sixth tournament elimination game in 10 days. But after a 4-12 start in ACC play, much of the schedule's back half carried postseason implications.
Indeed, after dropping series openers at Georgia Tech and Clemson in early April, the Cavaliers faced what were essentially four elimination games, also in a 10-day span. Lose any of those contests, either of those series, and UVA's climb to an NCAA bid would have become Afton Mountain steep.
But the Cavaliers did not lose. They won each of those games, both of those series.
And they won four straight after falling to South Carolina in the opening contest of the regional, and they won two in a row after stumbling in Game 1 of the super regional against Dallas Baptist.
Try superb pitching, acrobatic defense and timely hitting, all rooted in a confidence instilled by O'Connor and his staff. Then add more than a dash of good fortune.
"It's amazing," O'Connor said, "4-12 [in the ACC] and just the commitment, the decision that they made to run to [adversity] rather than run away from it. They'll have that strength and that feeling for the rest of their lives."
And they'll have snapshots of Monday for all-time, as well.
For the second time in as many NCAA tournament outings, right-hander Matt Wyatt, no matter the stitches he incurred after an incident in South Carolina's weight room last week, was overpowering out of the bullpen. He pitched 5 2/3 innings of shutout relief, center fielder Chris Newell saving a run with a leaping catch at the wall of a seventh-inning drive that had Andres Sosa posing at the plate.
Catcher Logan Michaels continued to personify the term "backstop," expertly managing Wyatt and starter Nate Savino while keeping even the most errant pitches in front of him. More than six weeks ago, Michaels broke a finger on his left hand sliding into home against Virginia Tech, but like this team, he soldiers on.
Same holds for Nic Kent, the homegrown shortstop from Charlottesville. Monday was his 127th consecutive start in a Virginia uniform, and his fourth-inning home run drew the Cavaliers to 2-1.
An inning later, freshman right fielder Kyle Teel strolled to the plate with the tying run at third base and two out. After swinging at an 0-1 fastball out of the zone, Teel stared into the dugout at O'Connor.
"I was just telling him, 'I can do this. I can do this,'" Teel said. "And then I struck out. So I'm really glad I got that other opportunity."
Yeah, about that other opportunity.
'Twas the bottom of the seventh with two outs and the bases loaded. Teel, a left-handed hitter with the gifts, conviction and flair to become a national celebrity, faced southpaw Peyton Sherlin, Dallas Baptist's best reliever.
"Kyle Teel is fearless," O'Connor said.
"I love the quote, 'No pressure, no diamonds,'" Teel said.
Virginia's leader in batting average, home runs, RBIs and fielding percentage, Teel earned permanent gem standing with a grand slam to center field, the first in UVA's 100 NCAA tournament games. It wasn't a walk-off, but the way Wyatt was dealing, it might as well have been.
How accustomed to, and relaxed in, win-or-else moments are these Cavaliers?
Let's rewind to the third inning of Sunday's Game 2. Griff McGarry had walked George Specht and hit River Town, prompting Michaels to visit the mound. Noticing, Michaels' zipper down a spec, McGarry couldn't help but laugh and inform his catcher of the issue.
And how unlikely has UVA's path been?
Since the NCAA tournament adopted its current format in 1999, only two other teams, Rice in '99 and Florida State in 2008, have reached the College World Series after losing their opener in the regional and super regional.
"We're going to be ready to roll in Omaha," O'Connor said, "I can promise you. … But what this team has accomplished to have the opportunity to go there is just remarkable, and I'm just incredibly proud of them."