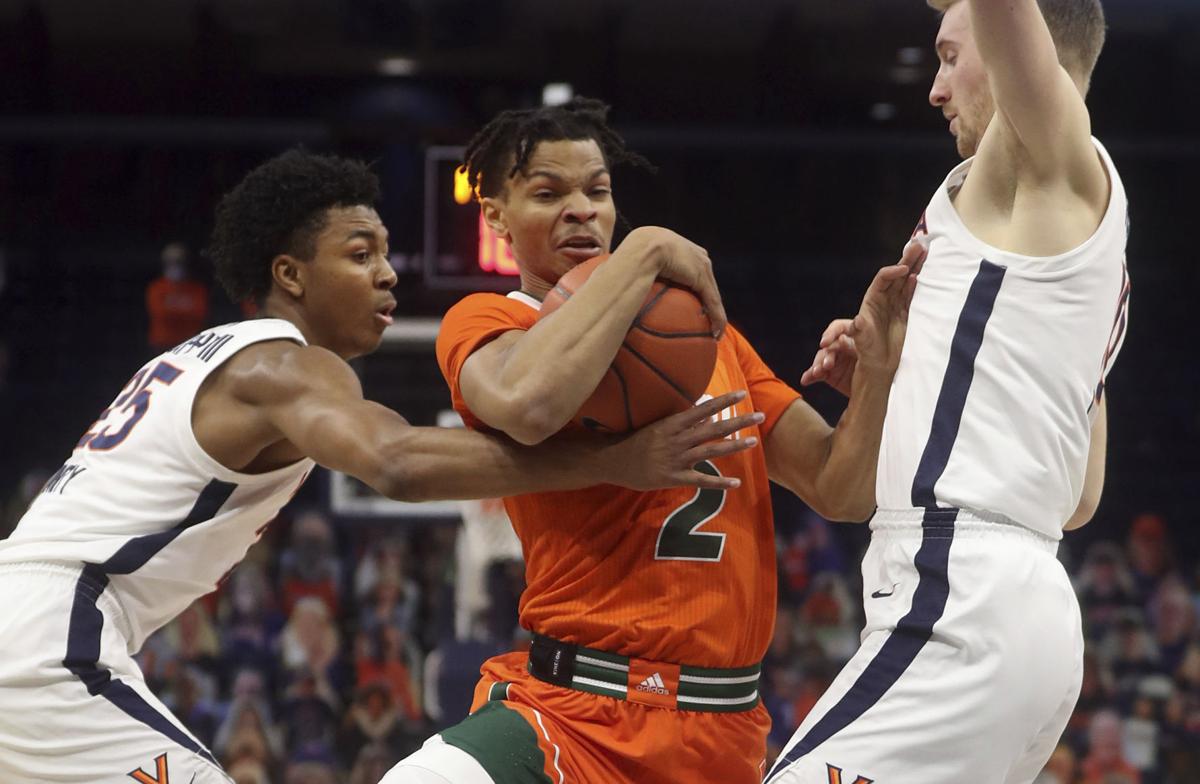 CHARLOTTESVILLE — Virginia couldn't have arranged for a more convenient senior night opponent Monday than injury-ravaged Miami. The Hurricanes arrived in town as the ACC's last-place team, losers of five consecutive games and nine of their past 10.
A drama-free farewell for the seniors, complete with multiple minutes for the walk-ons, seemed preordained.
Sure, the Cavaliers won 62-51. But this was far from comfortable or comforting.
National ranking notwithstanding, No. 21 UVA has issues of its own, evident in the three defeats that immediately preceded Monday, the most recent a troubling home setback in which North Carolina State riddled the Cavaliers' interior defense.
So there Miami (7-16, 3-15 ACC) was, late in the first half, leading by a point and, like the Wolfpack last week, exposing Virginia inside. In one brief and jarring stretch, the Hurricanes made four consecutive buckets at the rim, two each by Nysier Brooks and Kameron McGusty.
The Cavaliers closed the half on a 14-2 binge to seize a 41-30 intermission advantage, but coach Tony Bennett was perturbed enough to bench starters Jay Huff and Kihei Clark for the final three minutes of the first period and the opening 5:31 of the second.
"For us to be good," Bennett said, "they need to be ready and sharp. … I didn't feel they were ready. … They got better in the second half, but we had to go with what was giving us life."
The lineup Bennett used during those eight-plus minutes included Tomas Woldetensae, Sam Hauser, Trey Murphy, Justin McKoy and Reece Beekman. A sophomore reserve forward, McKoy scored 8 points, all in the first half, his most productive game since a career-best 11 against San Francisco in the season's second game.
"Just toughness and effort that was so lacking," Bennett said of McKoy's contributions. "... He started earlier in the year, and then he's gone through a patch where he didn't play as much, but his work ethic and his effort [have] never wavered."
Lacking toughness and effort is hardly where a program with championship aspirations wants or needs to be at any stage, let alone as March dawns. But those flaws have occasionally marred yet another season in which the Cavaliers (16-6, 12-4) will finish among the top four of the ACC standings.
Not to suggest the evening was without redeeming value for UVA.
Among the four senior players honored during pregame ceremonies dampened by the pandemic, Hauser was his typical scoring force, contributing a game-high 18 points, plus six rebounds and two blocked shots. Murphy was more assertive than of late and scored 12 points, and Beekman harassed Isaiah Wong (57 combined points in his two previous games) into 3-of-13 shooting.
And then there was the bench, led by McKoy, outscoring Miami's reserves 20-2.
"They all have a lot of confidence right now," Hauser said of UVA's bench.
Led by Hauser and Huff, it's difficult to imagine a senior class with more diversity of basketball experience than Virginia's.
Hauser transferred to Virginia after three years at Marquette, sat out last season per NCAA transfer regulations, and has started every game, leading the Cavaliers in scoring and made 3-pointers.
Huff voluntarily redshirted as a freshman in 2016-17, the better to strengthen his 7-foot-1 frame, and departs a viable NBA prospect, not to mention a married man. He met his wife, Lindsay, at Virginia.
A native of Bologna, Italy, Woldetensae played two seasons at Indian Hills Community College in Iowa before spending the back half of his college career at UVA. His minutes fluctuated, but last February he scored a career-high 27 points at Louisville and a week later made the game-winning 3-pointer at North Carolina.
Austin Katstra is a walk-on from Charlottesville and third-generation UVA basketball athlete. His paternal grandfather, Richard, played for the Cavaliers from 1962-64; his father, Dirk, a veteran UVA athletics administrator and fundraiser, from 1987-91.
In the waning seconds, Huff, Hauser and Woldetensae took their curtain calls, Katstra and other walk-ons took the court, and UVA fans could finally exhale.
Saturday's regular-season finale at Louisville is next, followed by the ACC and NCAA tournaments.
"When the game got close, I think that's when we really came together," Hauser said, "and showed some resilience and toughness, which we hadn't the last few games. I think it was a good steppingstone for our team."