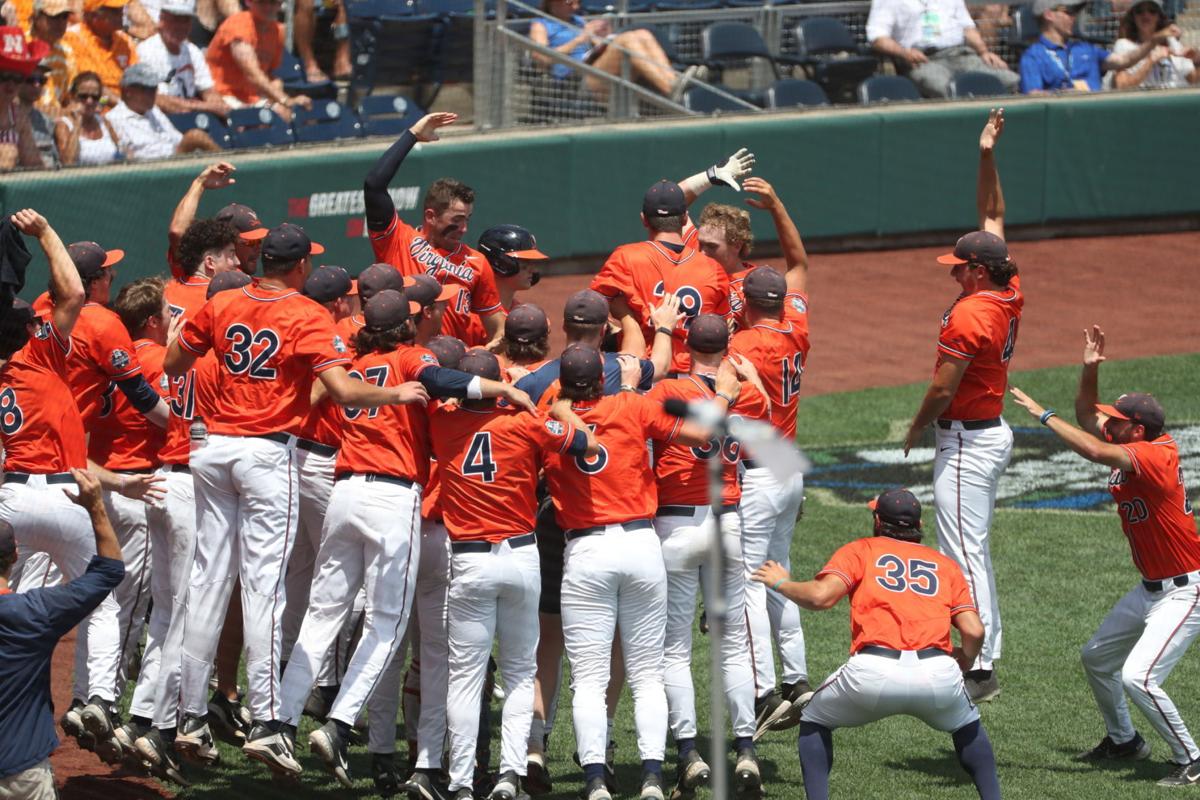 Brian O'Connor earned his 750th coaching victory Sunday, an affirmation of his tactical skills, the athletes he's recruited to the University of Virginia and the program's player development.
But in the aftermath of UVA's 6-0 win over Tennessee in the opening round of the College World Series in Omaha, O'Connor considered anew the essence of coaching.
"First and foremost," he said, "when you have children of your own and you see when things happen in people's lives, you know the impact that it has on young people. And these players that wear our uniform, they look to us as coaches and administrators as leaders that are looking out for their best interests and care for them. This is what this is about.
"A lot is to be made about home runs and guys rising up and going on to professional baseball. But what it comes down to it in its simplest form, it's about caring for young people. And if you have talent and you care for young people, and you're teaching them the right things, you've got a shot."
What steered O'Connor onto this topic was the powerful story of Virginia catcher Logan Michaels and his father, Jeff.
All Michaels did on Father's Day was ignite the Cavaliers' offense with three hits, two RBIs and a third-inning solo homer to produce the game's first run. This he did with Jeff, who's been battling pancreatic cancer for three years, in the stands.
The experience moved father and son to tears, their emotions resonating with legions of us watching on television.
Comrade Bennett Conlin of The (Charlottesville) Daily Progress wrote a stirring account in April of Jeff's fight and its effect on Logan. Virginia was set to begin a three-game home series against Louisville, the first time in Logan's three years with the program that his dad would see him play in Charlottesville.
Jeff returned for UVA's home weekends versus Duke and Wake Forest and traveled to Columbia, S.C., last week as the Cavaliers won a super regional against Dallas Baptist to reach the College World Series for the fifth time in O'Connor's 18 seasons as coach.
In the first of three games with Dallas Baptist, Michaels lunged across the railing of the Patriots' dugout to catch a foul pop-up, an acrobatic hustle play that epitomized his value but went largely unnoticed when Virginia lost the game.
As Jeff explained to Joe Nugent of Omaha's NBC affiliate, WOWT, that catch was the byproduct of tireless preparation.
After dropping a foul pop-up as a kid, Logan retreated to the backyard and launched tennis balls into the air with his racket to practice catching pop-ups directly over his head.
"A rock," O'Connor often calls Michaels.
"He's been our anchor behind the plate for two seasons now," said Andrew Abbott, who struck out 10 Volunteers in six innings Sunday. "Guy just works really well with all the pitchers. He knows what the heck's going on. He's one of those guys that steps up in big ways in different scenarios — blocking pitches, throwing a guy out in a big spot.
"Today, hitting the home run in front of his dad was special. … It's time for the rewards to start coming for him."
The home run was Michaels' first in 150 at-bats this season, his second in 342 at-bats as a Cavalier, and helped send UVA into a Tuesday night winner's bracket contest against Mississippi State.
"Oh, I couldn't believe it," O'Connor said of his reaction when the ball just carried over the left-field fence.
"There's no words for it," Michaels said.
Indeed, this was storybook stuff, complete with the home run ball being retrieved for Jeff to treasure.
Michaels signed with Virginia in 2018 after two stellar seasons at Madison College, a junior college in his native Wisconsin. Jeff's cancer bout had just started, and when Logan returned home that September to visit, he was startled by his dad's poor condition. On the flight back to Charlottesville from Chicago, he wept.
"So I got back to school and I remember I talked to our academic counselor," Michaels said Sunday. "… I just was like, 'I don't know if this is right for me right now.' But at the same time, I've worked my whole life for this. Like this is what I've wanted my whole life. I've worked for it really hard. So it was just a really tough decision.
"Obviously I'm so happy that I stayed here. … And my dad was always like, 'Stay there. You'll enjoy it. This is what you've been meant to do your whole life.'"
Naturally, Michaels leaned on his coaches and teammates. Such support is among the many beauties of sports, how a team can lift up one of their own, whether the issue is routine or grave.
In that vein, O'Connor gave Michaels the space to step away from fall practices and to be with his father because "family's first and foremost."
Abbott simply tried to listen to his battery mate, and though doctors pronounced Jeff cancer-free after surgery on New Year's Eve 2018, all concerned understand how notorious pancreatic cancer is for returning.
"I think baseball has helped him the most, other than teammates," Abbott said. "Just being out there, the freedom and knowing that his dad wanted him to play. That's father/son special."