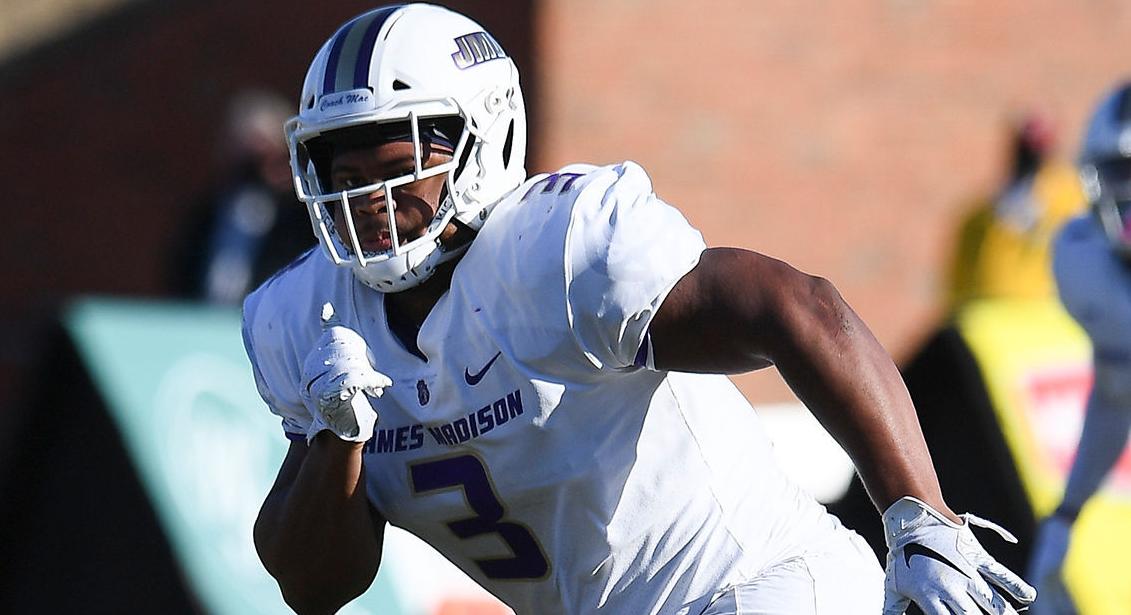 The spring football seasons at James Madison, Richmond and William & Mary closed in starkly contrasting fashions, all maddening and not soon forgotten.
Indeed, as players and coaches huddled virtually with reporters this week during the Colonial Athletic Association's media day, their resolve to erase those scars was clear.
Consider the Spiders. Given the Football Championship Subdivision's abbreviated and disrupted spring schedules, it's difficult to summon any outrage for a 3-1 team's playoff exclusion, especially when those victories were against Elon (twice) and W&M, opponents that went a combined 2-7.
But when the 16-team bracket was revealed the day after their setback at JMU in the regular-season finale, UR players were stung by their omission.
"I still remember that Sunday morning like it was yesterday," said defensive tackle Kobie Turner, the CAA's co-defensive player of the year. "Woke up super excited, went into the living room [to watch]. … That instantly became fuel for me."
With a traditional fall season on the heels of spring, Spiders coach Russ Huesman opted to give his players a month off from mandatory workouts, the better for them to exhale mentally and physically before the grind ahead. Turner and many others declined, returning to the weight room within days.
"Once that [month] was done, it was full blast, full bore, everything to get ready for a season," Huesman said.
With a half-dozen sixth-year seniors, including quarterback Joe Mancuso, among a sizable veteran core, Richmond is positioned to earn its first postseason invitation since 2016.
The Spiders are 18-20 under Huesman after reaching the playoffs in each of the previous three years, and in their preseason poll, CAA coaches and media relations directors picked UR fourth. Such a finish — JMU, Delaware and Villanova were Nos. 1-3 in the poll — would likely find the Spiders on the fringe of playoff contention.
Huesman has long believed that fourth- and fifth-year seniors are the linchpins of championship rosters, and with the NCAA granting extra seasons of eligibility because of COVID, sixth-years add a unique layer.
"They're bigger, they're stronger, they're probably faster, they're more mature, and I think that's where we are right now," Huesman said of seniors. "… So pretty excited about this group."
Curt Cignetti masks his excitement like a poker shark, but if anyone should be jazzed about the 2021 season, it's JMU's third-year big whistle.
The Dukes have reached at least the national semifinals in four of the last five seasons and haven't missed the playoffs since 2013. They are 21-3 under Cignetti, 11-0 against the CAA, 14-0 at home.
JMU hasn't lost at home, by the way, since a 2018 setback to Elon, coached by one Curt Cignetti. But the Dukes' most recent defeat, at eventual national champion Sam Houston in a playoff semifinal, was far more jarring.
They squandered a 24-3 halftime lead and lost 38-35.
JMU returns the essentials from that squad, most notably quarterback Cole Johnson and All-America defensive lineman Mike Greene, who shared CAA spring honors with UR's Turner. Add a handful of transfers on defense — end Bryce Carter's arrival from Towson allows Greene to move back inside to tackle — and you have another national contender.
From mid-September to mid-October, the Dukes encounter Weber State, New Hampshire, Villanova and Richmond, the first three nicknamed Wildcats — how random is that? — and only the Villanova contest at home. It's a thorny stretch that figures to show just how good this bunch can be.
"I think that's who we are," Cignetti said. "Year in, year out, that's what we do. We win, we win championships. I think guys come here expecting that. There's a high standard, an expectation level, a great culture here. … I think everybody in the organization is accustomed to these expectations and committed to taking them a step further."
Expectations are far more modest at William & Mary, picked 11th in the preseason poll. No surprise there. The Tribe's most recent winning season was 2015, and though the offense showed a pulse in 2019, that progress was indiscernible during a 1-2 spring marred by injuries and COVID.
Virus issues scrubbed half of W&M's six scheduled games, including the April 10 finale versus Richmond, cancelled the day before kickoff. What became the Tribe's final game was a 38-10 loss to JMU that quarterback Hollis Mathis (shoulder) and running back Malachi Imoh (leg) missed with injuries.
Coach Mike London said Mathis, is back throwing this summer, but he and his staff wisely recruited the transfer market for insurance, landing Kevin Doyle from Arizona and Cole Northrup from Lafayette. A dynamic dual threat, Mathis is the presumptive starter if healthy, and a hale group of receivers would aid his cause immeasurably.
Zach Burdick and Kane Everson combined to catch 80 passes for 1,240 yards and five touchdowns in 2019, but injuries shelved them during the spring. Like Mathis, both are poised for next month's preseason camp, and in concert with Imoh, they could give defenses headaches.
"I feel good about this team," London said. "I feel good about the talent of this team, the depth of this team, about the seniority, about the leadership. … I think we … have a chance to be really good."