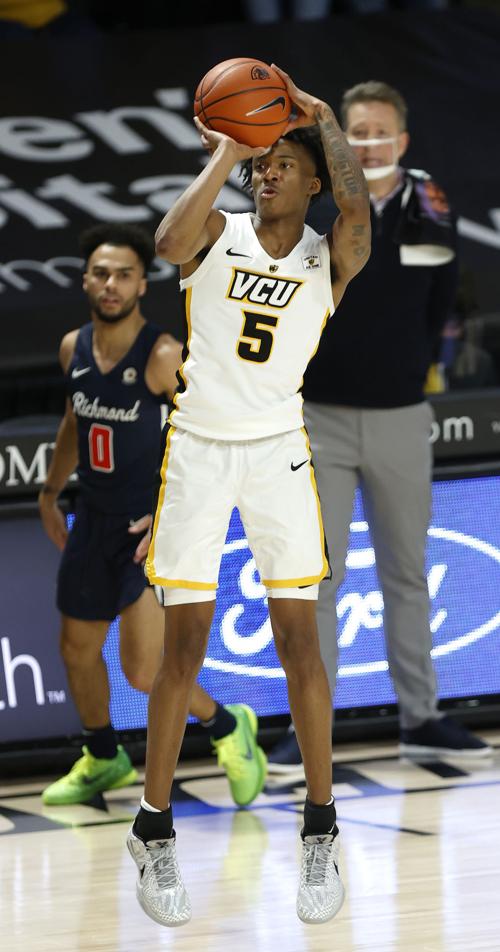 Youth and momentum defeated experience and rust Wednesday night at Siegel Center.
Extending its winning streak to six games, VCU outlasted Richmond 68-56 to remain atop the Atlantic 10 standings.
Playing their first conference contest in more than three weeks, the Spiders' lack of game conditioning, predictably, showed late, never more than in this brief but key sequence:
With the Rams leading 59-54, Tyler Burton's 3-pointer from the right wing was well short, a sign of tired legs. Compounding the issue, the Spiders were slow to retreat on defense, and Jamir Watkins beat them down the floor for a transition dunk.
Richmond's fatigue only worsened. Previously on pace to be the best shooting squad in Chris Mooney's 16 years as coach, the Spiders (11-5, 5-3) missed their last eight from the floor and 14 of their last 15, finishing the night at a season-low 32.8%.
"We think everyone's going to do that, though," Rams coach Mike Rhoades said of Richmond's fade. "We really do. The way we practice and the way we play — we play a lot of guys. That if we just keep getting after it and play really hard, other teams aren't going to play, can't play, that hard for that long. Especially if they don't use their bench as much."
Conversely, VCU (16-4, 9-2) showed the late-game form you'd expect from an NCAA tournament-caliber team. The Rams made 10 of their last 11 shots and scored the game's final 7 points.
As usual, Bones Hyland was VCU's engine, scoring a game-high 20 points and adding career-bests of 12 rebounds and six assists, completeness that will, at this rate, make him a program icon.
Nursing knee and hip soreness, Hyland did not practice for two days prior to the game, and Rhoades rested him for five minutes during the first half. But in the second half, it was all Bones, all the time.
Good as Hyland was, role players put the Rams over the top.
Hason Ward and Watkins each made 5 of 8 shots and combined for 21 points, nearly twice their average. Such balance will serve VCU well as it continues to enhance its postseason credentials.
The first glimpse of separation Wednesday, and it was marginal, came late in the first half when the Spiders missed four shots, three at the rim, on one possession. Hyland then made his second 3-pointer of the evening for a 26-20 edge that the Rams extended to 32-24 at halftime.
That empty possession embodied UR's first half. The Spiders missed seven of their first eight attempts and shot 32.3% for the period.
Moreover, their Nos. 1 and 3 scorers this season, Blake Francis and Tyler Burton, were scoreless and a combined 0 for 6 from the field.
Those trends didn't last. Nor did VCU's lead.
Francis and Burton scored early in the second half, and within five minutes, Richmond had regained the advantage at 37-36.
Game on, which is precisely what we crave in a rivalry, not the lopsided homecourt victories that marked last year's encounters between the two.
For about 10 minutes, the Spiders and Rams traded punches, neither able to gain control. But then, fatigue took over.
"They're a great defensive team," Richmond coach Chris Mooney said, refusing to use the layoff as an excuse. "They have the defensive statistics to prove it." 
The Rams and Spiders contrast not only in style — VCU is top 10 nationally in forcing turnovers, Richmond top 10 in avoiding TOs — but also in composition.
Kenpom.com ranks Richmond 10th nationally in roster experience, VCU 306th, numbers reflected in their starting lineups. The Spiders started four seniors Wednesday, the Rams one.
The difference is especially notable at guard, where Richmond leans on seniors Jacob Gilyard and Francis, VCU on freshman Ace Baldwin and sophomore Hyland. That experience and maturity in the backcourt explain, in large measure, the Spiders' exceptional ball security.
But how would they respond to the Rams' defense after not having played a conference game since Jan. 26?
Sure, Richmond emerged from its latest COVID-19 pause with a Sunday game against St. Mary's of Maryland. But a Division III tune-up in no way simulates the intensity of a neighborhood rivalry.
This is the latest VCU and Richmond have met in a season for the first time since 2001, when the then-Colonial Athletic Association rivals played the first of their two regular-season games against one another on Feb. 17.
"Just put it on the COVID list," Rhoades said earlier in the week.
The list, indeed. The teams were originally scheduled to open their annual home-and-home series Jan. 16 at UR's Robins Center. But the Spiders' second COVID pause forced a delay, first until Feb. 12 and then, in the wake of a third UR pause, until Wednesday.
Moreover, the venues were swapped, with the Rams hosting first and the Spiders staging the regular-season finale March 6. By the way, that's the perfect way for the A-10 to schedule this series moving forward.
Much like in football, where Richmond closes versus William & Mary, Virginia Tech against Virginia, and Army versus Navy, basketball's regular season should end with a crescendo entering the conference tournament — think Duke-North Carolina.