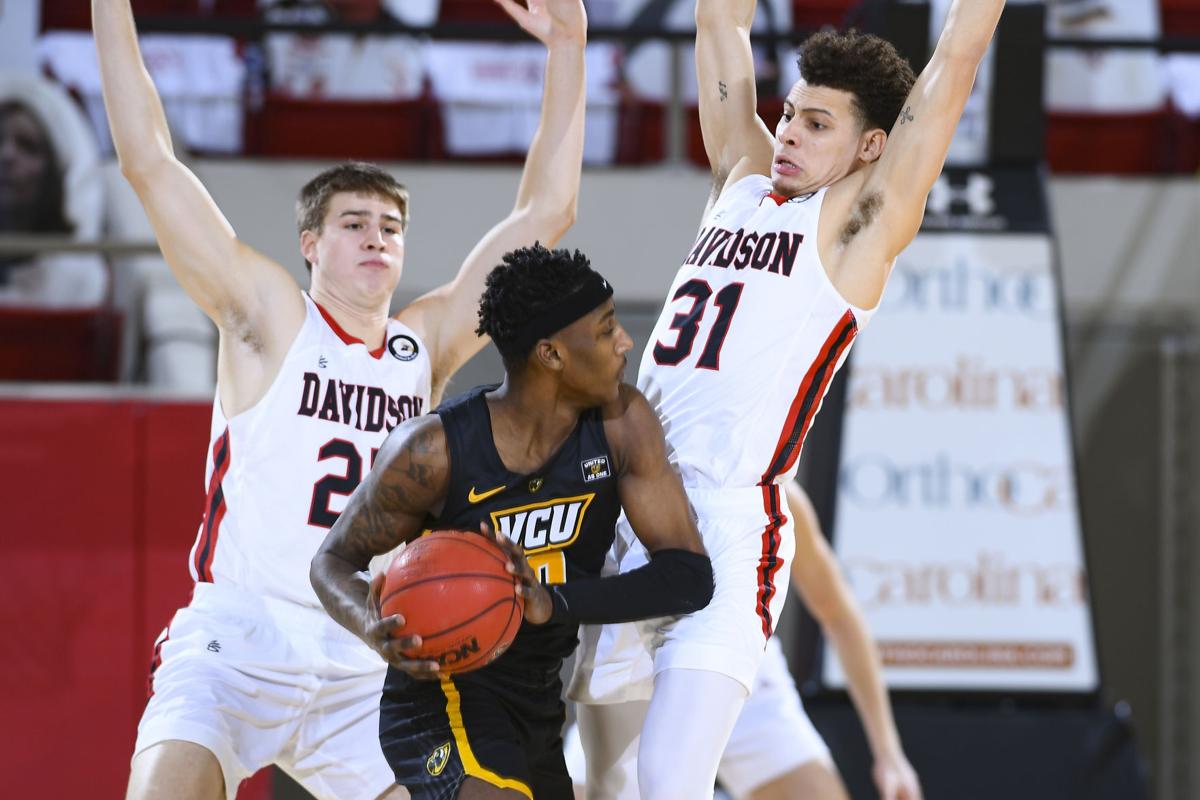 Two ESPNU images defined VCU's 65-57 setback at Davidson on Saturday. The first was of Bones Hyland, in street clothes, standing behind the Rams' bench fidgeting nervously during the tense contest. The second was of Vince Williams, left shoe removed, icing his sprained ankle.
Without its top scorer for the second consecutive game and without its No. 2 scorer for the final 9:59, VCU didn't have enough firepower in the finale of a remarkable regular season.
"Played good enough defense to win," Rams coach Mike Rhoades said. "Offense wasn't good enough."
VCU shot 36.5% overall and missed 15 of 19 attempts beyond the 3-point arc. The Rams compounded sketchy shot selection with an uncharacteristic 15 turnovers that led to several easy Davidson buckets.
The defense wasn't up to VCU's standard either. The Rams forced only 11 turnovers, more than six shy of their average, and allowed the Wildcats to shoot 49% overall, 66.7% inside the 3-point arc.
But the primary worries entering the Atlantic 10 tournament are Williams and Hyland (foot injury). With 11 points in 24 minutes, Williams was VCU's most efficient scorer Saturday, and he hopped off the floor midway through the second half, unable to put any weight on his left ankle. Davidson was in the midst of a 9-0 run when Williams turned his ankle, taking control at 51-43 and eventually leading by 11.
"He's tough kid, man," Rhoades said. "He's been through some crazy injuries. He couldn't go, so it's a concern."
A versatile, 6-foot-6 wing, Williams has endured shoulder, Achilles and hand ailments during his three seasons at VCU, plus a concussion. His value transcends the stat sheet, where he leads the Rams in 3-point accuracy and rebounds, and his presence is paramount if VCU is to advance deep into the A-10 tournament and secure an NCAA tournament bid.
Picked ninth among the conference's 14 teams in a preseason coaches/media poll, the Rams (17-6, 10-4) will be the A-10's No. 2 seed behind St. Bonaventure and are set to play in a 3:30 p.m., quarterfinal Friday at the Siegel Center or Robins Center.
VCU's NCAA profile is solid — the Rams began the day No. 35 in the NET rankings and boast eight victories in games the NET classifies as Quadrant 1 or 2 — but an early exit from the A-10 tournament would make for an anxious Selection Sunday.
There's also anxiety about Hyland, whom Rhoades said earlier in the week would likely play against Davidson.
"We want to get him as close to pain-free as we can, and he wasn't there," Rhoades said Saturday.
Hyland is not only VCU's top scorer and free throw shooter but also leads a pressure defense that ranks among the nation's best. Absent Hyland and top reserve KeShawn Curry (family matter), the Rams lacked the backcourt depth to rattle Davidson (12-7, 7-4).
The Wildcats scored 34 points in the paint, where 6-10, 250-pound center Luka Brajkovic overpowered defenders such as Levi Stockard, Hason Ward and Corey Douglas. Brajkovic scored a game-high 15 points in just 19 minutes, and his only two missed shots were 3-point attempts.
After Williams' injury, VCU spent much of the final 10 minutes with three freshmen on the floor: Jamir Watkins, Ace Baldwin and Josh Banks. Guarding a sophisticated offense such as Davidson's is difficult enough, let alone with three rookies.
Rhoades scolded his team after Saturday's defeat for failing to "honor the scouting report," particularly regarding ball security and shot selection. But he understands the macro view here.
A regular season that closed with a series of taut games against the likes of Rhode Island, St. Bonaventure, George Mason and Saint Louis has positioned the Rams for a memorable March.
"Nobody expected this," Rhoades said, "and I'm so proud of the guys and the belief they had in each other and the coaches, and the coaches in them. Now, we got to get right, got to get healthy here in the next couple days, but let's go try to win a championship, right, and see what we can do. …
"Let's just let our hair down here. .. I'm so frickin' proud of these guys and the approach they had and the fight we had today."