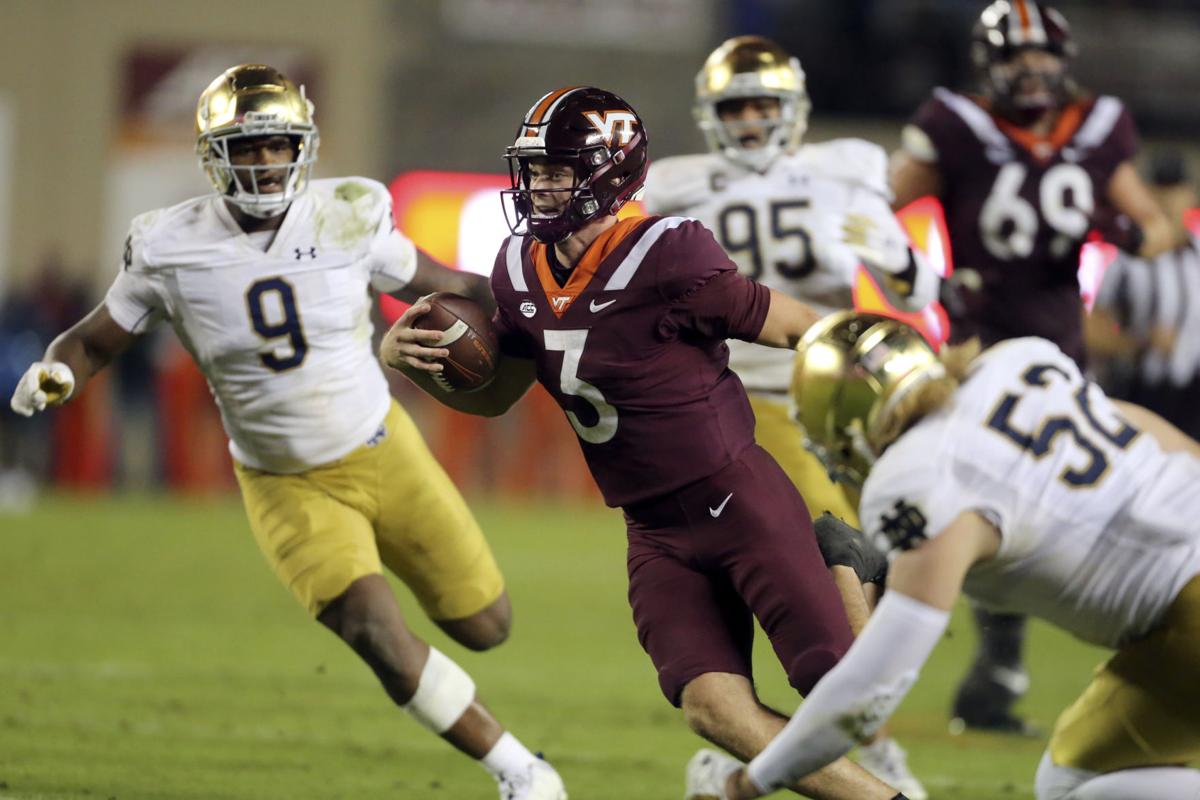 The scars from Virginia Tech's second wrenching defeat of 2021 still raw late Saturday night, Justin Fuente pondered how the Hokies might, and should, respond.
He spoke for 3½ minutes, nearly 500 words, an extraordinarily long soliloquy for someone naturally reserved. But following more than three hours of extraordinary theater, his tone and theme were appropriate.
The question becomes whether this team is physically gifted enough and emotionally strong enough to heal quickly from this 32-29 setback to No. 14 Notre Dame at Lane Stadium.
For all the Hokies' missteps Saturday, from players and coaches, no one should question their want-to. Embodied by a pair of gritty quarterbacks, Braxton Burmeister and Connor Blumrick, they twice seized the lead after falling behind, the final time in the third quarter on Jermaine Waller's 26-yard interception return for touchdown.
But it wasn't enough, and now they embark on seven ACC games in as many weeks, starting with 4-1 Pittsburgh, which just happens to lead the country in scoring at 52.4 points per game. Show up still dazed from Notre Dame, and there's no telling how unpleasant the afternoon might get for Tech (3-2).
"Definitely everyone's upset," Burmeister said. "We all knew we could've won that game and thought we should've won that game, so it hurts even worse. We've got to move forward."
The Hokies felt the same way after their 27-21 defeat at West Virginia last month, but truth be told, the Mountaineers were the better team that day. WVU bolted to a 14-0 lead, and Tech never recovered.
Waller's pick-6, which came moments after Burmeister sustained an injury to his right, throwing, shoulder gave the Hokies a 22-21 edge with 50 seconds remaining in the third quarter. Here Fuente stubbornly opted for a 2-point conversion try, even after tight end Nick Gallo was flagged for a false start, pushing the attempt back to the 8-yard line.
I've always maintained that chasing points that early is a fool's errand, and with the conversion at the 8, the gamble was compounded. Sure enough, linebacker Bo Bauer intercepted Blumrick's 2-point try.
"I don't know," Fuente said. "It's a 1-point game, I've gone the other way before and it hasn't worked out. We went that way even though we were on the 8, and it didn't work."
The decision loomed XXL when Burmeister's 19-yard touchdown scramble and John Parker Romo's subsequent extra point with 3:55 remaining extended the lead to only 29-21, keeping the Fighting Irish within one score.
Burmeister was back in the game because not only had the numbness in his shoulder abated, but also because Blumrick had been knocked woozy two plays after scrambling 10 yards for a clutch third-and-9 conversion.
Here Notre Dame coach Brian Kelly went to his best passer, Wisconsin graduate transfer Jack Coan, whom he benched in the second quarter in favor of true freshman Tyler Buchner, a dual-threat better able to elude the Hokies' pressure. Buchner engineered three touchdown drives but also threw two interceptions.
Coan promptly led a 75-yard touchdown drive, throwing a 4-yard scoring pass to Avery Davis and 2-point conversion pass to Kevin Austin to tie the game at 29. On the first play of the possession, officials ejected linebacker Dax Hollifield, the Hokies' defensive leader, for targeting.
You could feel the energy escaping the stadium and Tech sideline, and after a Hokies three-and-out, Coan led another quick drive that ended with Jonathan Doerer's decisive, 48-yard field goal with 17 seconds left.
Think about it: Had Fuente opted for the PAT after Waller's score, Tech would have led 30-21 and 30-28 after Coan's toss to Davis. That drastically alters late strategy, allowing the Hokies to milk clock rather than take deep shots with the score tied.
"We can hang our heads or continue to work," defensive end Tyjuan Garbutt said. "... The morale in the locker room, it wasn't the fact that, oh, we're upset. It was more that we know that we gave them the game, and that's the heartbreaking part."
The emotions were similar two seasons ago at Notre Dame, where Tech lost 21-20 on Ian Book's 7-yard touchdown run and Doerer's PAT with 29 seconds remaining. Those Hokies won their next three games, versus Wake Forest, Georgia Tech and Pitt, by a combined 109-17 before losing the regular-season finale at Virginia.
Can this group rebound as emphatically?
Can the Hokies forget about offensive linemen Brock Hoffman and Lecitus Smith straying too far downfield, the penalty erasing a Burmeister-to-Tayvion Robinson touchdown pass? Can they shake the Burmeister deep ball that just eluded Tre Turner and would have put them in position for a winning field goal?
Will the image of Armani Chatman dropping an easy third-quarter interception linger? Will Fuente lose sleep over his decision to punt on fourth-and-1 from his 27 with 2:03 left?
In search of answers, let's close with a portion of Fuente's monologue.
"We're about to hit a long run here, and we've got to be an emotionally stable group. ... You've got a whole group of guys that are all in to go get this goal accomplished. And you are within inches of Tre Turner's outstretched hands on the hitch-and-go, within inches of blocking the field goal, 100 plays, within inches of getting them and you don't, it hurts bad. It hurts real bad.
"And my opinion, the mistake people make, they don't try as hard. Because they don't want to feel that way anymore. They don't like that. Nobody does. I don't. But if you let that affect how you either do your job or prepare for something that you love or what you want to do, then you're cheating yourself."