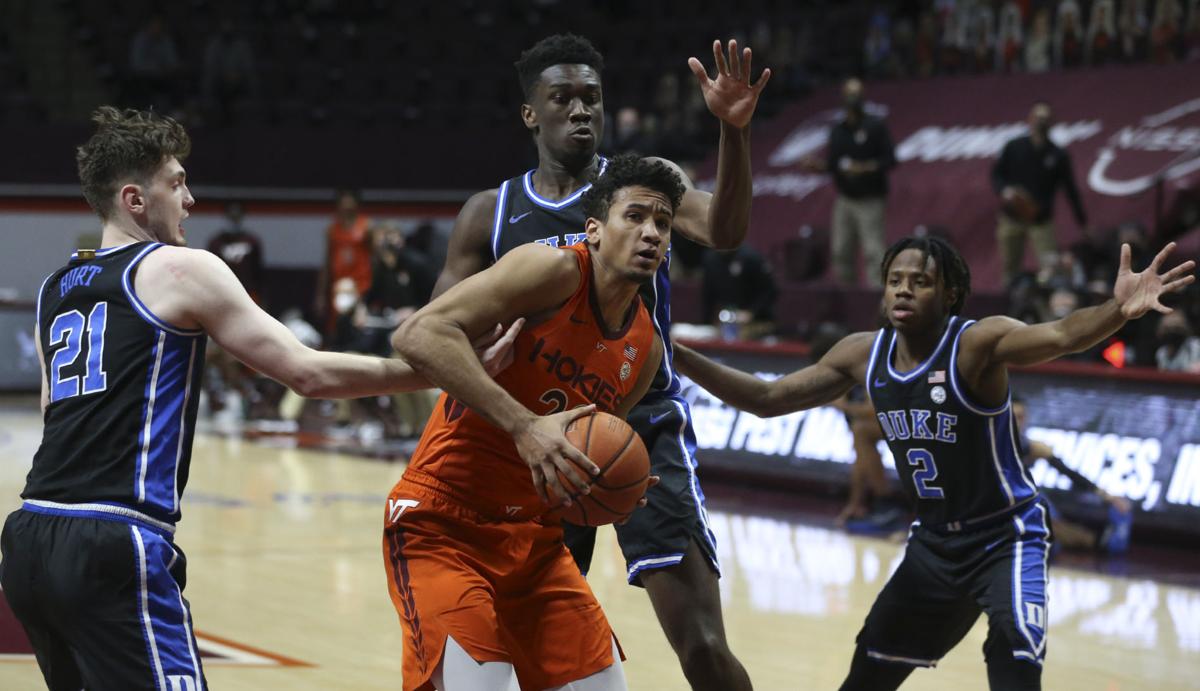 BLACKSBURG — The process of unearthing ACC basketball's premier team began in earnest Tuesday at Cassell Coliseum. The search will be lengthy and meandering and could prove fruitless — parity is that rampant — but at least we're on the scent.
Virginia Tech's 74-67 victory over Duke on Tuesday was the onset because the game marked the season's first matchup of ACC teams ranked among the Associated Press' top 25 at tipoff.
The second half was tense and replete with telling sequences, but make no mistake, the Hokies were the better team, their age and maturity XL assets against an opponent that lacks both.
Tech (10-2, 4-1 ACC) never trailed and led by as many as 18 points. Duke (5-3, 3-1) trimmed the margin to 56-55 in the second half, but Keve Aluma, continuing his all-conference-caliber play, countered with a paint bucket and 3-point play.
When the No. 19 Blue Devils drew within 68-64 inside of three minutes, the No. 20 Hokies scored six consecutive points to pull away. Led by Tyrece Radford, Aluma and Jalen Cone's combined 49 points, they were smarter, tougher and more confident, traits they'll need in even larger supply if they're to contend throughout the league season.
Four Tech possessions caught my eye for their variety, hustle and savvy.
First, Aluma declined a tempting 3-point attempt and instead drove the lane on Matthew Hurt for a much better shot, which he made.
Second, Radford, the most dogged 6-foot-2 rebounder you'll find in the college game, snared an Aluma miss in traffic and found Nahiem Alleyne for an open 3-pointer and a 36-18 lead. Radford's 18 points and 12 rebounds were his first double-double of the season.
"The kid Radford was the best player on the court," Duke coach Mike Krzyzewski said.
Third, with Tech nursing a 61-57 lead, the 5-foot-10 Cone elevated over 6-8 Jaemyn Brakefield for a 3-pointer. That's 10 inches Cone was giving up, but when you've made 26 from beyond the arc in the last six games, why not experiment with a heat check?
Here's how dialed in is Cone these days: Even as officials whistled him for stepping on the sideline as he caught a first-half pass in front of Duke's bench, he elevated for a deep 3-pointer that swished.
Finally, when Duke double-teamed Justyn Mutts in the low post, he calmly found Aluma for a layup and 66-59 edge.
"I saw a level of poise," Hokies coach Mike Young said. "I didn't want to call timeout when Duke took off on us in the second half. … I wanted to see us figure it out."
A top-25 ACC clash could have transpired Jan. 2 between Virginia Tech and Virginia in Charlottesville. COVID-19 said otherwise.
Another such clash could have unfolded the same day between Duke and Florida State in Tallahassee, Fla. The virus dictated otherwise.
Louisville was just outside the AP top 25 — the Cardinals were No. 25 in the coaches poll — entering last week's home victory over Virginia Tech. The Hokies were unranked when they defeated then-No. 24 Clemson in mid-December.
The No. 12 Tigers lead five top-25 ACC clubs this week, followed by Louisville, UVA, Duke and Virginia Tech. Florida State, which I suspect has the ACC's most gifted squad, is third among others receiving votes.
COVID permitting, the remainder of January will showcase games such as Virginia at Clemson, FSU at Louisville and UVA at Virginia Tech, the latter scheduled for Jan. 30.
Duke arrived in Blacksburg atop the ACC standings, tied with Louisville and Virginia. But how to judge the Blue Devils?
Mirroring UVA, Duke had beaten Notre Dame, Wake Forest and Boston College, teams that are a combined 1-12 in league play. Moreover, the Devils' lone non-conference victories came against Coppin State and Bellarmine, countered by setbacks to Illinois and Michigan State.
Was Duke worthy of its No. 19 ranking Monday morning? Based solely on its resume, no. Given the obvious talent on the roster, perhaps.
The Devils' most acclaimed freshman, 6-foot-9 Jalen Johnson, returned Tuesday after missing three games with a foot injury. But he was a non-factor, leaving Duke to rely on freshman Jeremy Roach (22 points) and Hurt ( 20 points) to fuel its comeback.
"I do think that's a mark of a team that's been there [and] done it," Young said. "... I've got a pretty good team. Let's not beat around the bush."
How good? Well, with conquests of Villanova, Clemson and Duke, the Hokies are 3-0 against teams ranked by the AP at tipoff. The rest of the ACC is 4-21 combined.