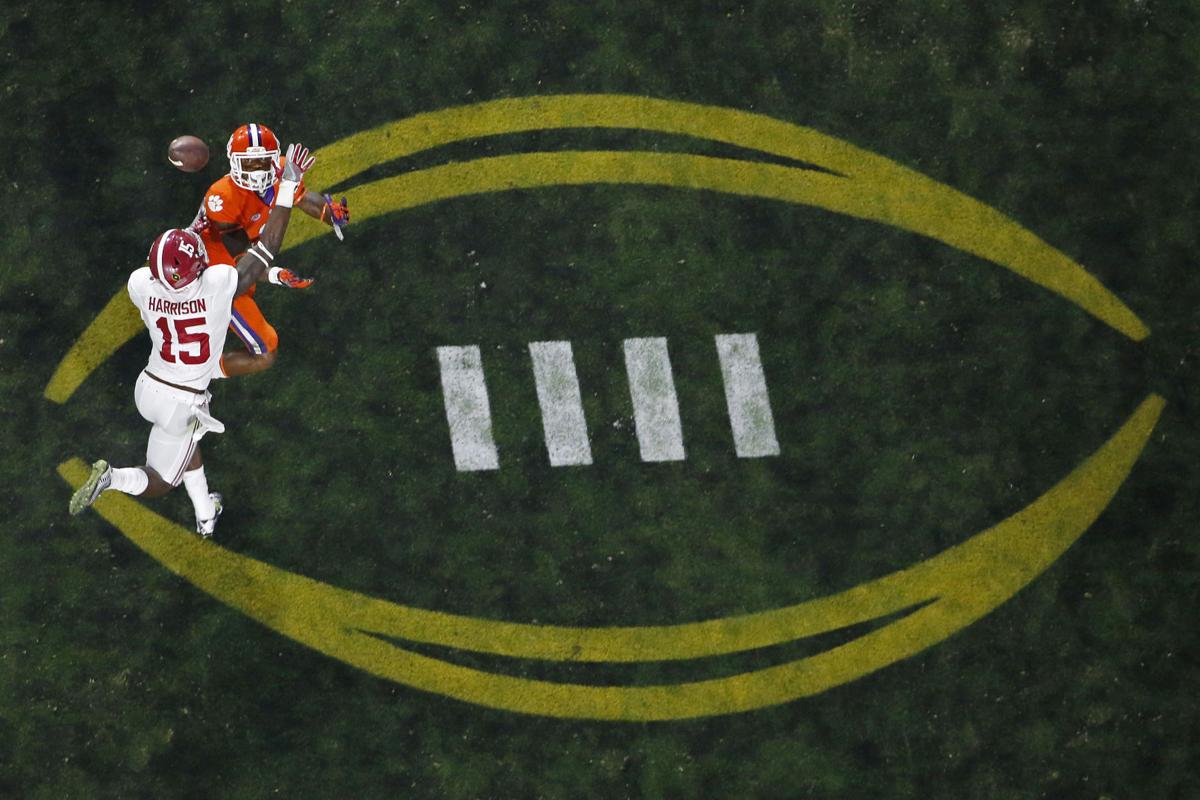 Folks charged with exploring a subject long-term should be willing, at some stage, to ditch conformity. Cheers to a College Football Playoff subcommittee for doing precisely that.
The 12-team model suggested Thursday, a tripling of the current field, is imperfect, as any alternative would be. Player safety, diverse constituencies and academic calendars simply preclude ideal solutions.
But the proposal, crafted by a four-man working group of the CFP's management committee, is refreshingly innovative. Moreover, the changes, if adopted next fall by the 11 university presidents who govern the playoff, would create intriguing scheduling questions for not only conferences — farewell to divisions? — but also Notre Dame.
Chaired by Notre Dame athletic director Jack Swarbrick and including commissioners Greg Sankey (SEC), Bob Bowlsby (Big 12) and Craig Thompson (Mountain West), the working group, after two years of deliberations, addressed playoff access in ways few anticipated.
For example, conventional wisdom said expansion would be accompanied by automatic bids for each of the Power Five conference champions, and perhaps the highest-ranked Group of Five champ. Conventional wisdom was wrong.
Under the proposal, no single conference is assured of a playoff team each season. Instead, the six highest-rated champions of the 10 Bowl Subdivision conferences would receive automatic bids, the top four of which would earn a first-round bye.
This guarantees at least one playoff spot for a Group of Five champion, and two if both are ranked by the selection committee ahead of a Power Five champ. No Group of Five program has cracked the four-team field in the CFP's first seven seasons, exclusion that denies college football's championship race the charm of a true underdog.
Overlaid onto last season, the 12-team model would have included American champion Cincinnati and Sun Belt winner Coastal Carolina, and not Pac-12 champ Oregon. But given the pandemic's effects on schedules — Oregon played only five regular-season games — 2020 is hardly an accurate barometer of how an expanded playoff would work.
That said, from 2014-19, Group of Five programs Western Michigan, Memphis, Houston, Boise State and Central Florida (twice) would have made the 12-team bracket.
Old Dominion athletic director Wood Selig described the ADs and presidents in the Monarchs' league, Conference USA, as "ecstatic."
"This gives the Group of Five a tremendous opportunity to play our way in at a very high level," he said in a phone interview.
Another deviation from groupthink was proposing 12 instead of eight teams. Yes, one or two teams could play a 17-game schedule — 12 during the regular season, a conference championship and four playoff contests — but the odds are most finalists would emerge from the bye group and play a maximum of 16 games, one more than the current 15.
"I don't think automatic access works if you're reducing opportunities for those teams that are highly ranked," Sankey said. "In other words, going to eight and allocating a certain number of AQs, thereby reducing effectively the at-large numbers, is not something that really resonated from my perspective."
He's right. With six automatic qualifiers, an eight-team bracket would have omitted teams such as No. 7 Michigan in 2018 and No. 7 Auburn in 2017 — those rankings per the CFP's selection committee.
A third surprising twist of the proposal is limiting the four first-round byes to conference champions. So in 2016, third-ranked Ohio State would not have received a bye. Same holds for No. 4 Alabama in '17 and No. 3 Notre Dame in '18.
As an independent, Notre Dame would never be eligible for a first-round bye and would have to survive four playoff games to win the national championship. But having not participated in a conference title contest, the Fighting Irish would be playing the same number of total games.
The difference is, losing a 13th game for the ACC championship would not eliminate Notre Dame from playoff contention. Defeat in a 13th game in the opening round of the CFP would end the Irish's season.
Still, Swarbrick didn't sound inclined to forgo independence and join the ACC as a full member.
He said losing the opportunity for a bye "was an appropriate trade-off to get a model that I thought was the right one for college football. Even though we don't play in a conference, I recognize the importance of strong conferences and providing opportunity to the G5. We wanted to do that. …
"And then … I do think it's helpful to us to be able to say, 'Look, Alabama put its position at risk in its title game, or Oklahoma put its position at risk in its conference title game. We're doing the same thing in the first round. We are on par in that regard, other than not enjoying a potential 1-4 seed.' "
With or without Notre Dame, a 12-team playoff would give the ACC further cause to scrap divisions.
Why would the ACC, or any conference similarly structured, risk having an underachieving division winner qualify for the league title contest? Far better to banish divisions to assure that the best teams play in your league championship game, enhancing your chances for multiple playoff teams and — XXL fringe benefit here — erasing a regular-season schedule rotation in which many teams play each other only once every six years.
Virginia athletic director Carla Williams and coach Bronco Mendenhall, and Virginia Tech AD Whit Babcock and coach Justin Fuente, deferred comment Thursday on the 12-team playoff model and its potential impacts until they have more information. But with this format, the ACC would have earned additional CFP bids in 2017 (Clemson plus Miami), 2016 (Clemson plus Florida State) and 2015 (Clemson plus FSU and North Carolina).
The CFP proposal stages the four opening-round games at campus venues but cedes the four quarterfinals to traditional bowls, a windfall that surely has some bowl executives partying in the streets. This is the plan's glaring flaw.
First, it denies the top four seeds, which have a bye into the quarterfinals, a home playoff game. Second, it means fans of all eight quarterfinalists, rather than just the road four, must travel to attend the game. Third, it further empowers bowls, which already have the semifinals in the current model and would retain them with the new plan.
Working group members cited loyalty to the bowls and the prospect of quarterfinals at cold-weather venues as factors in their thinking. Selig countered strongly.
"I don't know why we're so beholden to the bowls," he said, "because all we're doing is propping up the CVB [Convention and Visitors Bureau] of, pick your city. I don't why college football has to be so supportive the bowl structure, I really don't. I think it's an antiquated model, and I'm not sure it's in the best interests of college athletics and college football."
It's not. The quarterfinals would be a much better television product with traditional on-campus pageantry rather than the corporate bowl vibe. Plus, attendance would be better.
And spare us the concern over cold weather. The NFL has staged snow-draped playoff games for decades, and they are glorious.
Temperature aside, would you rather watch a College Football Playoff game at Clemson, Alabama, Ohio State and Notre Dame, or at a neutral NFL stadium?
"All these points are going to have an opportunity to be discussed," Thompson said. "These are the recommendation of four people."
Vetting will start immediately. The full management committee (Swarbrick and the 10 FBS commissioners) meets next week in Chicago, followed by the board of managers (11 presidents) the following week in Dallas.
If those groups sign off on the plan, the enterprise will spend the summer gathering feedback before a final decision in the fall. The earliest implementation would be for the 2023 season, the latest for 2026, after the original 12-year CFP contract expires.
That timing hinges, in large measure, on television. Would current rights holder ESPN want to renegotiate for 2023, or would the CFP prefer to have its new product on the open market for 2026?
"OK, here we are announcing a proposed model," Selig said, "and we have no idea what it means financially. None, and [money] is behind all of this, obviously. That and access."
A sampling of irresistible first-round playoff clashes greater access would have created:
2018: Penn State at Notre Dame; Florida at Michigan; LSU at Georgia.
2017: UCF at Alabama; Miami at Auburn; Penn State at Southern California.
2016: USC at Wisconsin; Western Michigan at Ohio State; Colorado at Oklahoma; Florida State at Michigan.
2015: Florida State at Notre Dame; North Carolina at Ohio State.