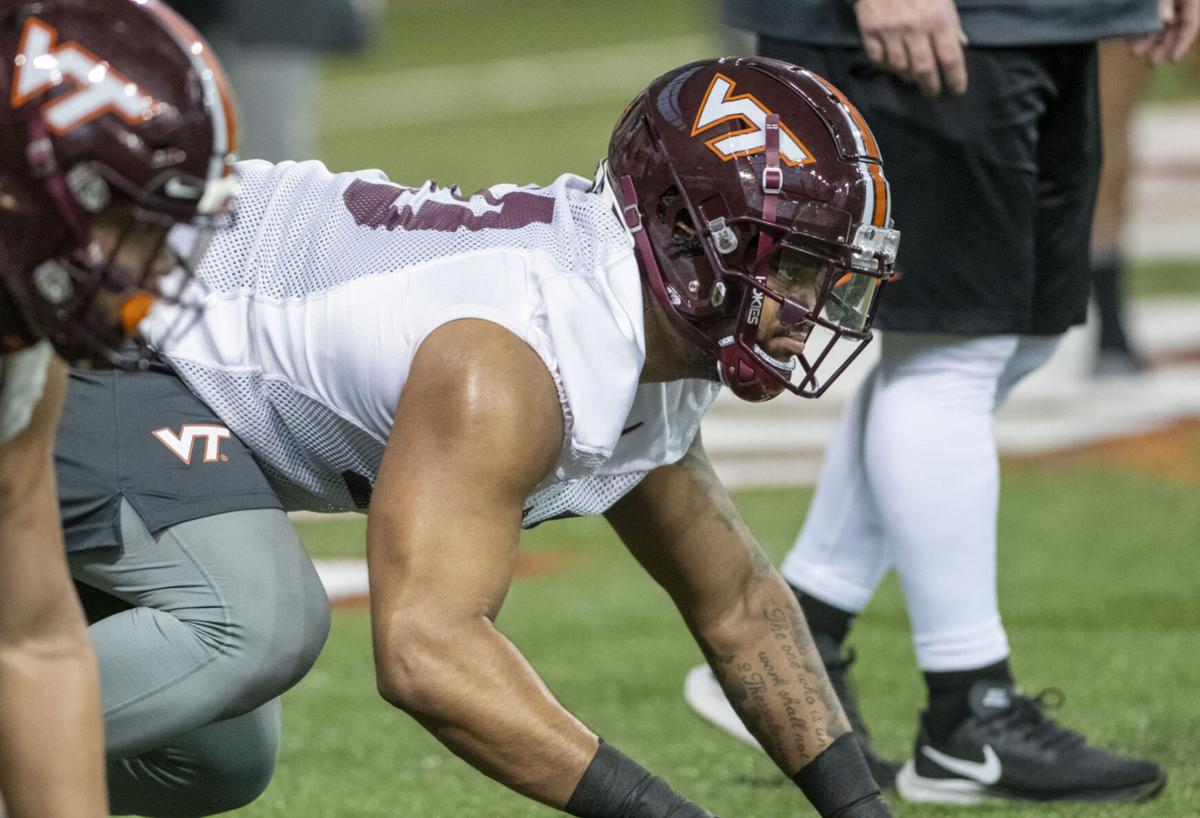 Through free agency and trades, professional sports franchises often acquire players with championship credentials. Some starred for title squads before moving on (Tom Brady and Kevin Durant). Others were reserves who craved more meaningful roles or were deemed expendable (Tyrod Taylor and JaVale McGee).
Regardless, they brought to their new homes experiences, knowledge and jewelry that many, if not all, their teammates lacked.
Such transactions are far less frequent in major college football and basketball. After winning national championships, athletes tend to stick around or turn pro.
For Virginia Tech football, such acquisitions are exceedingly rare. In fact, former Clemson defensive tackle Jordan Williams is the first Hokie in memory who arrived in Blacksburg with a Bowl Subdivision national title ring.
But Williams, a 2017 graduate of Cox High in Virginia Beach, brings more than pedigree to Tech. He brings talent and heft to a position of need, without the ego you might expect from a former Alabama, Georgia and Ohio State recruiting target who won a national championship as a redshirt freshman.
Indeed, Hokies coach Justin Fuente wondered if Williams would saunter into the locker room with a "I want to do it my way" arrogance. But vetting Williams with Clemson's staff abated those concerns, and this spring's practices have affirmed what the Tigers' coaches relayed about Williams.
"There has not been an ounce of that [attitude]," Fuente said Thursday. "I mean, he's just jumped right in and fit in with the players. … He's a pleasure to be around, and certainly he carries some weight because he's been a part of good teams, he's seen really talented and good football teams and … wants to do a great job contributing to this one."
After redshirting at Clemson in 2017, Williams played in 38 games in the next three seasons — the Tigers won the ACC title and reached the College Football Playoff in all four of those years. He recorded 55 tackles, 9½ for loss, and four sacks in 673 snaps as a backup to All-Americans Christian Wilkins and Dexter Lawrence and All-ACC selections Tyler Davis, Nyles Pinckney and Bryan Bresee.
Tech has produced an all-conference defensive tackle in five of the past six years, including third-teamer Jarrod Hewitt in 2020. But Hewitt declined the extra season offered by the NCAA to pandemic-affected athletes, leaving Norell Pollard (11 starts last season) as the roster's leading homegrown defensive tackle entering this season.
Bank on Pollard and Williams as the starting tackles in September when the Hokies open against North Carolina.
"First and foremost, he's a big guy who moves like a little guy," defensive line coach Bill Teerlinck said of Williams. "He's obviously a heavily recruited prospect, has played in big games and won big games. That's kind of where we are as a program. If we want to take the next step and win the big games and play in the big games, his experience can help some of the youth."
The Hokies list Williams at 6-foot-1, 310 pounds. He said he left Clemson at 317, has hovered this spring around 300 and feels healthy and fast.
Pollard (265) and Hewitt (280) were a much lighter tandem last season.
"When you're not as big [at tackle], you need to move more, move your front more," Fuente said, "meaning maybe the guy lines up on the outside of the guard and at the snap he slants to the inside of the guard. When you're not as big, that usually helps you out a little bit.
"With Jordan, he can both move like that, and stand still and be effective playing tackle. That's a nice benefit to have, a guy that can split a double-team, or when the double-team comes off, be able to shed the block and make the play without having to move the front."
In selecting his transfer destination, Williams consulted with Clemson coach Dabo Swinney, defensive coordinator Brent Venables and defensive line coach Todd Bates. All were familiar with the Hokies from preparing for the teams' late-season encounter last year.
"My mindset leaving Clemson was I was going to make a business decision," Williams said. "I knew wherever I went I had two years of eligibility left, but I wanted to get it done in one. … What really lured me [to Virginia Tech] was that attacking style of defense that they have. It's just guys flying around and guys coming from every which way."
Williams had to learn the Hokies' schemes and terminology, and national championship ring notwithstanding, he had to earn his new teammates' respect.
"You might have won championships and all," linebacker Alan Tisdale said, "but when you get on the field, you just have to prove it to us."
Has Williams proven himself?
"Oh yeah," Tisdale said, "every day. He comes to work every day."
Clemson has won six consecutive ACC titles and hasn't finished lower than fourth in the national polls during that stretch. Virginia Tech hasn't won a conference championship since 2010 or cracked the final top 10 since '09.
"I don't compare things to the last program I was at," Williams said. "I'm a Hokie now, so I'm ready to work with these guys that I'm around."