CHARLOTTESVILLE — Records show that Terry Holland's final coaching victory was Virginia's first-round NCAA tournament conquest of Notre Dame in 1990 at Richmond Coliseum. The records need to be amended.
Saturday was Holland's last, and ultimate, win, as dozens of his former players, coaches and teammates joined with his nuclear family to celebrate his life, rekindle acquaintances and be reminded that team is forever.
"Without a shadow of a doubt he would say today he rests easy knowing he finally won," his wife, Ann, said to close the memorial at John Paul Jones Arena. "You see today, in one giant room, with a basketball court as the stage, the team of his lifetime has come together. He truly loved each person that is here today, and this is his Dream Team."
That he inspired so many during his 80 years was touchingly clear from the 30 people who participated during the three-plus hours. The group included 10 of his players, two of his assistant coaches, both of his daughters and all three of his grandchildren.
The ceremony also included the unveiling of a banner honoring Holland's 1974-90 Virginia coaching tenure.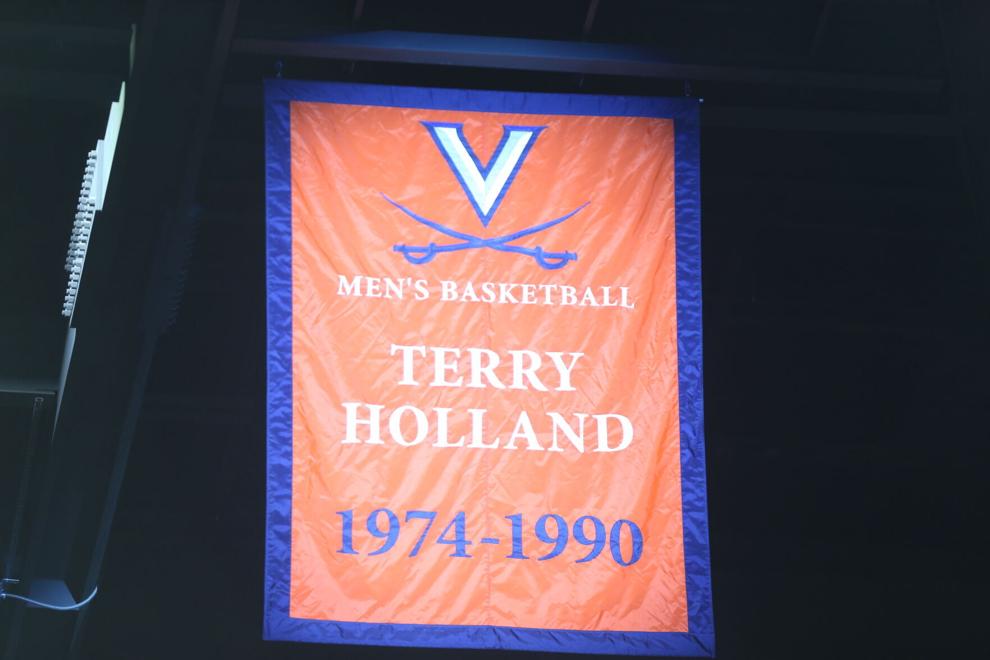 Bruce Hornsby, one of Holland's favorite musicians, bookended the proceedings at a Steinway piano, opening with a 30-minute set and closing with a duet of "The Impossible Dream" alongside Indiana Pacers coach Rick Carlisle, a starter on UVa's 1984 Final Four squad.
Holland "was kind but strong, honest but empathetic, and he was always about doing the right thing," Carlisle said during a players forum moderated by Ralph Sampson. "I don't think I've ever met a man in my life who did so much for so many and asked for so little in return."
Wally Walker, the MVP of the Cavaliers' 1976 ACC tournament championship, quoted Maya Angelou to capture Holland.
"They'll forget what you said. They'll forget what you did. But they'll never forget how you made them feel."
Holland was so curious about people — their interests, views and experiences — that he made everyone feel worthy.
Big East commissioner Val Ackerman called that gift "leading with serenity and dignity." An Academic All-American at Virginia and the WNBA's first president, Ackerman served with Holland on multiple USA Basketball boards.
But her first encounters with him were as a student during the Sampson era, when she was struck by his unyielding support for the fledgling women's program.
"You can talk about accomplishment and you can talk about impact," Ackerman said. "Terry had both, and the impact was greater."
This past season, Tony Bennett surpassed Holland as UVa basketball's winningest coach, and throughout his 14 years in Charlottesville, he has felt that impact, from the jewel that is the Cavaliers' home court to the support of former players.
Bennett didn't know Holland for nearly as long as many in attendance Saturday, but said, "I knew him well enough to know he was awesome and that I loved him. Every time I was around him, I just wanted to give him a big hug and say, 'Thank you.'"
Befitting the abiding faith that he and Holland shared, Bennett then quoted from the New Testament book of 2 Timothy.
"I have fought the good fight. I have finished the race. I have kept the faith."
"And when I think of Coach Holland," Bennett said, "... He fought the good fight, he kept the faith and he finished the race. ... I do look forward to that day when I'm with Coach, and we'll be talking about the memories of Virginia basketball and good hard-nosed man-to-man defense. But we'll be in a place with no more suffering, no more tears and no more Alzheimer's."
Few, if any, in basketball knew Holland in more capacities than Old Dominion coach Jeff Jones. He played for Holland, starting on the 1981 Final Four team, worked for him as an assistant coach, succeeded him as head coach and was still guiding the program when Holland returned as athletic director in 1994.
His voice breaking, Jones recalled a road trip to Georgia Tech in 1985, when Holland became ill and had to be hospitalized.
"Coach Holland was our leader," Jones said. "Coach Holland was our rock."
After finishing her remarks, Ann Holland introduced an audio clip from years ago in which she asked her husband how he wanted to be remembered. His soothing voice was instantly recognizable.
"Like most people," he said, "I just want to be able to say that I did the best I could to make a difference, to leave the world a better place than I found it, and I think that's what drives all of us. ...
"It's like the little boy who encounters thousands of starfish washed up on the beach, and a gentleman comes by and of course tells him, 'Look you can't possibly throw all these starfish back. You can't make a difference.' And the little boy right in front of him picks up one more starfish and he throws it into the ocean and he says, 'Tell you what, it makes a difference to that one.'"
As Saturday poignantly affirmed, Terry Holland made a difference to countless ones.
David Teel
@ByDavidTeel on Twitter