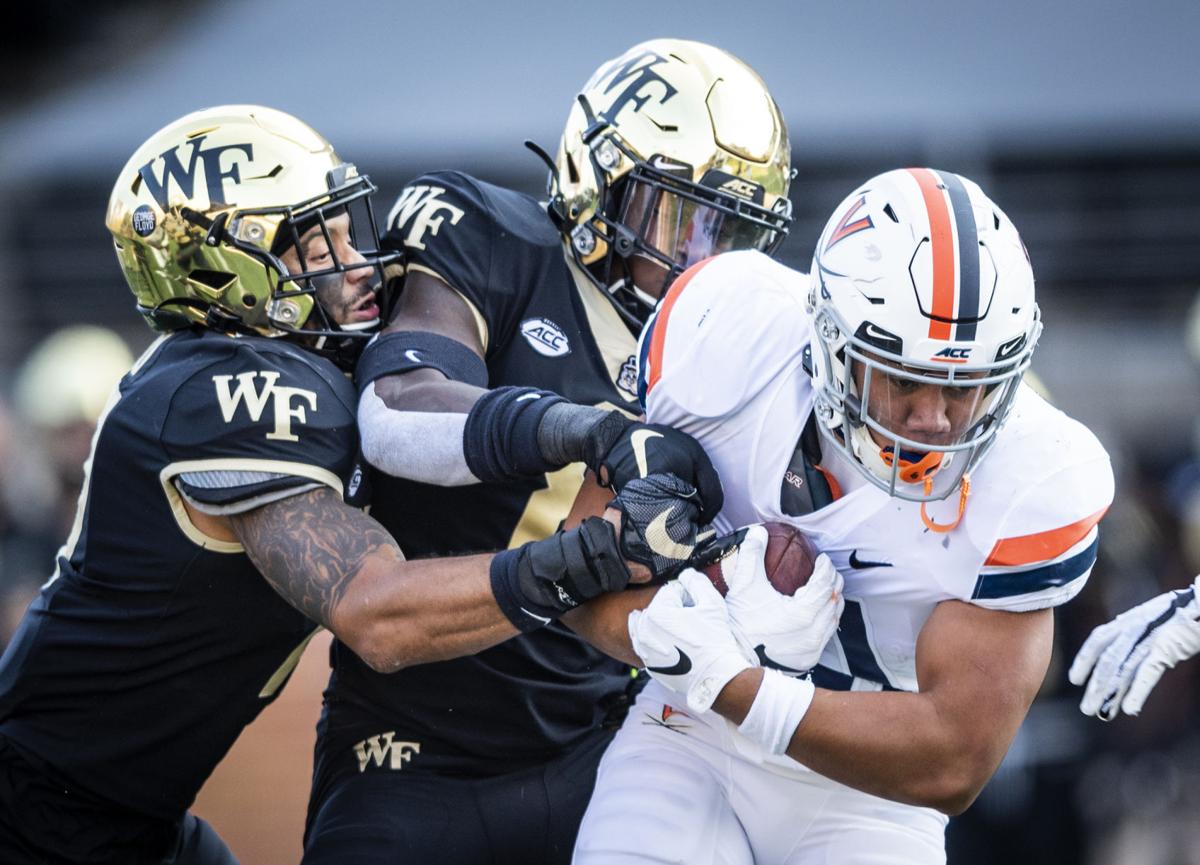 In nine of Bronco Mendenhall's 11 seasons as Brigham Young's football coach, the Cougars averaged at least 30 points per game. So his Virginia teams hitting that benchmark in 2019 and '20 was, in a sense, routine.
But not for the Cavaliers.
Given the wealth of offensive talent to compete for UVA, especially when Shawn Moore (1988-90) and Matt Schaub (2001-03) started at quarterback, this nugget may surprise you: The last two years mark the first time in the ACC era — the league was founded in 1953 — that the Cavaliers have averaged at least 30 points in consecutive seasons.
Most encouraging to Mendenhall, Virginia's 2021 offense should sustain that trend, especially if the running backs are more effective.
That will require collaboration or, as Mendenhall likes to say, "complementary football."
Backs such as Wayne Taulapapa need to be better, but they also need their veteran offensive line and tight ends to block effectively. The line needs quarterback Brennan Armstrong to throw efficiently and prevent defenses from crowding the line of scrimmage, and the entire offense needs a stingy defense to prevent deficits that force UVA to abandon the run.
Those components rarely merged in Mendenhall's first five seasons at Virginia, even as the Cavs won the 2019 ACC Coastal Division title and earned an Orange Bowl invitation.
As UVA's top running back in 2019 and '20, Taulapapa averaged a credible 4.3 yards per rush and scored 17 touchdowns. But only one of his 204 carries netted at least 20 yards, a 31-yarder versus Duke in 2019.
That left Virginia quarterbacks — Bryce Perkins in 2019 and Armstrong, Keytaon Thompson and Ira Armstead last year — to produce a bulk of the rushing yardage and explosive runs.
Perkins rushed for a team-high 769 yards in '19, a total that would have approached 1,000 without sacks. Moreover, he had six runs of at least 20 yards, including first-quarter scoring jaunts of 39 and 67 in a victory over Virginia Tech.
Armstrong led the running game last season with 552 yards and five rushes of at least 20 yards. He had a 60-yard touchdown against Boston College, and Thompson added a 43-yard scoring burst in the same win. Armstead averaged 6.8 yards per carry in 2020 but had just 10 attempts.
UVA's most potent rushing attack under Mendenhall came in 2018 with tailback Jordan Ellis (1,026 yards) and Perkins (923 yards). Still, Ellis' per-carry average of 4.8 was far from memorable — he made honorable mention All-ACC — and only three of his 215 carries gained at least 20 yards. Conversely, eight of Perkins' 212 runs netted at least 20 yards.
Armstrong has a chokehold on the 2021 starting quarterback position and brings a jarring run presence that reminds Mendenhall of New Orleans Saints and former BYU quarterback Taysom Hill. Taking a direct snap or otherwise, Thompson and Armstead offer speed to the perimeter.
Prior to the start of spring practice, Mendenhall said he "would love to see some more production from traditional runs while we keep the creativity of our quarterback runs, knowing K.T., Keytaon, is also part of that. So you have Brennan as a possibility, you have Ira as a possibility, you have Keytaon as a possibility, and then you have the traditional tailback runs or single-back runs that we would love to get more out of. …
"It's probably our best chance ever, in the time I've been at UVA, to have the number of resources, with our offensive line almost all intact and returning, with a great new tight end that's already arrived from Oklahoma State [Jelani Woods], and Grant Misch returning, there's a physical presence where it could be that this then is the year UVA's run game finally breaks through."
Taulapapa, Indiana transfer Ronnie Walker (Hopewell) and Mike Hollins, who opted out of the 2020 pandemic season, are the principal contenders to boost Virginia's running back output, and Mendenhall has relished the competition among them this spring.
Freshman Amaad Foston, an early enrollee, and yet-to-arrive Harvard graduate transfer Devin Darrington could add to the mix come training camp.
"Our traditional run game is more violent, more productive and more physical than I've seen it, at least in my time here," Mendenhall said last week.
Lavel Davis' torn ACL, sustained on the first day of spring ball, leaves the Cavaliers without their top returnee in touchdown receptions (five). But Mendenhall has raved this spring about the 6-foot-7, 275-pound Woods and Ra'Shaun Henry, who averaged an eye-popping 29.4 yards last year on his seven catches, four of which produced touchdowns.
Don't expect this offense to approach the 1990 squad of Shawn Moore, Herman Moore, Terry Kirby and Nikki Fisher — that bunch averaged a school-record 40.2 points per game — or to have the Cavaliers' first All-ACC first-team tailback since Alvin Pearman in 2004.
But an upgraded rushing attack likely would ensure a third consecutive scoring average of 30-plus points.
"It's a deep group, so why not use them?" incumbent center Olu Oluwatimi said. "… We have great talent in the backfield, so now it's just on us really to open up holes, to sustain blocks and just be nasty in the run game."