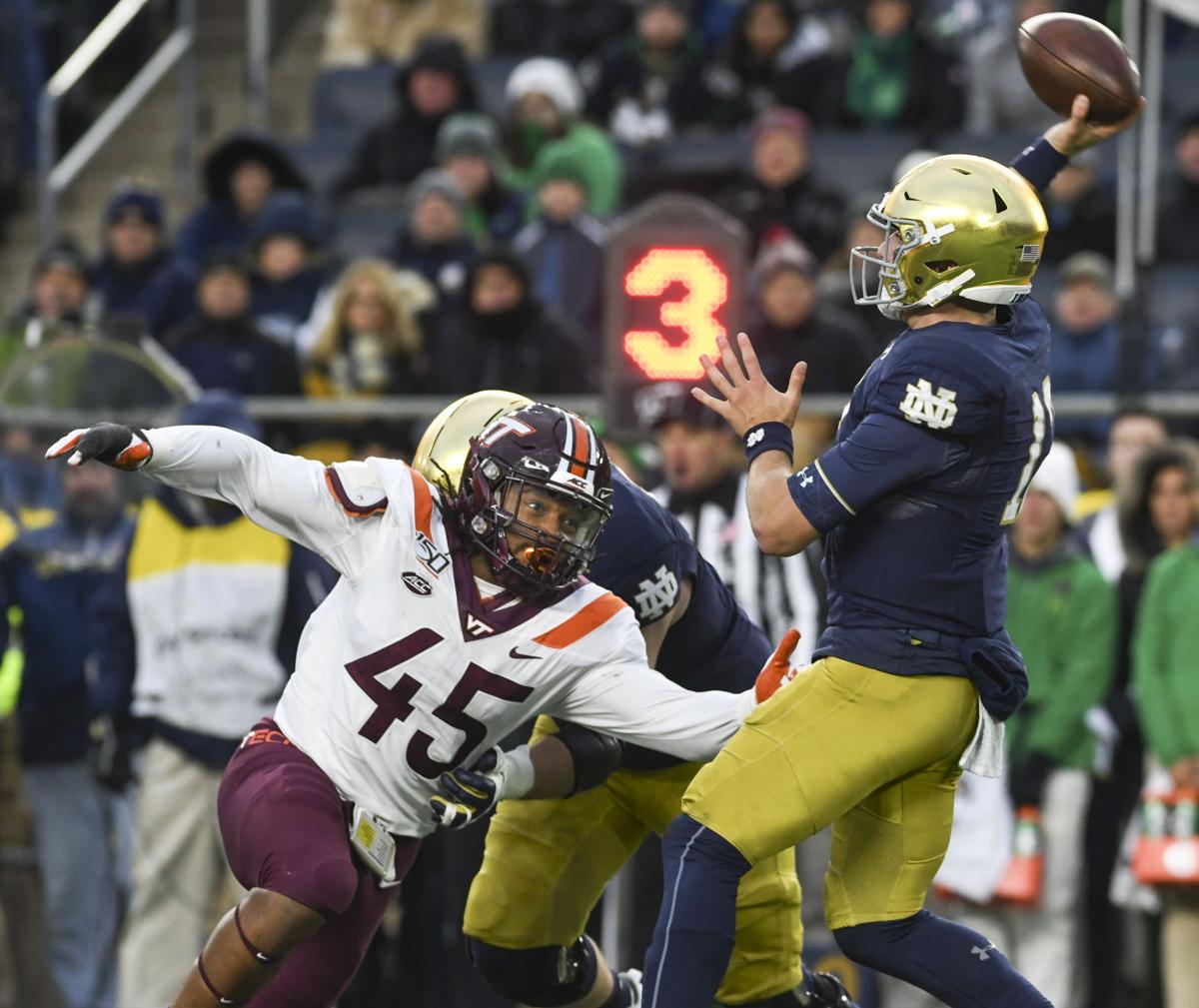 The weirdness of 2020 could include Notre Dame football competing for its first conference championship — if there's actually a season.
ACC presidents are likely to decide Wednesday how and if the league can plan for fall sports during a global pandemic, and among the primary options are a 10-plus-1 and 8-plus-1 football schedule, both of which could include Notre Dame and make the Fighting Irish eligible for the ACC title game.
The models, which would delay the season's start until mid- or late September, include revamped league schedules that do not adhere to the ACC's Coastal and Atlantic Division structure — think more regional opponents to save on travel expenses — and allow each team one nonconference game.
Notre Dame joined the ACC for sports other than football in 2013, retaining its football independence but yet providing the conference membership stability and television appeal essential to last year's launch of the ACC Network. The Fighting Irish are contracted to play, on average, five ACC football opponents annually, and with six on the docket for 2020, melding them into the league schedule this year would not be difficult and would add valuable television inventory.
Could this be a precursor to Notre Dame relinquishing its treasured independence — the university attracts students from throughout the U.S., and football has long played a coast-to-coast schedule — and going all-in with the ACC? Perhaps in the long run, especially if fans found they liked competing for a conference championship, but I can't imagine there's a quid pro quo.
That said, adding the Fighting Irish as a full-time member in the next 11 months would be the ultimate mic drop for ACC commissioner John Swofford, who's retiring June 30, 2021, after 24 years on the job.
Would the Fighting Irish share the 2020 revenue from their exclusive NBC television contract in exchange for accommodations this season? I doubt the ACC would approve the deal otherwise.
As Duke coach David Cutcliffe said earlier this month when I asked him if Notre Dame should be included in the conference's scheduling plans this season: "If they're willing to share their [NBC] money, sure. You don't get something for nothing. I would welcome them as a coach to be a part of ACC football."
Would the ACC scrap its division standings for 2020 and match the highest-ranked of its 15 teams in the league title game? Probably, and the NCAA waiver needed for such a temporary arrangement would be just as likely to be approved, so grateful would officials be for the mere opportunity to stage college football.
How an ACC champion Notre Dame might fit into the conference's bowl model would be another item for the university presidents to determine. In seasons such as this, when the Orange Bowl is not a College Football Playoff semifinal, the ACC champion is guaranteed an Orange Bowl bid provided that team was not selected for the CFP.
How could the "plus-1" nonconference games fall? Well, Clemson, Florida State, Georgia Tech and Louisville would play their traditional in-state SEC rivals: South Carolina, Florida, Georgia and Kentucky, respectively.
The other remaining 11 ACC schools could face a non-league opponent that was on 2020's original docket, the better to avoid contract entanglements. Moreover, almost all of those games, against Football Bowl Subdivision programs, could be at home or neutral sites, providing even more windows for television partner ESPN.
Potential plus-1s originally scheduled are below:
Virginia: Connecticut or at Old Dominion
N.C. State: Mississippi State or Liberty
Wake Forest: Appalachian State or at ODU
North Carolina: Auburn in Atlanta or UConn
These are not the only possibilities.
Virginia could match up against West Virginia in Atlanta, if the Cavaliers' Atlanta game versus Georgia is scrapped by the SEC adopting a plus-1 model and the Bulldogs opting to play Georgia Tech. WVU was supposed to play Florida State in Atlanta, but FSU's plus-1 would be Florida.
Northeastern schools such as Boston College and Syracuse could consider independent Army.
No matter the resolution, Notre Dame's unique status in college football will continue to frustrate/anger those fans who believe the Fighting Irish use the ACC and give nothing in return. That's not the case, witness the 96.9% uptick in conference television revenue since Notre Dame joined the conference, and the sellout crowds it brings to ACC venues.
The Fighting Irish aren't responsible for all of that revenue bump, but they generate plenty while taking a pittance of about $6 million a year.
Fluid coronavirus data could render all plans irrelevant, but if a college football season unfolds, Notre Dame and the ACC will be an irresistible subplot.