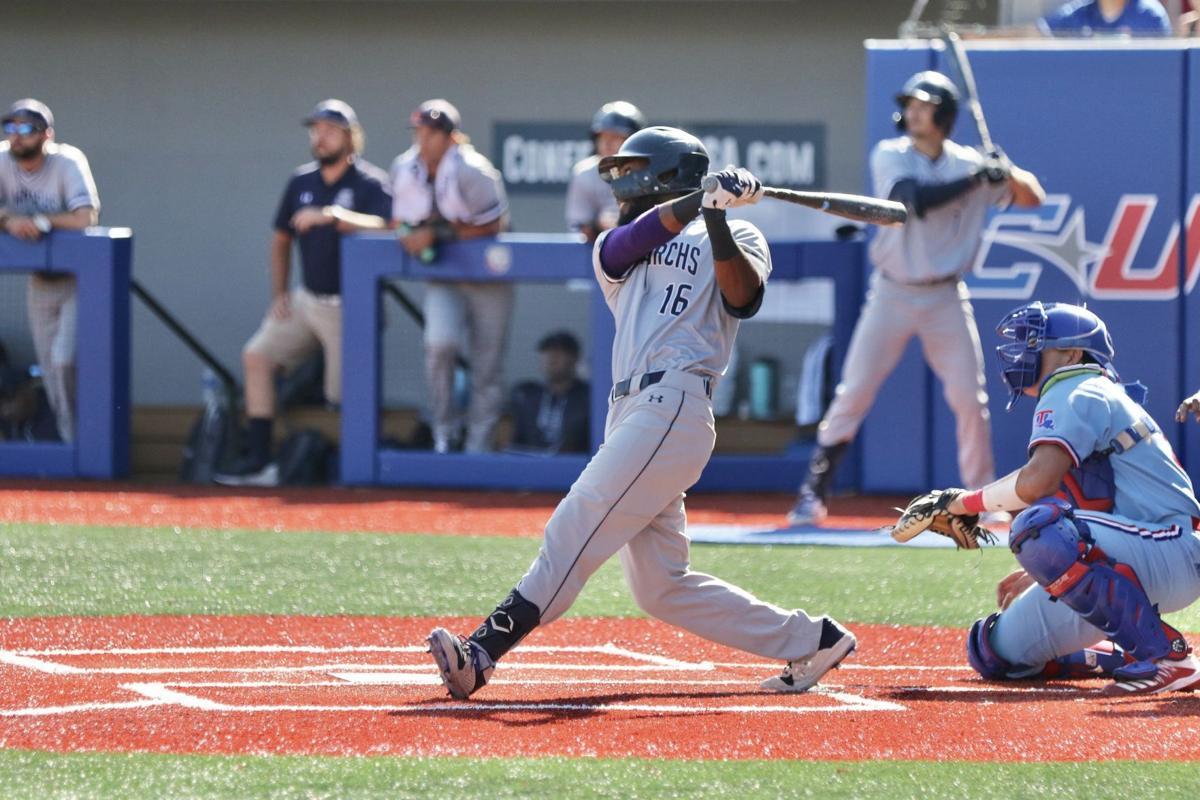 Fittingly, Old Dominion secured its first conference baseball championship since 1996 with a home run. Equally appropriate, that victory Sunday was followed by an arduous 1,100-mile bus trek home to Norfolk from Ruston, La.
ODU defeated host Louisiana Tech 7-5 in 10 innings in the Conference USA title game, the decisive blow a two-run homer by senior outfielder Kyle Battle (Glen Allen). The win earned the Monarchs the No. 11 overall seed in the NCAA tournament and the No. 1 seed in the Columbia, S.C., Regional, where Friday they'll face Atlantic Sun tournament champ Jacksonville.
The Dolphins have the worst overall record (16-32) in the 64-team field and finished last in the A-Sun regular season at 3-15 before their stunning league tournament title. ODU (42-14) was comfortably in the bracket well before the C-USA tournament, largely because Battle and his teammates morphed into the nation's most powerful lineup.
In the process, they also helped 10th-year coach Chris Finwood cope with a family tragedy that has made this season's journey indelible.
With a veteran roster, Finwood, a former head coach at Western Kentucky and VMI, and former assistant at VCU, liked this group from the start. But never did he envision the Monarchs leading Division I with 101 home runs.
"I tell people this all the time: We don't try to hit home runs," said Finwood, a four-year starter at shortstop for VMI, where he's enshrined in the Keydets' Hall of Fame. "We really don't. It's not a thing we ever talk about."
But hit home runs the Monarchs do. They hit seven at Marshall during the regular season and seven in the C-USA tournament against Florida Atlantic.
Knowing seven home runs make for a darn fine week, let alone game, Finwood laughs at the unexpected windfall, especially since ODU's Bud Metheny complex hardly qualifies as a hitter's paradise.
"We play pretty good when we can hit homers," he said, "that's for sure."
More so when a pitching staff led by starters Ryne Moore (8-1) and Hunter Gregory (8-2) is on point.
Battle paces the Monarchs with 18 home runs. Outfielder Andy Garriola has 14 and a national-high 72 RBIs, and freshman infielder Carter Trice (Mechanicsville) has 13. Thirteen ODU players have gone deep this season, 11 multiple times, and the Monarchs average 8.2 runs.
"We're just squaring up baseballs," Battle said, "and they're happening to go over the fence. We'll take every single one of those. … I wouldn't say anyone's really trying to hit a home run. We're just trying to put a good, hard, compact swing on the ball."
Battle took that same approach in the top of the 10th inning Sunday. Louisiana Tech had forced extra innings on Parker Bates' solo shot in the bottom of the ninth, and with teammate Tommy Bell on first after being hit by a pitch, Battle hit an opposite-field homer.
"I was just excited to take the lead again," Battle said, "and I was just ready to dog-pile on that mound."
After Aaron Holiday, ODU's ninth pitcher of the day, threw a scoreless bottom of the 10th, the Monarchs did exactly that.
Then it was time to board a double-decker bus for the trip home, players up top and staff down below. The team was en route during the NCAA selection show early Monday afternoon, following the pairings on their devices.
"It went by a lot faster with us having the trophy," Battle said of the overnight drive.
C-USA rivals Louisiana Tech, Charlotte and Southern Mississippi joined ODU in the field, and only the SEC (nine), ACC (eight) and Pac-12 (six) received more bids. The Monarchs have not played Southern Miss but are 5-3 against Charlotte and 3-0 against Louisiana Tech.
In short, ODU richly deserved not only its first NCAA appearance since 2014 but also its top 16 seed.
"This is a special, special group," Finwood said. "… It's a team I'll never forget for some of the things they've helped me through personally. They just have great energy every day. They're unafraid of competition. They just get in there and fight like crazy and figure the rest out."
Finwood leaned on his players when his wife, Annette, was diagnosed with pancreatic cancer. He needed them even more when she died April 1 at age 55.
Finwood trusted his players not only with his emotions but also to manage themselves when he was distracted. That was never more evident than May 2, when hours after a memorial service for Annette at Norfolk Botanical Garden, the Monarchs routed Charlotte 10-0.
Annette was a fixture at the Bud, encouraging players and occasionally barking at umpires from her preferred spot in Rally Alley, a section of the stadium along the first-base line. ODU placed a blue bench there in her memory.
"She brought so much life and energy to the ballpark that we're definitely going to miss," Battle said.
Battle and his teammates lack NCAA tournament experience, and their regional includes past national champions Virginia and South Carolina — ODU didn't bid to host a regional because of its undersized facilities — but Finwood does not believe the Monarchs will be intimidated.
"We're a talented group," he said. "We're not the most talented group, but this is the toughest team I've ever coached. … It's just awesome to watch them play."
And will their home run prowess translate to postseason?
"Who knows?" Finwood said. "Hitting comes and goes, and good pitching usually beats good hitting, but we've been hitting good pitching all year."