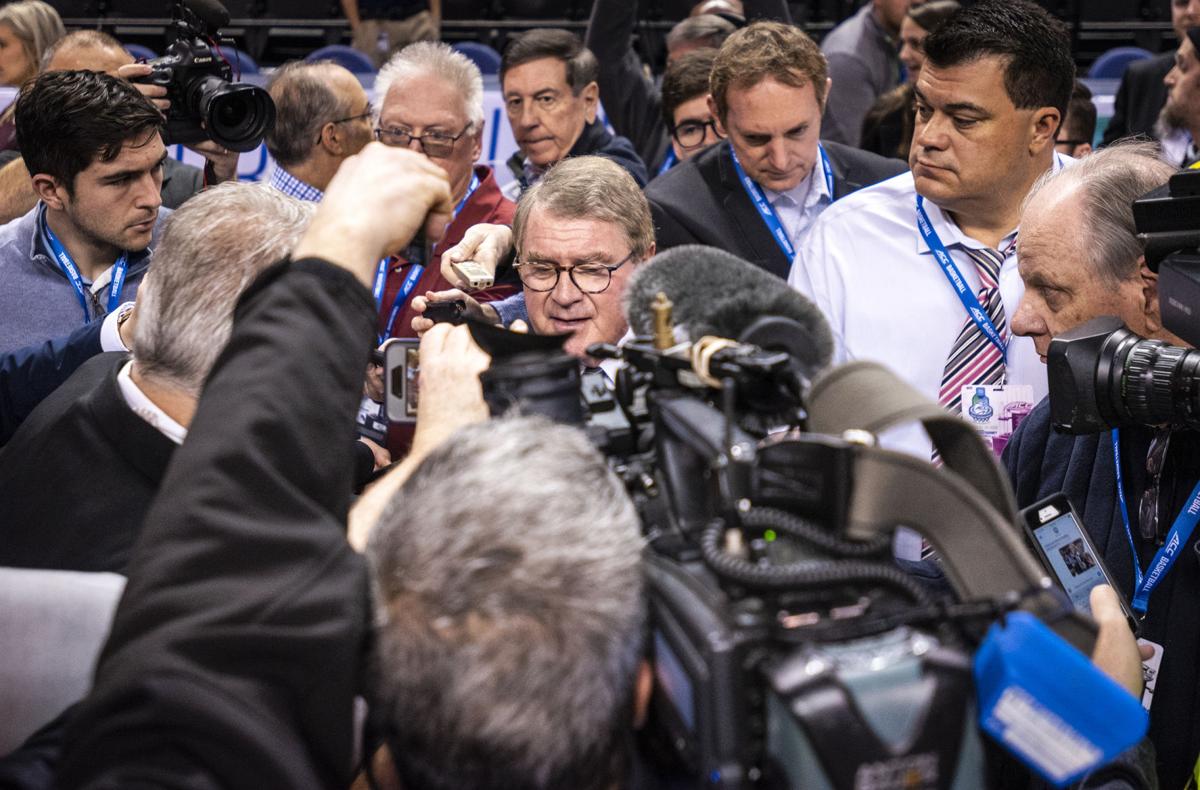 Leonard Hamilton arrived at last year's ACC basketball tournament with the best team of his celebrated coaching career. Florida State was ranked fourth nationally, had finished atop the conference standings for the first time and boasted a roster with multiple first-round NBA draft picks.
Visions of the Seminoles' second ACC tournament championship and Hamilton's first Final Four were prevalent.
But one year later, Hamilton vividly recalls his anxiety as FSU prepared for its March 12 ACC quarterfinal against Clemson, scheduled to start shortly after 12:30 p.m., at the Greensboro Coliseum.
He was not alone. Indeed, legions were nervous, confused and/or frightened as mankind confronted the first global pandemic in more than a century.
No one will ever forget this calamity, or the moment we realized life was about to get sideways. And for many of us, that moment dawned last March in Greensboro.
As he attempted to focus on Clemson, the opponent that had dealt Florida State its most recent setback, Hamilton was consumed by spiraling events.
Stunned by the COVID-19 diagnosis of Utah Jazz center Rudy Gobert, the NBA was shut down. The NCAA said its upcoming tournament would restrict attendance, prompting the ACC and other conferences to follow suit for their ongoing events.
Tom Hanks announced that he and his wife, Rita Wilson, had tested positive for the coronavirus. Financial markets were panicked.
"It didn't make sense to me that whatever we were trying to avoid was not going to be prevalent in the facility," Hamilton said. "In my mind, I'm thinking, 'It's bad enough to almost empty the arena, but it's OK to go play in it and have the families of the kids in the stands?'"
Clemson coach Brad Brownell was similarly concerned, and that Thursday morning's television news heightened his stress. But when he called Graham Neff, the Tigers' deputy athletic director, Neff said the game was on.
In the arena, where unfettered crowds had witnessed four games Wednesday, ACC and Coliseum staff prepared for an unprecedented day. As then-commissioner John Swofford walked toward the ACC Network set for a 9:30 a.m., interview, I asked him if the quarterfinals would be played.
He smiled, said yes and told the network's Mark Packer and Wes Durham the same.
College presidents across the landscape, the ACC's led by Duke's Vincent Price, were having grave reservations, and as Florida State and Clemson completed their warm-ups in the virtually barren Coliseum, the cascade of cancellations began.
The American, Big Ten, Big 12 and Southeastern Conference announced in rapid succession, and as Swofford strolled onto the court and took the public-address microphone minutes before the scheduled tip, you knew what was coming.
Surrounded by players, coaches and media, Swofford announced the inevitable, presented the ACC championship trophy to FSU and awarded the conference's automatic NCAA tournament bid to the Seminoles.
"I was kind of in shock, caught up in the moment, not really sure what to expect or what was going to happen next," said Aamir Simms, Clemson's All-ACC forward from Fluvanna County.
Within hours, the NCAA scrubbed its winter and spring championships. Florida State's automatic bid meant nothing.
"I was somewhat relieved, to be very honest with you," Hamilton said, "because I … feared the unknown."
After Swofford broke the news, teams set to play in quarterfinals later that day huddled at their respective hotels, unsure what to do. Louisville coach Chris Mack described himself as "shellshocked," and while meeting with Cardinals athletic director Vince Tyra a few hours later, he learned of the NCAA's cancellations.
"At that point," Mack said, "it was almost like a death, when you first hear that about someone, and it's so unexpected that it's really hard to understand it. And that's really how I've felt all the way up until now."
About 165 miles due west of Greensboro, in Johnson City, Tenn., Steve Forbes was similarly dazed.
Three days earlier, his East Tennessee State squad had defeated Wofford in the Southern Conference tournament final, the Bucs' 30th victory of the season and 12th in a row. Forbes was convinced ETSU, like Wofford a year earlier under Mike Young, would advance in the NCAA tournament.
Now he had to tell the winningest team in program history that its season was over. Seven weeks later, Forbes accepted the head-coaching position at Wake Forest.
"I think about it a lot," he said, "because I love those kids as much as I love the team I have now. I've never had a more empty feeling in my life, maybe other than when my dad passed away. I had to tell the team we weren't going to play in the NCAA tournament and had to tell six seniors they were done.
"And that was the last day I ever saw them. I couldn't even say goodbye to them face-to-face when I took this job."
Indeed, March 12 was numbing, exhausting and terrifying.
The Dow plunged nearly 10%, its worst day since the 1987 market crash. Secondary and higher education sent our children home.
"None of us knew that the world was going to change that day," Simms said.
Change it did. More than 2.5 million people have died from COVID-19, more than 500,000 in the United States. The pandemic's effect on our health — physical and mental — economy and educational system will long endure.
But one year later, thanks to time, caution and science, we have hope. Deaths and hospitalizations related to the virus are declining, and vaccines are working.
We also have sports, God bless 'em, and Tuesday, the 68th annual ACC men's basketball tournament begins. Originally scheduled for Washington, D.C., the conference's signature event was moved to Greensboro, allowing staff to coordinate protocols in the league's home city rather than 300 miles away.
Attendance will be limited to about 3,000, still more than some ACC teams experienced during this decidedly irregular season.
"I give everybody credit for pulling off athletics during this tough time," N.C. State coach Kevin Keatts said. "I know people [ask], 'Why are you playing?' We're playing because I think sports has helped people get through some of this pandemic, and our kids want to play."
Many wondered if college basketball could, or should, play in 2020-21, but despite myriad hiccups, postseason is here. It's a testament to countless folks, especially the athletes.
"I'm just thankful this season has gone as well as it has," Clemson's Brownell said. "… This has been a great outlet for them — basketball. … I think this is something they'll remember forever."