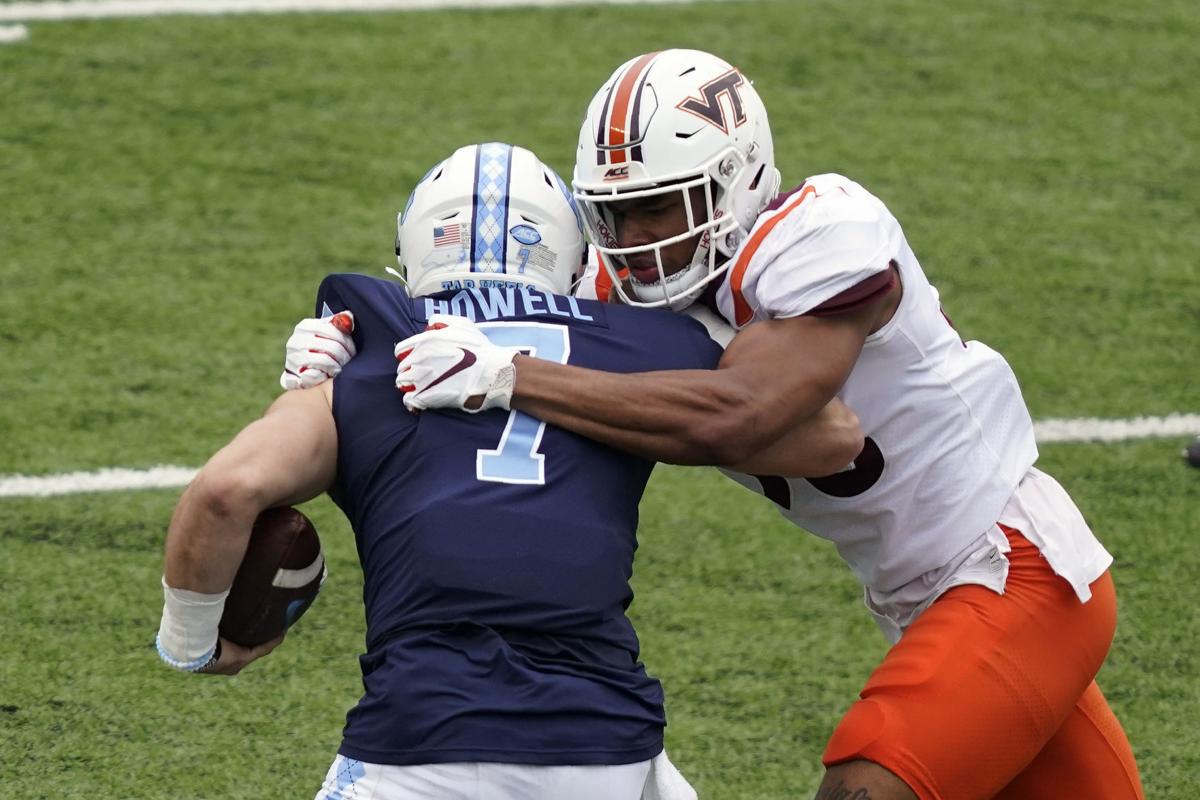 Virginia Tech football has faced far more daunting openers than Friday night's against No. 10 North Carolina. Indeed, in an extraordinary stretch from 2004 to 2015, the Hokies kicked off their season with a top-five opponent five times.
Crazier yet, not to mention unprecedented, that brief span included three openers against the reigning national champion: Southern California in 2004, Alabama in '13 and Ohio State in '15.
But when you blend caliber of opponent with considerable conference stakes and program intrigue, Friday at Lane Stadium rises to a different plane.
Never has Tech opened against a league opponent ranked among the top 10, let alone one that's an annual division rival from an adjoining state. And not since 1993, when Frank Beamer's program was staggering from a 2-8-1 finish the year before, has a Hokies football coach confronted such job insecurity.
That Tech must win this season to extend Justin Fuente's tenure is a given, and even while acknowledging reality, he has assembled a 2022 recruiting class that, if it remains intact, could be the Hokies' most regarded since Ryan Williams headlined the 2008 group.
With a beleaguered coach and six of its first seven games at home, Tech would be well-served to start fast, lest the narrative turn ugly early. And despite a 5-6 finish in last year's coronavirus-ravaged season, this team is capable of that quick burst.
Not to dismiss a host of unproven starters, most notably quarterback Braxton Burmeister, safety Devon Hunter, freshman guard Kaden Moore, kicker John Parker Romo and whoever earns the nod at running back. Nor to discount depth concerns at quarterback, defensive end and safety.
But there is substantial upside among the aforementioned starters, plus all-ACC caliber talents such as tight end James Mitchell, defensive end Amare Barno, offensive tackle Luke Tenuta, cornerback Jermaine Waller, center Brock Hoffman, guard Lecitus Smith and receiver Tre Turner.
Then there's the defensive coaching staff, overhauled after the 2019 season but precluded from a full installation by the pandemic. With defensive coordinator Justin Hamilton, defensive line coach Bill Teerlinck and cornerbacks coach Ryan Smith entering their second seasons in those positions, the Hokies should be stingier than in 2020, when they yielded 32.1 points per game, their worst in 47 years.
The betting public certainly gives Tech a shot Friday. The Hokies are 5½-point underdogs, a far cry from 2004, when they were 17-point beagles to USC, 2013, when they were 21½-point terriers to Alabama, and 2015, when they were 13½-point labradoodles to Ohio State.
Also, let's not forget North Carolina's burdens and doubts.
This is the Tar Heels' first top-10 preseason ranking since 1997, the final year of Mack Brown's first coaching tenure at UNC. Moreover, the Tar Heels haven't won an ACC football championship since 1980, when linebacker Lawrence Taylor was their ringleader.
Quarterback Sam Howell is a legit Heisman Trophy aspirant and could join the likes of Trevor Lawrence, Andrew Luck, Mario Williams, Peyton Manning and, going way back, Bill Dudley, as Hokies opponents who were selected No. 1 overall in the NFL draft.
Last season's starting offensive line returns, and the defense should be, at minimum, an upgrade from 2020, when North Carolina ranked 64th nationally in opponents' scoring average at 29.4 points per game.
But as well as the Tar Heels have recruited since Brown returned in November 2018, losing 1,000-yard rushers Michael Carter and Javonte Williams, and 1,000-yard receivers Dyami Brown and Dazz Newsome — Newsome's 1,000-yard season was in 2019 — is a blow, as it would be for any program.
"We wanted to establish ourselves at running back and wide receiver," Brown said of training camp. "I don't think we can answer those questions until after the game, because you can't figure out in practice who's going to do well and who's not, and that's the biggest question mark about this team. Can we replace the 4,000 yards in offense that we lost, and who will be doing it?"
Virginia Tech is 0-9 in openers against the top 10, the closest of those setbacks to No. 3 Boise State in 2010 — Kellen Moore's touchdown pass to Austin Pettis in the waning moments gave the Broncos a 33-30 victory. Also, the Hokies are 0-7 against the top 10 since their 2014 road upset of No. 8 Ohio State, the Buckeyes' lone defeat en route to the national championship.