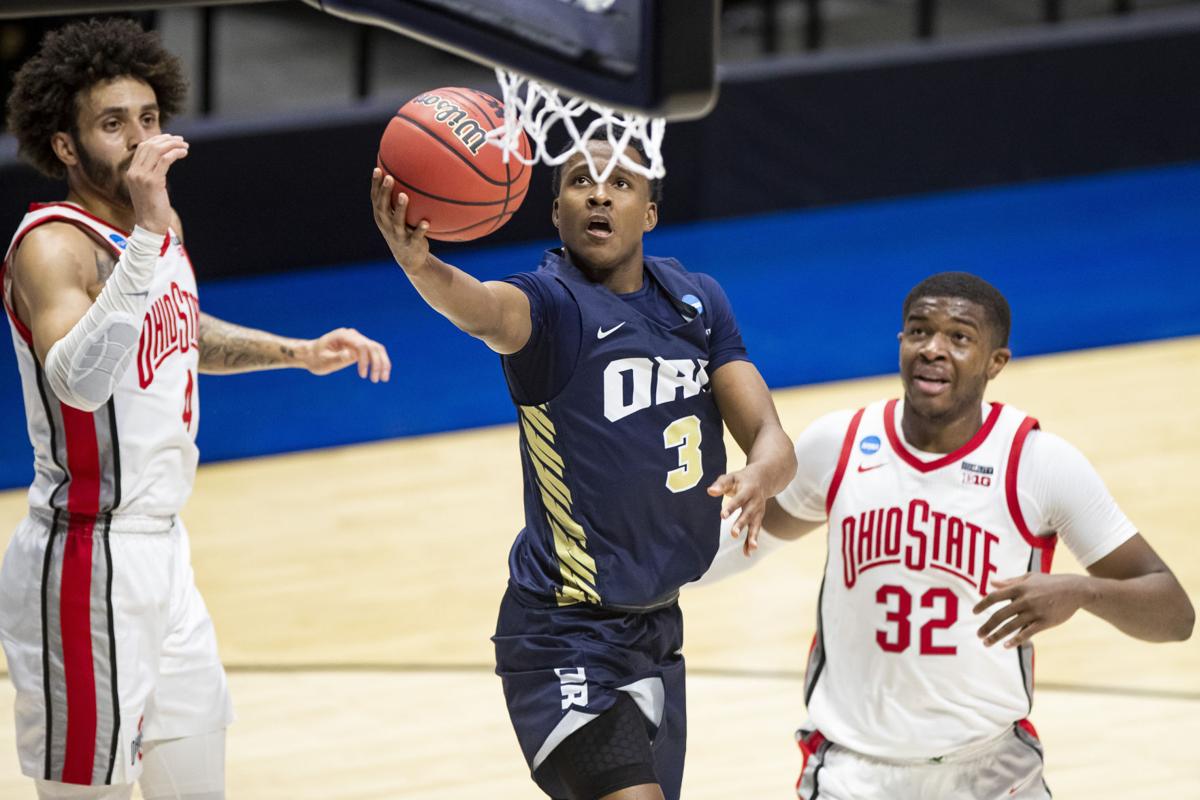 Behold the most improbable Sweet 16 in NCAA tournament history. Reintroduce yourself to Sister Jean and Buddy Boeheim, meet the nation's leading scorer and a lefty from Switzerland, and prepare a mea culpa for the Pac-12.
That's one way to summarize the four days of basketball that concluded late Monday night and demolished millions of brackets.
Undefeated Gonzaga, the tournament's top overall seed, was not threatened. Otherwise, the event's first two rounds embodied pandemonium.
This maddest of Sweet 16s comes on the heels of 2019, when the regional semifinals were virtually all chalk. Each of the top three seeds in the four regions advanced, and the aggregate seed of the teams was 49, matching the record low set in 2009.
The seed total of the 16 regional semifinalists this year is 94 — the previous high was 89 in 1986. Oral Roberts is the second No. 15 to advance two rounds, matching Florida Gulf Coast's 2013 run, and a record four teams seeded 13-15 won their first-round games: North Texas, Abilene Christian, Ohio and Oral Roberts.
Ridiculed throughout the regular season, and with nary a top-four region seed, the Pac-12 rampaged through the bracket, winning 10 of 11 games and sending Southern California, Oregon, UCLA and Oregon State to this weekend's regional semifinals.
Universally regarded as the nation's premier conference this season, the Big Ten was humbled, Michigan the lone survivor among its nine tournament teams. The ACC endured a 2-5 first round — North Carolina's 85-62 loss to Wisconsin was the most-lopsided NCAA tournament setback of Roy Williams' coaching career — and unless ACC survivors Florida State and Syracuse win at least three more games between them, the league will have its first losing March Madness record since 1987.
One final stat nugget, courtesy of the NCAA's Dave Worlock: The NCAA defines a tournament upset as a victory by a team seeded at least five spots lower than its opponent, and this year already has produced 12 such results, one shy of the record for the entire tournament, set in 1985 and equaled in 2014.
But enough numbers. Let's showcase a few folks who created this chaos.
Cameron Krutwig conducted a pick-and-roll clinic in Loyola of Chicago's 71-58 second-round upset of Illinois, the Midwest Region's No. 1, contributing 19 points, 12 rebounds, five assists and four steals. The Ramblers excused ACC tournament champion Georgia Tech in the first round, the Yellow Jackets playing without league player of the year Moses Wright (COVID-19 infection).
As in 2018, when Loyola reached the Final Four, team chaplain Sister Jean Dolores Schmidt watched from courtside. She's a spry 101, answered media questions via Zoom last week and undoubtedly will help with the scouting report for Saturday's Midwest semifinal against Oregon State.
After a meh performance in the first round against UNC Greensboro, Florida State bounced Colorado 71-53 on Monday to arrange an East Regional semifinal Sunday versus Michigan. For only the second time this season, guard Anthony Polite from Lugano, Switzerland, led the Seminoles in scoring Sunday, his career-high 22 points in just 28 minutes yet another testament to FSU's signature depth.
Florida State joins Duke, North Carolina and Maryland as the only programs, while ACC members, to advance multiple rounds in three consecutive NCAA tournaments, sending coach Leonard Hamilton into company that also includes Duke's Mike Krzyzewski, UNC's Dean Smith and Roy Williams, and Maryland's Gary Williams.
While the Seminoles have become Sweet 16 staples — FSU, Gonzaga and Michigan are the lone teams to make each of the last three region semifinals — Oral Roberts is here for the first time since 1974. The Golden Eagles finished fourth in the Summit League but won the conference tournament and upset Ohio State (in overtime) and Florida by 3 points each to reach Saturday's South semifinals against Arkansas.
Guard Max Abmas is a principal reason. He leads the nation in scoring at 24.5 points per game, ranks second in made 3-pointers with 97 and also has a team-high 102 assists.
But as good as Abmas was in the opening two rounds, scoring 55 points and playing every minute of both contests, he wasn't the most productive Golden Eagle. Showcasing his own 3-point range, forward Kevin Obanor scored 58 points and collared 22 rebounds in the two victories.
"As I told the guys, we're not going to let somebody put a number in front of our name and tell us that's our worth or that's our value," Oral Roberts coach Paul Mills said. "We are not capitulating to anybody here."
Syracuse is of similar mind. This marks the third time the Orange have been a double-digit NCAA seed since joining the ACC in 2013, and on each occasion Jim Boeheim's team has defied others' expectations.
The Orange reached the 2016 Final Four as a 10 seed, the 2018 Elite Eight as an 11 and this year as an 11 is set to face Houston in Saturday's Midwest Regional semifinals. Syracuse's combined ACC record in those seasons: 26-26.
Framed another way: In eight years of ACC membership, the Orange are 79-65 in league games (.549 winning percentage) and 10-4 in the NCAA tournament (.714).
The common thread is opponents unaccustomed to attacking a 2-3 zone defense, a hallmark of Boeheim's 45-year Hall of Fame tenure. But the centerpiece of the Orange's victories over San Diego State and West Virginia last weekend was Buddy Boeheim, the coach's son.
A 6-foot-6 junior, he has transformed himself from a one-dimensional spot-up shooter into a versatile scorer capable of also scoring in the mid-range and at the basket. He scored a combined 55 points against the Aztecs and Mountaineers, and in his past four games, two each in the ACC and NCAA tournaments, he's averaging 28.5 points on 60% shooting overall, 55.8% beyond the 3-point arc.
That's 102 points from the field on 65 shots, an absurd effective field goal percentage of 78.5.
The last time I can recall a coach's son lifting his dad's team to the Sweet 16 was Bryce Drew, Homer Drew and Valparaiso in 1998.
First, Homer designed a last-second, length-of-the-floor inbounds play that Bryce converted into a game-winning 3-pointer against Ole Miss. Two days later, Bryce scored 22 points as the Crusaders defeated Florida State in overtime.
"When he was in ninth grade on his AAU team, he didn't start, and the guys ahead of him weren't very good," Jim Boeheim said of his son. "I told him, 'You're going to be good. You're going to be better than these guys someday.' Fortunately, he not only listened to me, but he went to work and made it happen."
Buddy recalled that after a late-February loss at Georgia Tech, some fans were saying the program has declined in the last decade and were calling for his father, 76, to retire.
"Do you know how many people would dream about going to two Sweet 16s, two Final Fours and an Elite Eight?" Buddy said. "In 10 years, that's pretty good. … There's no better feeling than helping bring him to another Sweet 16."
Jim Boeheim has coached in 19 previous Sweet 16s.