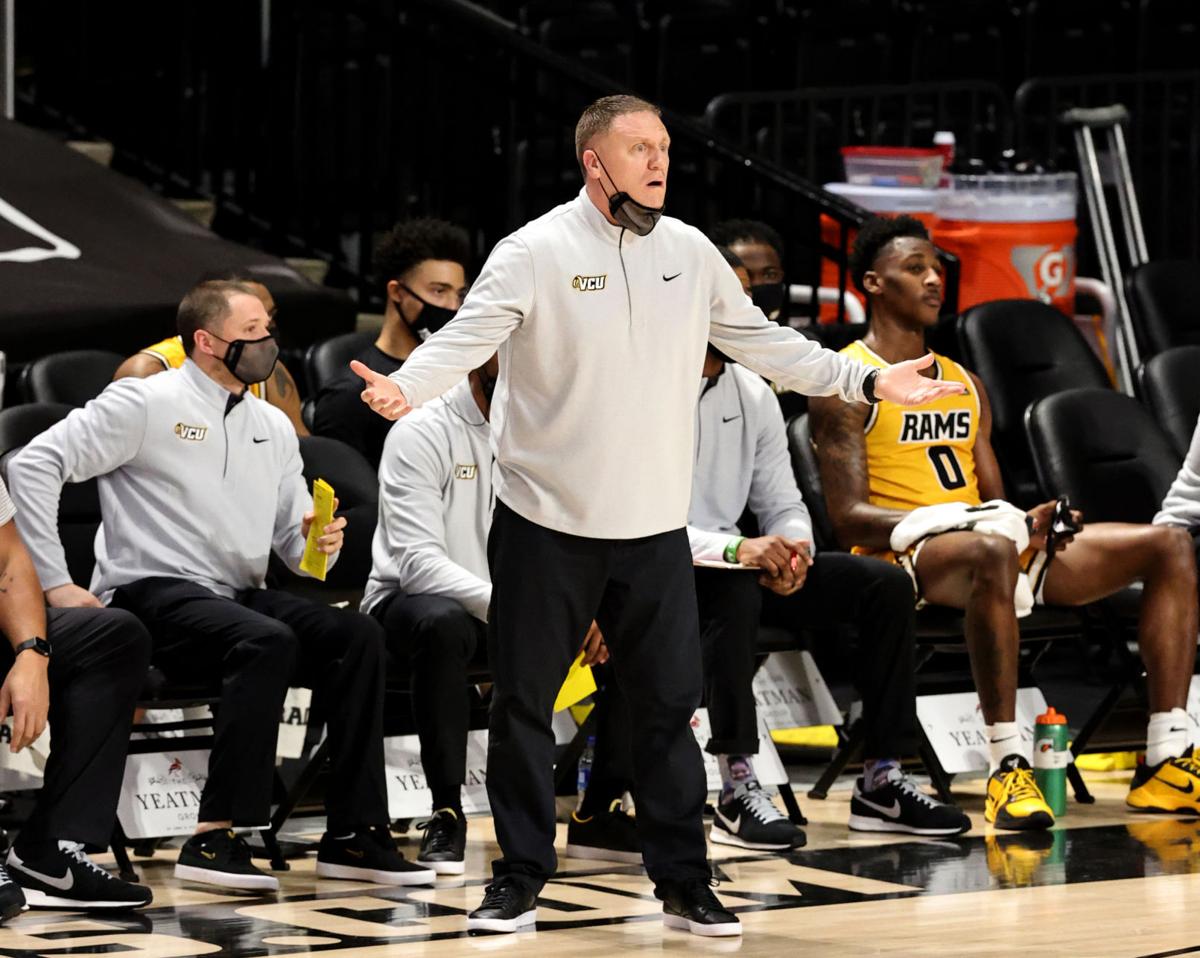 First, the Atlantic 10 moved its men's basketball tournament from New York to Richmond. Three weeks later, in an after-hours news dump, the conference rescheduled the event's first four rounds, scrapped the final week of the regular season and relocated the championship game from Richmond to Dayton, Ohio.
As the Colonial Athletic Association prepares for its tournament March 6-9 in Harrisonburg, four of its 10 programs — Hofstra, Towson, Northeastern and the College of Charleston — are unable to play this weekend as scheduled.
This week in the ACC, Virginia Tech, Clemson and Boston College are returning from extended breaks, just as Louisville did last Saturday. At least 11 state programs, including Richmond, VMI, Virginia, James Madison and William & Mary, have endured similar pauses.
Long story short: Basketball's smaller rosters, indoor competition, frequency of games and winter season almost assured more COVID-19 disruptions than during football, when, for example, the ACC staged 70 of 75 regular-season conference games (93.3%).
Indeed, nary a week has gone by this basketball season without news of postponements, pauses and cancellations. The CAA on Monday canceled six games scheduled for the weekend. On Feb. 17, the ACC announced four upcoming postponements.
The ACC aspired to a full, 150-game league schedule, each of its 15 teams playing 20 conference dates. Thirty-six of those contests have been postponed, seven of them made up, two rescheduled for March 3, leaving 27 games, 18% of the original schedule, unplayed.
The A-10 and CAA envy that 82% success rate.
If its two remaining contests are played, the CAA will have staged 51 of 90 conference games, 56.7%. If its eight remaining dates are played, the A-10 will check in at 71.4% (90 of 126).
The 11-member Big South, which includes Radford, Longwood and Hampton, has completed its regular season with an exceptional 87.3% play rate for conference dates (96 of 110).
"It's test to test, game to game," said Mike Rhoades, coach of A-10 co-leader VCU. "Are we playing? Are we not playing? Who are we playing? … The craziness of all the postponements and cancellations: That has taken a toll on everybody, and anybody that says otherwise, they're lying. That has taken a toll on players, administrators and coaches."
Through copious amounts of self-discipline and sheer luck, the Rams have been spared a pause, their considerable scheduling drama created by infections elsewhere.
Conversely, Clemson on Wednesday returned from its second extended break with a road victory at Wake Forest.
Following their initial pause, the Tigers lost three consecutive games by a combined 72 points.
"I think by and large things have gone very well," Clemson coach Brad Brownell said. "I was thinking about it the other day when I was kind of struggling with our guys being out and frustrated, and then I thought to myself, 'Can I imagine what my guys would be going through if they didn't get to play this year?' I think our guys have done an incredibly good job keeping their morale, in good times and bad times. We've had it all. I think just the excitement of playing and the chance to play in the NCAA tournament have kept our guys hungry and motivated."
Managing expectations is essential in most any endeavor, and the NCAA set the bar low during preseason with a 13-game minimum for tournament eligibility. After that September announcement, I asked every coach I spoke to if he would sign up for a guaranteed 20-game regular season.
The unanimous sentiment was, "Heck, yes!"
Through Wednesday, seven ACC teams had played at least 20 games, none less than 16.
Hofstra is the lone CAA program to crack the 20-game threshold, while VCU is among four A-10 teams at 20 or more.
"I didn't know if we could get to 20 games back in September, October, November," Notre Dame coach Mike Brey said. "You just feared the worst, and another shutdown, and you still fear it, quite frankly, with variants [of the virus] and everything else."
The next hurdles are conference tournaments and the NCAA tournament, when just one infection, plus subsequent contact tracing and quarantining, could ruin a season. That's why the A-10 rescheduled the early rounds of its tournament, to give its finalists, and perhaps other NCAA at-large contenders in the league, ample time to prepare for NCAA protocols.
Teams such as VCU, Virginia and Virginia Tech have a likely NCAA tournament bid to fuel motivation. But most do not.
Their incentive is simply to compete.
"I'm really proud of all the kids, because they are the ones that stepped up … and had to have a different kind of discipline to make all this work," Pittsburgh coach Jeff Capel said. "It's been a team effort everywhere to navigate this. It's still weird. It still doesn't feel the same playing and no one's there. That's still just really, really odd, and a little uncomfortable, to be honest with you. …
"[But] young people want to play. … I can't imagine being in college going through this. I know what my college experience was like, take basketball away, just in general. It was four of the best years of my life. … So hopefully this is something, the season, even with the losses, it's hopefully something that brings them joy because there's not a lot right now in everyday life."
One of VCU's freshmen recently told Rhoades that he's yet to meet anyone outside the basketball program.
First-year Wake Forest coach Steve Forbes has yet to host his team at his home, a staple of player-coach bonding.
Those are real sacrifices, but ones willingly made.
As VCU forward Vince Williams said, he can't imagine anyone on the team jeopardizing "us going out there [and] playing basketball, the thing that we love."