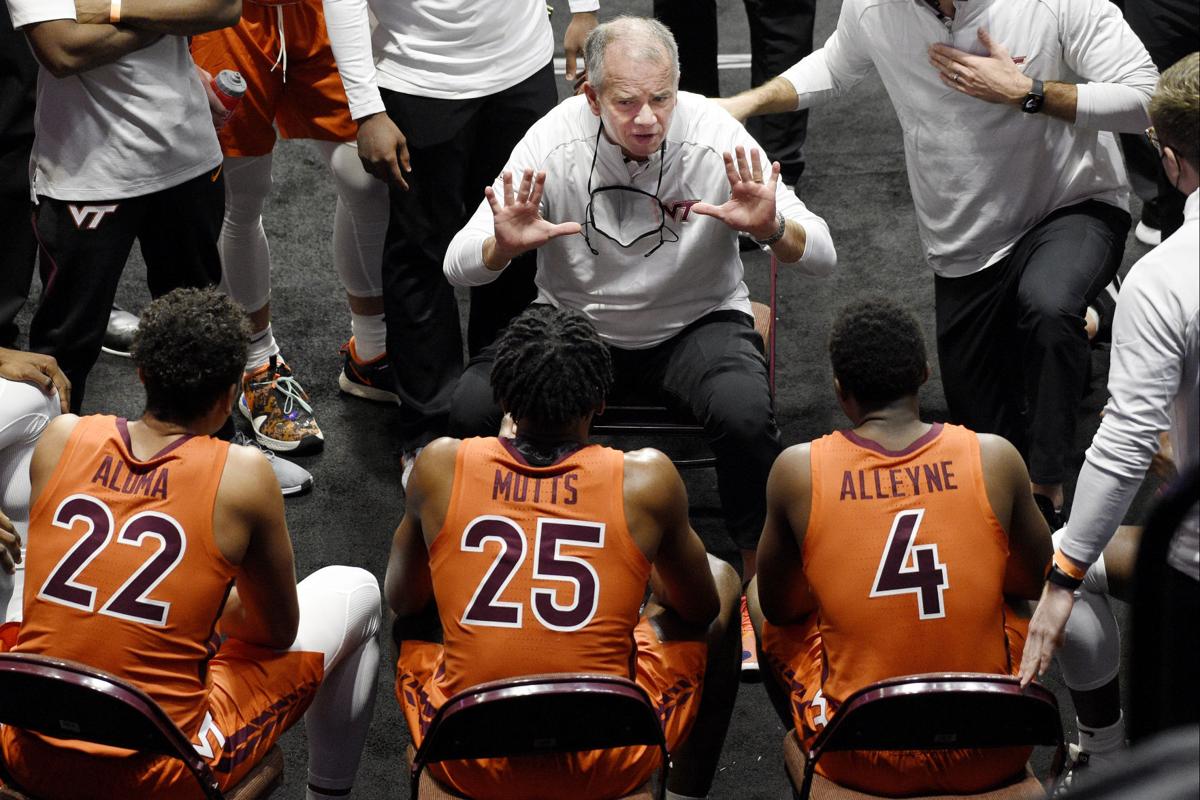 Virginia and Virginia Tech begin their ACC tournament quests Thursday, both top four seeds for only the second time. Fans in the commonwealth would not appreciate a sequel of 2007 in Tampa, Fla.
Seeded second and fourth, respectively, the Cavaliers and Hokies each lost to 10th-seeded N.C. State, UVA in the quarterfinals, Tech in the semifinals.
Could either, or both, be similarly excused this week?
"It's always razor-thin," Virginia coach Tony Bennett said of tournament competition.
More so this year, with the pandemic's effects on teams' health and schedules. For those reasons, and others, the Hokies and Cavaliers embody uncertainty entering postseason.
Due to February COVID-19 pauses, Thursday's ACC quarterfinal will be Virginia Tech's third game in 32 days and its first since Feb. 27. Moreover, the Hokies will be without sixth man Jalen Cone, shelved until at least the NCAA tournament by an ankle injury.
Tech faces the winner of Wednesday's late game between Notre Dame and North Carolina, and if Mike Young's team advances, it is bracketed to encounter Florida State in the semifinals. The Hokies played neither the Tar Heels nor Seminoles during the regular season, again because of pauses.
"I don't know that it's the great unknown," Young said of Tech's two recent breaks. "We've played 20 [games], and to be honest with you, I probably feel pretty fortunate to have played 20. I'm not searching for what my team's identity might be. I know what that is. I knew that a long time ago.
"Do I reflect, and am I disappointed that we had such an issue so late in the year here? Absolutely. [But] it's what we've had to deal with, what a lot of people have had to deal with, and we look forward to the next challenge."
The Hokies' forged their identity with gritty, man-to-man defense, balanced scoring and a knack for overcoming adversity. For example, they went 3-1 without suspended wing Tyrece Radford, including a home victory over then-No. 8 Virginia.
Tech's most recent pause was less taxing than the first because protocols allowed for full-scale practices. Still, it's difficult to imagine a team this inactive of late, and without its sixth man, winning three games in as many days.
Regardless of how they fare in Greensboro this week, the Hokies (15-5) should be assured of their fourth NCAA tournament bid in the last five years.
"I am not going to be one of those blathering [coaches], sounding like a petulant kid, trying to prove his team's worth," said Young, the ACC coach of the year. "I'm not going to do it. It's there on paper. We've had a really good year; I've got a really good team."
So does Virginia (17-6), which authored ACC winning streaks of seven and four games to earn the tournament's top seed for the fifth time in eight years. Yet the No. 16 Cavaliers are the conference's lowest-ranked regular-season champions since No. 17 Clemson in 1990.
So as with Virginia Tech, it's fair to ask: How good is Virginia?
The Cavaliers tumbled from the top 10 during a three-game February losing streak before rebounding with victories over Miami and Louisville, the latter clinching the regular-season title. All-ACC forward Sam Hauser scored a combined 42 points in those wins, but the most encouraging performances were from the bench.
Led by Justin McKoy and Francisco Caffaro, UVA reserves scored 20 points against Miami. Five days later, McKoy and Tomas Woldetensae ignited a second-half binge at Louisville.
Virginia led 51-47 when McKoy and Woldetensae replaced Hauser and Jay Huff on the floor. With Casey Morsell earlier spelling Kihei Clark, the only starters in the lineup were Reece Beekman and Trey Murphy.
McKoy and Woldetensae promptly scored 4 points each in a 13-4 run that put the Cavaliers in control at 64-51.
Desperate opponents often are the most perilous, and Virginia will encounter one Thursday in Syracuse. Led by Buddy Boeheim's 27 points — why the school didn't nominate him for all-ACC is baffling — the Orange dusted N.C. State 89-68 in Wednesday's second round but likely needs another victory to secure an NCAA tournament bid.
Syracuse coach Jim Boeheim on Wednesday called UVA "the best team in the league," and given the Cavaliers' 81-58 win over the Orange in late January, it's little wonder.
As a No. 1 ACC tournament seed, Bennett's Cavaliers have been dominant in the quarterfinals, winning four games by an average margin of 16 points. In fact, no top seed has fallen in the ACC quarterfinals since Duke in 1997.
"It was ecstatic, winning the regular season, in the locker room, all the celebration," Bennett said. "But then you're filled with gratefulness. And then it fades. But there's a feeling of gratefulness for the season, all that took place, all the ups and downs and the people that had to come together to do it, a lot of controversy. Should we be playing? … But here we are. We've made it through a regular season and now it's the postseason."