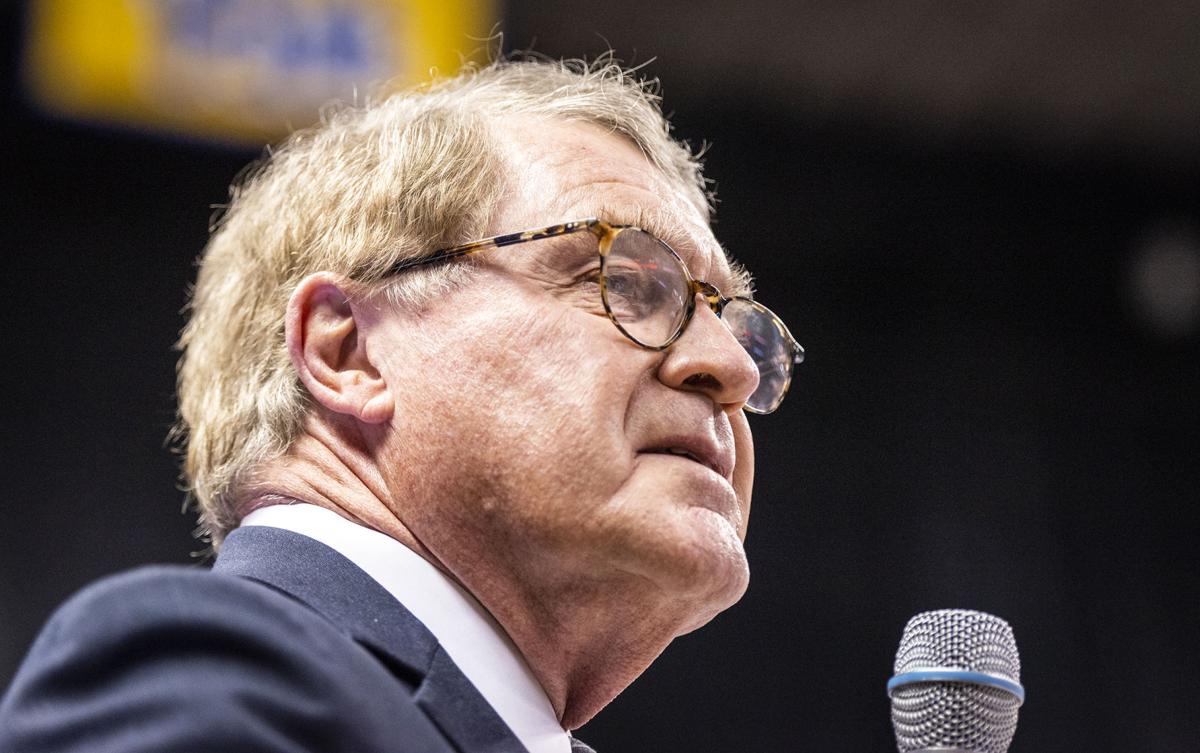 Two former Notre Dame colleagues and two normally competing search firms. A 1990s Navy linebacker and the athletics director who shepherded Boston College to its new conference home. A worldwide pandemic that created untold financial stress and exposed a Power Five peer's leadership. New bylaws that shifted control of the organization.
Those are among the unprecedented dynamics of the ACC's search for a new commissioner.
The longest-tenured commissioner in league history, John Swofford is retiring next June after 24 years on the job. Each of his three predecessors served at least a decade, making this a rare opportunity to impact the ACC's long-term future.
A "foundational examination" is how one industry source described commissioner searches.
That self-scout began June 25 with Swofford's retirement announcement and gained momentum last month with the retention of Turnkey Search and Ventura Partners and the appointment of a 20-member search advisory committee that includes Virginia athletics director Carla Williams and Virginia Tech President Tim Sands.
Two other presidents, Wake Forest's Nathan Hatch and Notre Dame's Rev. John Jenkins, are co-chairing the committee. The ACC has said a five-person panel — the roster has not been revealed — will select finalists and forward them to the ACC Board of Directors, comprised of the 15 presidents of league schools.
Created this spring to replace the Council of Presidents, the board provides what Syracuse chancellor Kent Syverud, the board's chairman, called "a more nimble and modern governance system to meet the challenges currently facing college athletics."
But this is more than a name change. This is a power shift from athletics directors to university CEOs.
"It is the most powerful group in the ACC, which is a major change," former Wake Forest athletics director Ron Wellman said of the board. "So the presidents will be selecting the next ACC commissioner. … The presidents have become more powerful than ever in the ACC."
The commissioner search advisory committee includes five presidents/chancellors, five ADs, five honor-roll athletes, three senior women's administrators and two faculty athletic reps. Co-chairs Hatch and Jenkins worked together in Notre Dame's senior leadership until 2005, when both ascended to their current positions.
As is customary, the search principals are not granting interviews, not even about the process. Similarly, the outgoing leader is not involved in selecting his replacement.
"That's really the role of our presidents," Swofford said, "and they will determine that in time. And whenever a new commissioner is installed, then I'll move on. If there's assistance in the transition that the new commissioner desires, or the presidents desire, I will gladly offer that. But I do not expect to have any role in who my successor is, and nor do I think I should."
Various search firms made proposals to the ACC, and according to the Sports Business Journal, Turnkey and Ventura submitted jointly, an unusual tactic among firms. It worked.
Ventura's ACC team includes Chad Chatlos, a former Naval Academy football captain. He assisted Wake Forest this year in hiring basketball coach Steve Forbes from East Tennessee State and, in his previous job with Korn Ferry's sports practice, worked on commissioner searches for the Southeastern Conference and Major League Baseball.
The most recognizable name in Turnkey's ACC group is Gene DeFilippo. As Boston College's athletics director from 1997 to 2012, he led the Eagles' transition from the Big East to the ACC. DeFilippo is managing director of Turnkey's college division, which in 2016 coordinated Georgia Tech's hiring of athletics director Todd Stansbury from Oregon State.
Turnkey's professional sports clients include the NFL's Chiefs, 49ers and Panthers, plus the NBA's Warriors, Raptors and Wizards, perhaps foreshadowing a varied candidate pool. Kelly Lewis, who specializes in "diversity, equity and inclusion" for Turnkey, also is working on the ACC search.
"Kelly's job, every single day, is to improve the level of diversity and talent in all of our searches," Turnkey CEO and former ESPN lawyer Len Perna said in a news release when Lewis was hired last September. "There is nothing more important."
In a search run by Korn Ferry, the Big Ten last year became the first Power Five conference to hire an African American as commissioner. Kevin Warren played college basketball at Penn and Grand Canyon before earning a law degree at Notre Dame, but as an accomplished NFL executive had no experience in college athletics administration.
It's showed. The Big Ten's public infighting and communication breakdowns since the league's July decision not to conduct fall sports have become national punchlines.
Given the Big Ten's missteps, it's fair to wonder whether ACC presidents might hesitate to hire anyone who hasn't worked extensively in the college space.
I mentioned 20 potential candidates when Swofford announced his retirement, most of whom have ACC connections and intercollegiate athletics administration experience. Each of the conference's commissioners — Jim Weaver, Bob James, Gene Corrigan and Swofford — have fit that profile.
"I wouldn't say that it's mandatory to have ACC ties," Wellman said, "but this conference is unique, and I think the next leader has to have an understanding and appreciation for the uniqueness of the ACC compared to the other Power Fives. If there isn't that recognition or understanding, it's going to be very difficult to lead this conference effectively."
What differentiates the ACC from the other Powers Fives is diversity of membership, with more small private schools than the other four leagues combined, and a collegiality that has marked most of its 67 years. But collegiality doesn't pay the bills, and the ACC has fallen behind its Power Five peers in revenue and per-school distributions.
Swofford's successor will have the year-old ACC Network to help bridge the revenue gap but will have to manage the COVID-19 pandemic, accompanying economic crisis and the oncoming freight train that is name, image and likeness legislation.
"I think strong moral fiber and character is essential in leadership, especially in college athletics at this point," Virginia football coach Bronco Mendenhall said. "So, morals, values, ethics I think is the very first thing. A knowledge base in terms of the inner workings of college football has to be considered. Invariably, I do like the idea of innovation. The game isn't going to be and the structure isn't going to remain the same, certainly after this year. I'm not only talking about COVID. I'm just talking about the name, image and likeness, as well as some of the social and racial issues we're having."
Beyond the national concerns, Swofford believes his successor's top priority will be enhancing revenue, specifically through the ACC Network and how that enterprise may be transformed by technology advances.
Business, law, social justice, technology: The ACC's fifth commissioner will need to be comfortable drilling deep into wide-ranging subjects.
"Who has the business and policy background?" the industry source said. "Really, what I think you're looking for is leadership. Build consensus, articulate, communicate and live values. To me it's really broad right now because you could see any of those having a little more [emphasis]. What is that mix? What needs to be prioritized? ADs will have a certain lens on that, presidents will have a certain lens on that, coaches will have a certain lens on that.
"So, I think it's a challenging environment right now to identify what that profile is, and yet it's an energizing time because these are rare, tremendous positions, and I think your pool can be as broad you want it to be. You can really go so many places with it."