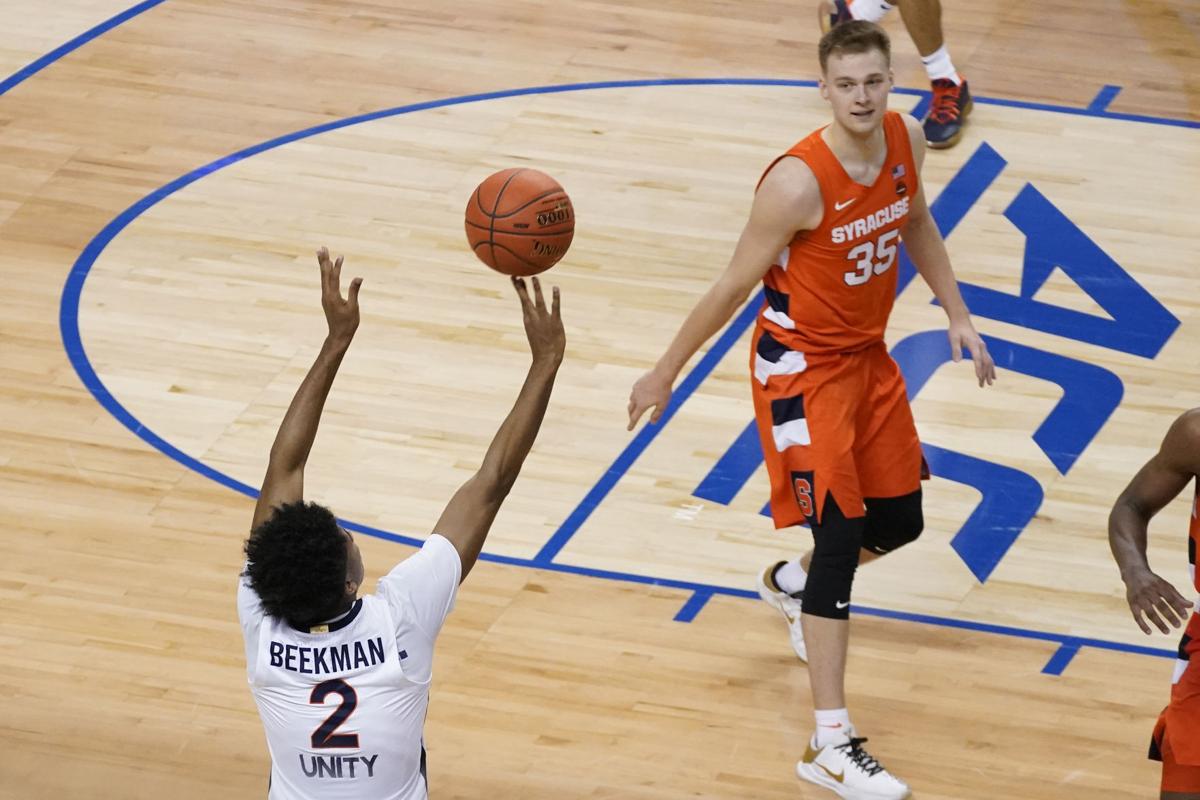 Three upperclassmen tracking toward historic seasons bless Virginia with myriad options for final-possession heroics. Reece Beekman is not among them.
Yet there the freshman guard was Thursday afternoon against Syracuse, catching a textbook pass from Kihei Clark and stepping into a pure, right-wing 3-pointer at the horn that lifted UVA to a 72-69 ACC tournament quarterfinal win.
"Beekman is the one we want to shoot it there," Syracuse coach Jim Boeheim said.
Indeed, Beekman began the day shooting 25.8% beyond the arc, worst among UVA's starters. Moreover, he was 0 for 5 on the day, three of the attempts from deep.
No UVA player has ever completed a season shooting at least 50% overall, 40% beyond the arc and 80% at the foul line. But Sam Hauser, Jay Huff and Trey Murphy are on pace to hit those benchmarks, a confluence that has often rescued the Cavaliers when their defense lapses.
So naturally, the Orange's renowned 2-3 zone shaded toward UVA's best shooters as Clark penetrated the lane from the left wing on the fateful sequence. A veteran of the Cavaliers' 2019 national-title run, Clark summoned the poise to find the open man.
And Beekman, a top-100 recruit from the Bayou, was ready.
"That's what March is," Hauser said.
And if ever a day begged for quintessential March drama, this was it.
A year ago, the mushrooming global pandemic forced the ACC tournament's cancellation on quarterfinal Thursday.
Here we were again, and Thursday morning news broke that a positive COVID-19 test had forced Duke to withdraw from its quarterfinal against Florida State, sending the Seminoles to Friday's semifinals without having played a tournament game.
"It sucks for Duke," Hauser said. "You never wish that upon anyone."
No better remedy for such news than a fierce, postseason clash of two quality teams competing at a high level, which is precisely what Virginia (18-6) and Syracuse (16-9) delivered.
Buddy Boeheim, son of the Orange coach, was brilliant with 31 points. Clark, Hauser, Huff and Murphy scored in double figures, the latter three heating up as the game progressed and willing UVA to a Friday semifinal against Georgia Tech.
"If he keeps shooting," Hauser said of Beekman, "they're eventually going to fall. He stuck with it. He knew he had to shoot it. He was open. He shot it in rhythm. He's one of those kids that just keeps coming back. If he gets knocked down, he keeps getting up."
Last year, Beekman got up from a life haymaker. His older brother, Bryce, a Washington State football player, died from an accidental drug overdose.
Reece persevered, earned a starting position as a rookie and became a defensive mainstay. Thursday, he made the shot of his life with his mom, Julie Jackson, in the Greensboro Coliseum stands, lending a human element to the outcome and reminding us why we so treasure sports.
Syracuse's zone, UVA coach Tony Bennett said, "is tough if you're not making shots or you're not real confident. You even saw Sam and Trey, they were having a hard time, and they kept shooting. But when you're not going to take a lot [of shots], it can mess with you."
If it messed with Beekman, he didn't show it.
He air-balled his first shot, a right-corner 3-pointer on Virginia's second possession. He committed a turnover against Syracuse's full-court press that led to a Quincy Guerrier layup with 1:31 remaining.
But he assisted on four UVA buckets, including a Hauser 3-pointer that broke a 56-all tie.
He defended as he usually does, with shrewdness uncommon for a freshman.
"You can't hit every shot," Beekman said, "so just had to play through the mistakes that I made, the turnovers that I had. So just staying focused and being ready to step up."
Beekman led Scotlandville Magnet High School to four Louisiana state championships and was the state's player of the year as a senior. But the closest he came to game-winning shot was a last-second layup to force overtime in his junior season.
As his 3-pointer Thursday headed for the highlight reel, Beekman held his follow-through and watched the ball's arc. When it swished, he turned and raced down the court, arms swinging wildly at his side, chased by delirious teammates, precisely the raw emotion and theater this ACC tournament afternoon needed.
"It was a whole lot of excitement," Beekman said. "Just a lot of energy that … came over me. And a lot of joy."