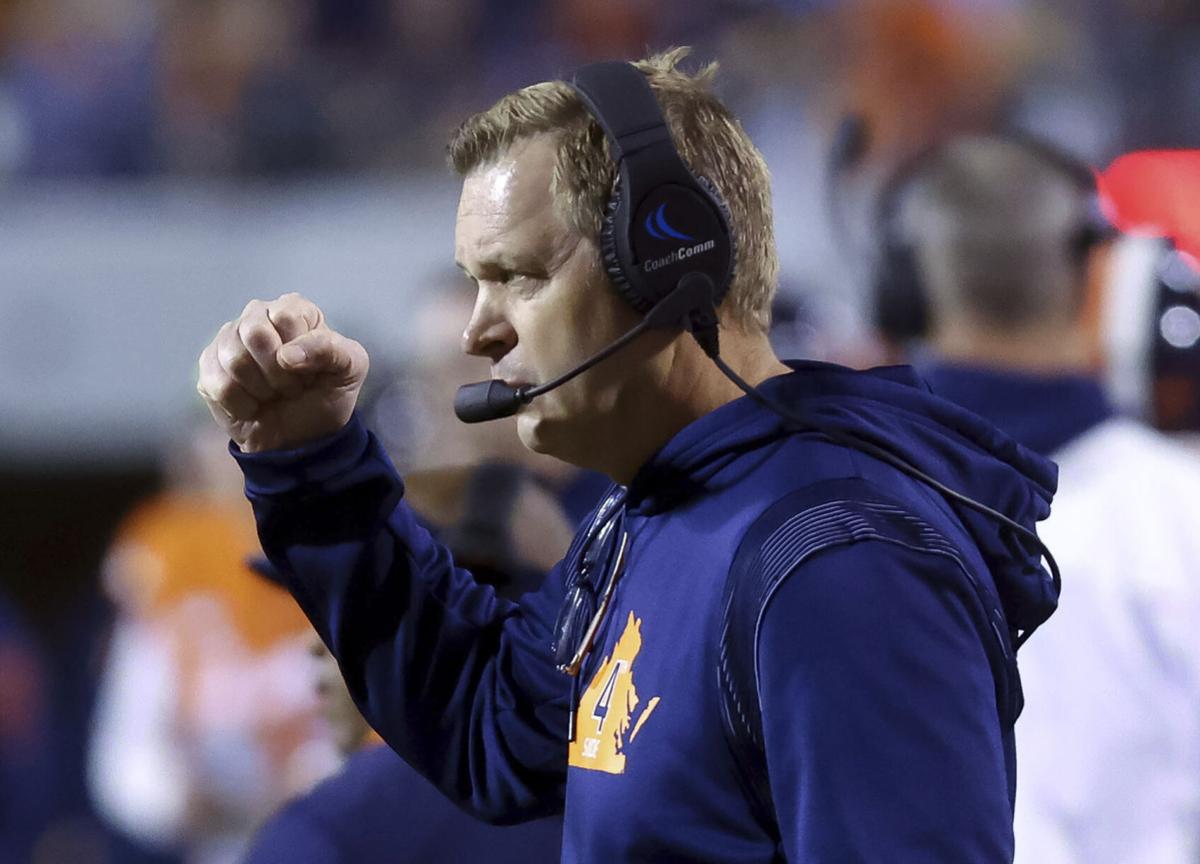 A month after absorbing a second consecutive 20-point defeat, Virginia is riding its longest ACC winning streak in a decade and is bowl-eligible.
Life comes at you fast, my friends.
Almost as fast as the Cavaliers' offense.
Trailing by two scores early Saturday night, Virginia scored on seven of its next eight possessions — the exception was a Hail Mary to close the first half — and defeated Georgia Tech 48-40 at Scott Stadium.
"It's super fun," quarterback Brennan Armstrong said of the offense. "I've got a lot of talent around me."
Yes he does, and given their late-game mishaps, the Cavaliers needed every ounce of that talent.
Virginia (6-2, 4-2 ACC) yielded two touchdowns in the final 1:16, failed to recover an onside kick after both and could not exhale until Joey Blount broke up Jeff Sims' 31-yard, last-gasp pass into the end zone.
That will, and should, give defensive coordinator Nick Howell and special teams coordinator Ricky Brumfield pause. Conversely, offensive coordinator Robert Anae couldn't have asked for much more.
The Cavaliers gained 636 yards, their most in an ACC game since 643 against Duke in 2010. They rushed for a season-high 240 yards, 99 by Armstrong, who accounted for all six UVA touchdowns — four passing and two rushing.
Virginia was turnover-free, and Armstrong threw for 396 yards, just shy of his fifth 400-yard passing game this year. Prior to this season, UVA quarterbacks had passed for at least 400 yards three times in 1,343 games, twice by Kurt Benkert and once by Marc Verica.
"He's electric, man," defensive back Coen King said of Armstrong. "Our ... entire offense is."
"We kept trying to change it up and kept trying to change the pressures," Tech coach Geoff Collins said, "and he just kept seeing and finding [soft spots]. He just has a knack for finding a way to keep plays alive and find his receivers, and he keeps his eyes downfield and he makes plays."
As usual, Armstrong leaned on his four exceptional receivers: Dontayvion Wicks, Keytaon Thompson, Billy Kemp and Jelani Woods.
Wicks (six receptions, 168 yards and two touchdowns Saturday) can score from anywhere on the field, as he showed on a 77-yard catch-and-run in the second quarter to give UVA its first lead. Thompson catches everything within the area code, Kemp is uncanny in the slot, and at 6-foot-7, 265 pounds, Woods borders on undefendable.
And let's not forget Ra'Shaun Henry, whose lone reception Saturday went for 20 yards and the Cavaliers' final touchdown.
"You can't do this solo in football," Armstrong said.
The Yellow Jackets (3-4, 2-3) bolted to a 13-0 lead and gained 195 yards in the first quarter. But multiscore deficits don't faze these Cavaliers in the fourth quarter, much less the first, witness their 34-33 victory at Louisville, where they trailed 30-13 after three periods.
Four weeks ago here, UVA lost to Wake Forest 37-17. This came on the heels of a 59-39 beating at North Carolina.
The Cavaliers were 0-2 in the ACC. In one astonishing stretch of those two contests, Virginia failed to force a punt on 19 consecutive opponent possessions.
But errant field goals on the final snap at Miami and Louisville allowed UVA to escape with back-to-back ACC road victories. Then came last week's 48-0 rout of downtrodden Duke and Saturday's survival.
This is the Cavaliers' first four-game conference winning streak since 2011, when Mike London's crew defeated Miami, Maryland, Duke and Florida State en route to an 8-4 regular season and Chick-fil-A Bowl invitation.
What's truly peculiar is the upcoming schedule. Before closing the regular season with ACC Coastal Division rivals Pitt and Virginia Tech, UVA plays nonconference games against Brigham Young next Saturday and, following an open date, Nov. 13 against Notre Dame.
The last time Virginia's final four regular-season dates included two nonleague contests was 2002, when the Cavaliers played at Penn State on Nov. 9 and at Virginia Tech, then a Big East program, Nov. 30.
This final stretch will test UVA like no other this season. BYU, Notre Dame and Pitt are 18-4 combined, and though struggling at 3-4, Virginia Tech is almost always a chore for the Cavaliers.
With 23 touchdown passes, Armstrong is five shy of matching Matt Schaub's season Virginia record from 2002. With 3,220 passing yards, he's 318 away from equaling Bryce Perkins' UVA record from 2019.
Is Armstrong getting enough national love?
"If he he's not, I don't know how come," Virginia coach Bronco Mendenhall said. "I don't what else you have to do or what other numbers you have to put up or how else you have to lead a team."