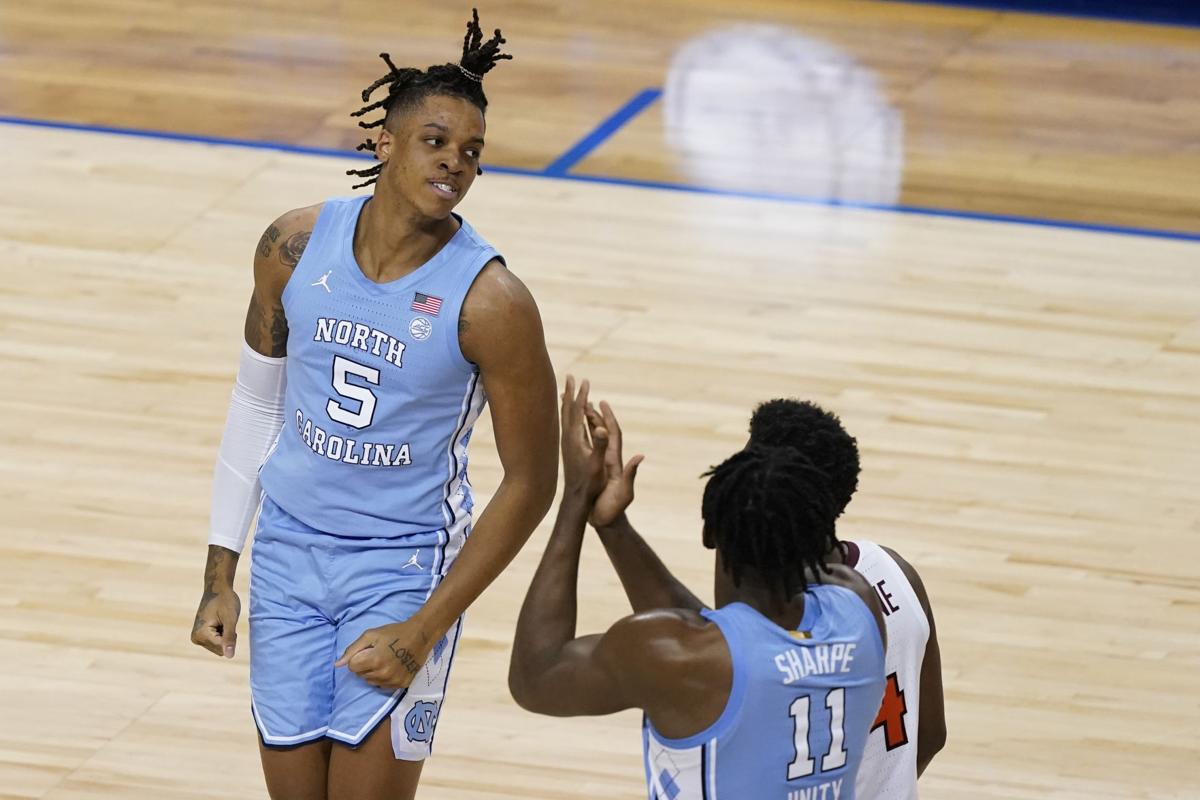 Two years ago at North Carolina, Armando Bacot grabbed more rebounds than any Tar Heel freshman since 1996. He followed up as a sophomore with an all-ACC season in which he led UNC in scoring and field goal percentage and was named the team's most valuable player.
But even as peers across the country, regardless of draft stock, jumped into the professional ranks, Bacot, a Richmond native who played three seasons at Trinity Episcopal, returned to the Tar Heels.
"It was just right to come back," Bacot said during a Zoom session with reporters last week. "My first two years I really haven't won anything, and that's the main thing for me. I want to be able to say I won something at Carolina and actually did something."
Bacot's priority was refreshing, and his assessment was, especially by program standards, spot-on.
Now before portraying him as a latter-day Ralph Sampson or Tim Duncan, delaying top-of-the-draft riches for a run at a national championship, understand that Bacot was a marginal draft prospect. The NBA selects only 60 players, and Bacot wasn't going to be lounging in the green room waiting to mug for the cameras with Adam Silver.
But players far less skilled and accomplished than Bacot turn pro annually, willing to risk free agent status and offer their services to international and NBA G League teams. Bacot found a third season at North Carolina more alluring, and it's easy to see why.
First, he progressed markedly last season. Second, the Tar Heels return five of their top seven scorers and added several promising transfers. Third, he earned admission last year to UNC's prestigious Kenan-Flagler Business School.
"Armando's been a great leader for us," sophomore guard RJ Davis said. "His maturity is through the roof."
The same might not have been said two years ago. Yes, his 264 rebounds (8.3 per game) were the most by a Tar Heel freshman since Antawn Jamison, but his shooting accuracy, 45.9%, was inadequate for someone of his stature (6-foot-10, 240 pounds).
Bacot's offensive struggles were especially glaring for a team that tied for last in the ACC standings at 6-14 and endured UNC's worst shooting (42%) since 1960. He and the Tar Heels progressed markedly last season, Hall of Famer Roy Williams' last as his alma mater's coach.
Stronger, less averse to contact and more consistent finishing at the rim, Bacot shot 62.8% and averaged 12.3 points, even as Williams' substitution patterns limited him to 22.4 minutes per game. Moreover, North Carolina improved to 10-6 in the ACC, 18-11 overall, and returned to the NCAA tournament, where it was humbled in the first round by Wisconsin, 85-62.
But first-round NCAA exits and fifth-place ACC ties do not remotely approach Tar Heel standards. North Carolina owns a record 20 Final Four appearances, and six national championship banners hang in the Smith Center rafters, half of which UNC earned during Williams' 18-year tenure.
The Tar Heels promoted former UNC and NBA guard Hubert Davis from Williams' staff to steer the program, and after Bacot withdrew from draft consideration, Davis began touting him as a potential ACC player of the year. That would be a considerable step for a 2021 third-team, all-conference selection, but leading the Heels back to national prominence doesn't rest solely on Bacot.
Caleb Love, Kerwin Walton, Davis and Leaky Black are experienced perimeter players, and UNC added three transfers in the frontcourt: Brady Manek from Oklahoma, Dawson Garcia from Marquette and Justin McKoy from Virginia.
Manek and Garcia are proven scorers, but when asked about the transfers, Bacot mentioned McKoy first.
"He brings a dynamic to the team we haven't had the last few years, coming from UVA, just his defensive mindset," Bacot said.
Hubert Davis envisions a well-spaced, motion offense that occasionally moves Bacot away from his comfort zone in the low post and requires him to drive from the foul line and beyond. Don't expect Bacot, who has attempted one 3-pointer as a collegian — it missed — to become a high-volume shooter beyond the arc, but extending his range can only help Bacot's NBA aspirations.
Why, Bacot has even upped his nutrition game, signing an endorsement deal with Maryland-based Jimmy's Famous Seafood that provides him free meals.