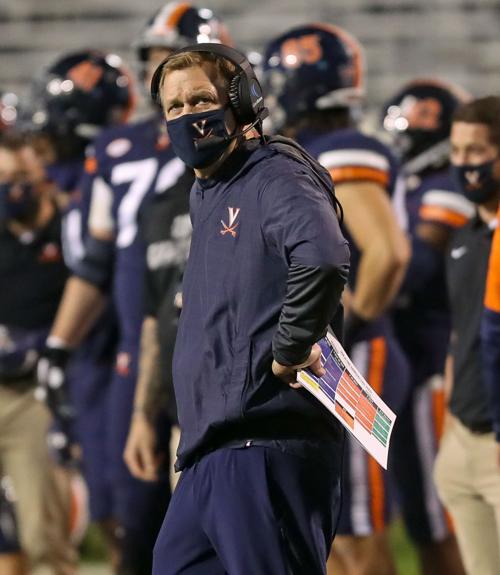 Saturday's presentation of the Dudley Award to the commonwealth's most outstanding college football player reflected the times.
First, the ceremony was virtual and televised by WTVR 6 — thank you, COVID-19. Second, the award's three finalists have experienced the NCAA transfer portal.
VMI quarterback Reece Udinski is headed to Maryland after rewriting the Keydets' passing records. Virginia Tech running back Khalil Herbert transferred from Kansas, and Liberty quarterback Malik Willis, the Dudley winner, began his college career at Auburn.
The Dudley Award is familiar with transfers — 2018 and '19 winner Bryce Perkins was at Arizona State and Arizona Western before enrolling at Virginia — but having three portal veterans as finalists reinforces how prevalent transfers are, and will be, in college athletics.
If you find this rampant player movement confusing, frustrating and/or troubling, here's a forecast: The transfer rate is going to surge further but then ease.
The great unknown is the degree of that ebb and flow.
Earlier this month, the NCAA Division I Council took the long-expected and long-overdue step of granting athletes in football, baseball, men's and women's basketball, and men's ice hockey the same freedom all other athletes have: the ability to transfer one time as an undergraduate without sitting out a season.
Combine that legislation with the buyer's remorse sure to accompany pandemic recruiting decisions of prospects and schools who committed to one another remotely, and you have a recipe for even more transfers in the short term.
Virginia football coach Bronco Mendenhall said last week that there were nearly 2,000 football athletes in the portal, the one-stop shopping mechanism the NCAA wisely crafted for players and schools.
UVA tight end Jelani Woods, a transfer from Oklahoma State, provided a glimpse at how closely recruiting staffs monitor the portal when he said Tuesday that Virginia contacted him via Twitter seconds after he entered his name.
Woods and cornerback Josh Hayes (North Dakota State) are among recent transfers who figure to contribute at UVA in 2021. Other transfers expected to impact ACC football this season include Virginia Tech defensive tackle Jordan Williams (Clemson), North Carolina running back Ty Chandler (Tennessee) and Miami receiver Charleston Rambo (Oklahoma).
As the Times-Dispatch's John O'Connor has astutely reported, the NCAA's new transfer policy could rob Football Championship Subdivision programs such as Richmond, James Madison and William & Mary of a valuable talent pipeline.
Since 1993, Bowl Championship Subdivision athletes can transfer to FCS schools without sitting out a season. But with FBS players now able to transfer within the subdivision without sitting out, they'll be less likely to select FCS schools for a new home.
Another unintended consequence: In many instances, coaches in every sport will recruit a transfer, knowing he or she is about to use the one-time hall pass, rather than a high school prospect who may exit the program at the first sign of adversity or interest from a more acclaimed school.
Complicating matters further, especially in football, is the NCAA's indecision on whether to offer relief from scholarship limits for the 2022-23 academic year. Those limits, 85 for FBS programs, could become burdensome if too many athletes choose to use the extra year of eligibility the NCAA granted everyone in the wake of the pandemic.
Electing to fund scholarships for so-called "super seniors" depletes your incoming freshman class, which has a 25-player limit. Passing on super seniors sends them scurrying to the already-saturated portal.
And let's not forget the annual decisions on fifth-year athletes who have redshirted for whatever reason. How many of those players a program invites back will affect super seniors and incoming freshmen.
In short, while not waiving scholarship limits beyond 2021-22 would make financial sense for athletic departments strapped by the pandemic, it would create roster-management migraines.
The unknown is "keeping me up at night currently as we consider what the implications might be for '22," Mendenhall said. "…Some schools, if you welcome back every player that you have that has an extra year, as well as granting fifth years, I believe our scholarship number in that class would be a class of eight for the recruiting class of '22.
"Some coaches I've talked to have four, some have two, some have none. So, yeah, it's an amazing challenge based on what the ruling is going to be and what the legislation is."
Meanwhile, basketball's offseason transfer madness continues. Nearly 1,500 men's basketball athletes want to transfer this cycle, and given the sport's smaller roster, that number is even more significant than football's.
At last count, 50 players from the ACC's 15 teams were exiting, with 26 transfers set to enter the conference and three others moving within the league: Justin McKoy from Virginia to North Carolina, Casey Morsell from UVA to N.C. State, and Matt Cross from Miami to Louisville.
Notable departures include UNC's Garrison Brooks to Mississippi State, Miami's Chris Lykes to Arkansas, Pittsburgh's Au'Dise Toney to Arkansas, Virginia Tech's Jalen Cone to Northern Arizona and Syracuse's Kadary Richmond to Seton Hall.
Significant newcomers include Wofford's Storm Murphy to Virginia Tech, East Carolina's Jayden Gardner to Virginia, Oklahoma's Brady Manek to UNC, Houston's Caleb Mills to Florida State and Cornell's Jimmy Boeheim to Syracuse, where he'll play for his father and with his brother.
All-Atlantic 10 selections such as Davidson's Kellen Grady (Kentucky), Massachusetts' Tre Mitchell (undecided), George Mason's Jordan Miller (Miami) and Rhode Island's Fatts Russell (Maryland) entered the portal. Old Dominion's top scorer, Malik Curry, is headed to West Virginia, while W&M's Luke Loewe is Minnesota-bound.
The constant roster churn unsettles fans who enjoy watching players develop over years and frazzles coaches who crave control. Indeed, much like the human condition, it's messy and unpredictable.
But it's only right. Denying athletes in five sports the freedom of movement available to their peers is unwarranted and unjust.
Exercising that freedom, however, will not be risk-free. Thousands of athletes will discover that the soft landings they envisioned don't exist, a realization that eventually should curb the enthusiasm for transferring.