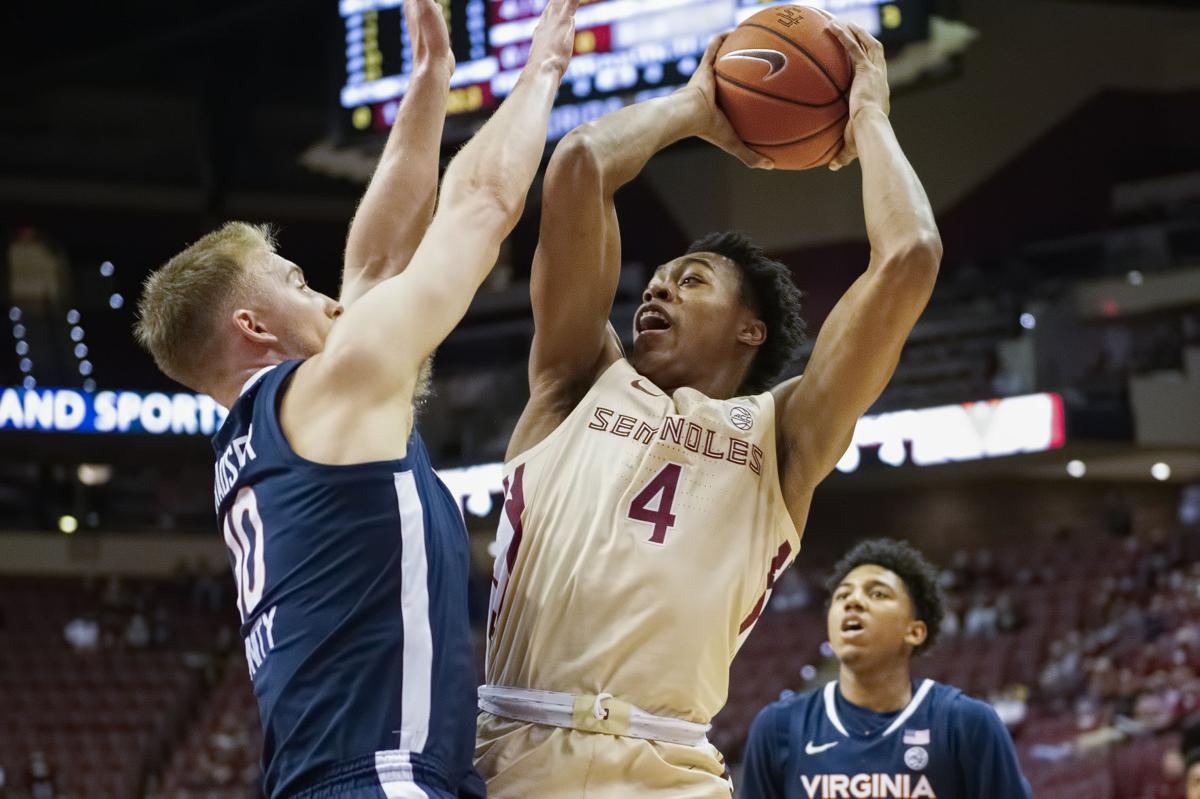 Give Virginia basketball this: When the Cavaliers lose in 2020-21, they do so memorably.
They stumbled against San Francisco as 15½-point favorites. They were dismantled throughout by Gonzaga and shredded late at Virginia Tech.
Monday brought, essentially, a Gonzaga sequel, an 81-60 demolition at Florida State that says as much about FSU as about UVA.
Well, late in the first half, Virginia's Trey Murphy and Jay Huff dunked emphatically on back-to-back possessions, the kind of flexing that usually foreshadows victory.
All those dunks did was trim the Seminoles' lead to 16 points.
Florida State's across-the-board size and length hounded UVA into uncharacteristic turnovers. Moreover, the Seminoles' quick ball movement left defenders flat-footed.
Virginia limited North Carolina to 18 first-half points Saturday and 48 for the game. Florida State scored 18 in the first 8:03 and 45 in the first half.
FSU's 45-25 intermission margin was enough to send UVA faithful to mainstream TV ("The Bachelor"), binge-watching ("Ted Lasso") or even an early look at those dreaded tax returns.
In contrast to their 98-75 loss to No. 1 Gonzaga, the No. 7 Cavaliers showed a second-half pulse Monday, cutting their deficit to 48-41 on Murphy's deep 3-pointer. But soon thereafter, the No. 16 Seminoles went on a 17-0 binge ignited by two 3-pointers by Tappahannock native Sardaar Calhoun.
Led by 32 combined points by M.J. Walker and RaiQuan Gray, Florida State not only made 13 of 24 beyond the 3-point arc, but also committed a scant five turnovers. And one of the 3s came from 7-foot-1 sophomore Balsa Koprivica, the first shot he's attempted beyond the arc as a collegian.
Also standing 7-1, Huff is a consistent 3-point threat, but fresh off an 18-point, 12-rebound double-double against North Carolina, he finished with season-lows of four points and two rebounds.   
Virginia is 1-3 against ranked opponents, the victory at Clemson by 35 points, the defeats against Gonzaga, Virginia Tech and Florida State by a combined 58 points.
Those margins make no sense, but good luck deciphering the ebbs and flows of this pandemic season.
That said, the Cavaliers (15-4, 11-2 ACC) and Seminoles (12-3, 8-2) were among the conference's preseason faves, and here they are tied atop the standings in the loss column, with FSU poised to win the regular season for a second consecutive year.
After a COVID-19 pause last month, Florida State burst from the gate with five consecutive victories, four of them blowouts. The Seminoles' return from their second virus break was more measured: an overtime survival Saturday against visiting Wake Forest.
Monday was more indicative of their potential.
Since the Gonzaga loss Dec. 26, scheduling fate has been determined to test the Cavaliers' defense as frequently as possible. The results have been decidedly mixed.
Georgia Tech led the ACC in scoring entering its Jan. 23 game at John Paul Jones Arena, where UVA survived a pedestrian defensive performance — the Yellow Jackets averaged a stout 1.05 points per possession in the Cavaliers' 64-62 victory.
Two nights later at JPJ, Syracuse arrived as the league scoring leader, only to miss 19 of 24 attempts beyond the arc in Virginia's 81-58 rout.
North Carolina traveled to Charlottesville last weekend fresh off a 91-87 win at Duke in which six Tar Heels scored in double figures. North Carolina managed barely half that against Virginia, falling 60-48 and going without a double-figure scorer for the first time since a 21-20 loss to Duke in the 1966 ACC tournament.
FSU entered Monday averaging an ACC-best 79.1 points and second only to Virginia in offensive efficiency. Other than early in the second half, the Seminoles had little trouble in extending their home conference winning streak to 24 games, second-longest in ACC history and two shy of Duke's record, set from 1997 to 2000.
"If you want a chance to beat a team of this caliber, or that is playing at this level in this setting, you can't be a sometimes-really-good defensive team," UVA coach Tony Bennett said. "You have to be all-the-time good."
Virginia has been good for much of the season. The same can't be said for the ACC.
Here it is mid-February, less than a month before Selection Sunday. Yet UVA-FSU was only the fourth clash of ranked ACC teams this season.
But how spoiled are we? All four of the matchups involved the commonwealth. The others were Duke-Virginia Tech, UVA-Virginia Tech and UVA-Clemson.
The national perception of the ACC enduring a second consecutive subpar season is not wrong and was confirmed Saturday by the NCAA tournament selection committee.
Unveiling their projected top 16 seeds for next month's bracket, the 10-member panel included only one ACC team: Virginia.
They probably whiffed on Florida State.