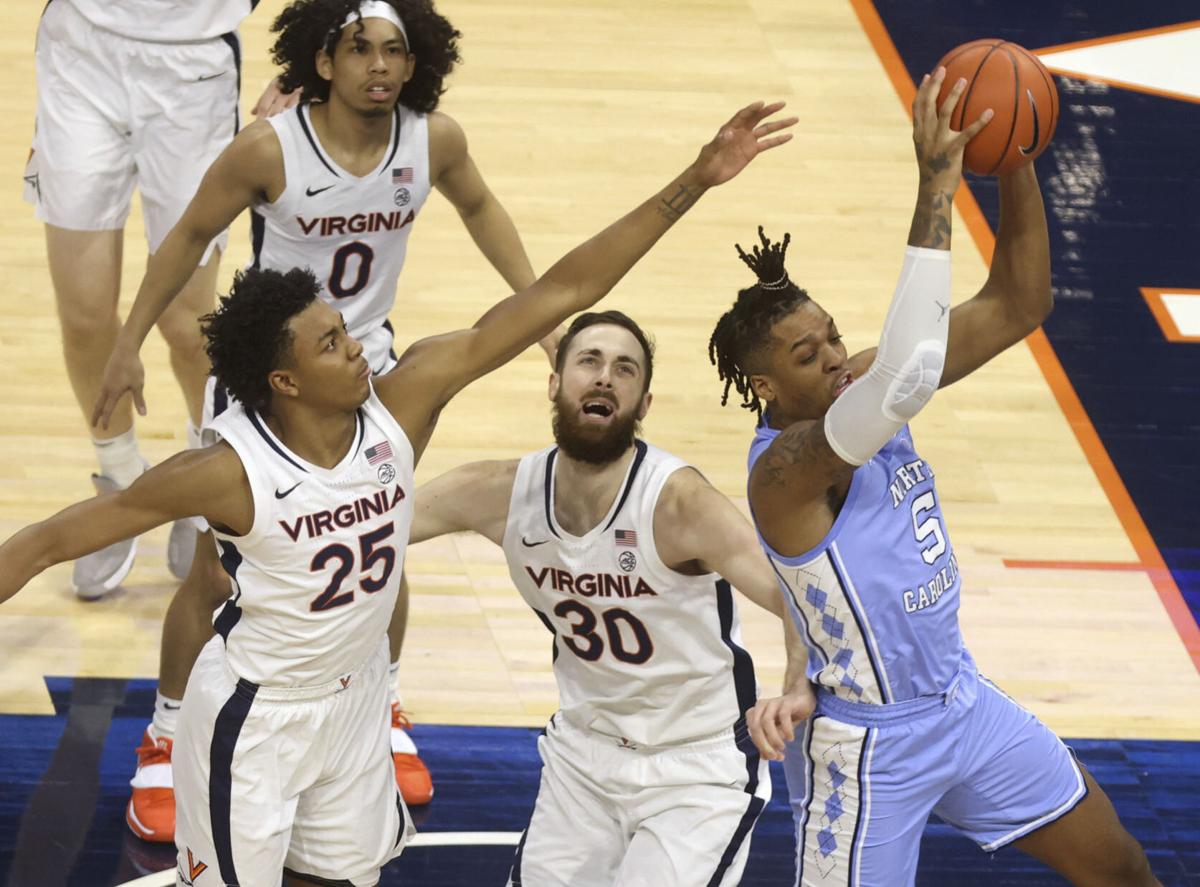 Virginia affirmed its position atop the ACC on Saturday, exasperating a Hall of Fame rival and elevating Tony Bennett to rare company.
The No. 9 Cavaliers trailed for all of 34 seconds early before blanketing North Carolina in a 60-48 victory at John Paul Jones Arena.
ESPN's go-to camera shot for much of the contest was of the Tar Heels' bench, showing masked coach Roy Williams in various poses of irritation. 'Twas that type of evening for North Carolina, which in its most recent outing, last Saturday at Duke, scored 91 points.
That's the luxury of real defense, which UVA has and Duke lacks.
The Tar Heels shot 53.1% in their win at Cameron Indoor Stadium, 34.5% on Saturday.
"Solid," the ultra-particular Bennett said of the Cavaliers' defense Saturday.
With the rescheduling of postponed dates with Virginia Tech, North Carolina State, Wake Forest and Louisville unlikely, Virginia probably clinched a winning ACC record with last week's victory over Pittsburgh. But Saturday's win makes it certain.
Even with the negligible chance they complete a 20-game league schedule, the Cavaliers (15-3, 11-1 ACC) will finish above .500 in regular season conference play for the 10th consecutive year.
UVA's previous long streak of winning ACC records was three, Ralph Sampson's sophomore, junior and senior years in the early 1980s. Duke owns the longest active streak at 13 years but is 6-6 against the league this season.
The only coaches to author 10 or more consecutive winning ACC records are North Carolina's Dean Smith (33 straight), Duke's Mike Krzyzewski (13 and counting, two others of 10) and UVA's Bennett (10).
That's all. Rather amazing, yes?
In control for the final 30 minutes, Virginia won Saturday with 3-point shooting, connecting on 10 of 22. UNC was 2 for 16 beyond the arc, and no Tar Heel scored in double figures.
Virginia has won seven consecutive games in the series, UNC's longest losing skid to an opponent since dropping nine straight to N.C. State from 1972-75.
Jay Huff and Sam Hauser teamed for 35 of UVA's points and made 7 of their 11 long-range attempts. They also defended superbly against Garrison Brooks and Armando Bacot, limiting them to 12 combined points.
Moreover, as Bennett noted, freshman Reece Beekman was exceptional despite contributing just one point. He had season-bests of eight rebounds and seven assists, with only a single turnover in 32 minutes.
Williams called Saturday his team's largest challenge of the season, "there's no question," and the game capped quite the eight days for the Tar Heels.
First came the victory at Duke last Saturday, followed by a Snapchat video of Bacot and teammate Day'Ron Sharpe socializing with others indoors maskless. Concerned by potential COVID spread, Miami justifiably declined to play Monday's scheduled game at UNC, after which Williams and his players issued separate apologies.
Williams kept his discipline of the offending players and managers private, and the entire roster was in uniform at JPJ.
North Carolina (12-7, 7-5 ACC) has been treading NCAA tournament bubble waters since January, its daily NET rankings from No. 45 to No. 64. Contrast that to Virginia, which began January at No. 45 and has since ascended to No. 6.
The Tar Heels were 54th on the NET entering Saturday, one spot ahead of Richmond, but Williams insisted Friday that he doesn't dangle the postseason carrot habitually.
Carolina's NCAA credentials, like many others', are mixed.
Pro: A non-conference schedule ranking of No. 50, thanks to contests against Iowa, Texas and Stanford.
Con: An 0-6 record in what the NET deems the most difficult, or Quadrant 1, games.
Pro: No glaring defeats. UNC's lone setback outside of Quadrant 1 was at No. 88 N.C. State by 3 points.
With home games remaining against Louisville and Florida State, North Carolina will have, COVID willing, ample opportunities to earn an NCAA bid.
The Tar Heels have played an ACC-low six home games, in part because conference dates at the Dean Dome versus Clemson, Miami were postponed. Then Saturday, their game next Tuesday against Virginia Tech was scrapped.
Williams very much wants to reschedule those contests, even though it would require the Tar Heels playing three games a week. And if that doesn't happen, he is willing to play non-conference opponents.
After improving their home record to 9-0 this season, the Cavaliers have little preparation time for their most daunting road test of the year.
Virginia plays Monday at No. 17 Florida State (11-3, 7-2), the ACC's second-place team and, according to KenPom.com, the nation's tallest squad. Fresh off their second COVID pause, the Seminoles survived feisty Wake Forest in overtime Saturday, extending their conference home winning streak to 23, second-longest in ACC history.
Duke won 26 consecutive league games at Cameron Indoor from 1997-2000, those rosters including the likes of Elton Brand, Shane Battier and Trajon Langdon.