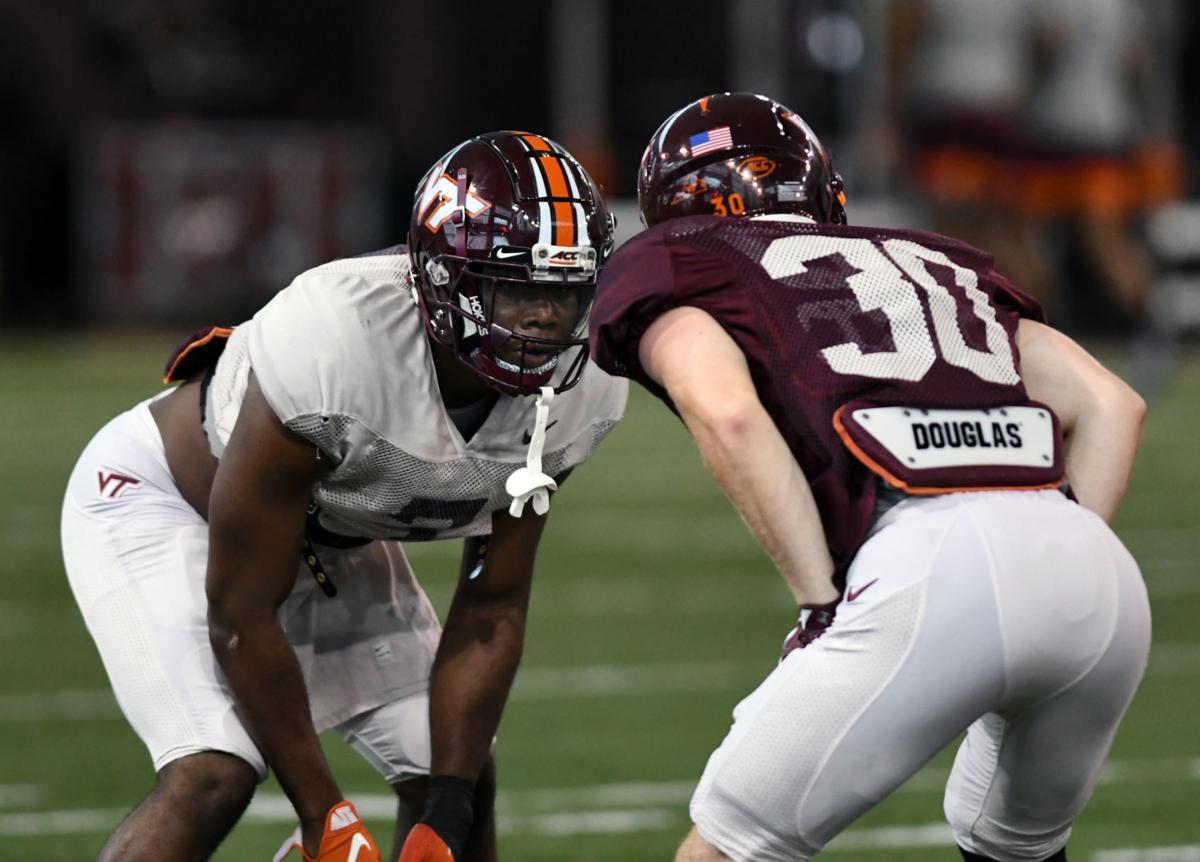 With the ACC Coastal Division title at stake, in a game replete with fourth-quarter drama, Virginia used 52 players in last season's football victory over Virginia Tech. The Hokies used 49.
One year earlier, in a double-overtime contest won by Tech, 55 Cavaliers and 50 Hokies saw the field.
Irrelevant on most occasions, game-day roster size is paramount this fall as the ACC and five other Football Bowl Subdivision conferences attempt to compete amid a pandemic.
During a season in which COVID-19 and subsequent contact tracing could shelve a significant portion of a squad, how many available bodies do you need for a game? How many at each position?
Should conferences establish minimums that, if not met, would mandate postponement or cancellation? If so, would walk-ons count toward the minimum?
How many players can you prepare to play multiple positions?
Those are among the questions coaches and league officials are pondering with the season less than a week away.
In concert with the conference's medical advisory group, ACC schools appear inclined to be flexible with numbers and leave game fitness decisions to team doctors. Conversely, the Big 12 on Friday adopted a 53-man minimum that must include at least seven offensive linemen, four defensive linemen and a quarterback — walk-ons included.
Like so many other questions surrounding the coronavirus, good luck discerning which approach is best.
"I think that it's going to have to be more nuanced," Virginia coach Bronco Mendenhall said. "At one point, the ACC coaches, this topic came up and it was an interesting discussion and an interesting dialogue. But the number of scenarios and the different thresholds and what might be at stake in the game based on record and some of the things that could be built in to variable standards by team I think is really hard to mitigate. …
"And I don't know if for some reason there [were] hard numbers, that would have to come from the medical community. And all of us, I'm sure, are cross training some players, some positions, to ensure that we have enough, but man, really hard for me to say. I don't have a model in my head what it would look like. But I'm sure there are some that have pretty strong feelings."
With in-person learning yet to start at UVA, and the football team living in what Mendenhall describes as "a fortress," the Cavaliers' training camp has been infection-free for weeks. But several of Virginia's opponents, including Virginia Tech, North Carolina and North Carolina State, confronted COVID-19 cases when students returned to campus.
N.C. State and UNC paused workouts, and the Wolfpack's Sept. 12 road contest versus the Hokies was postponed until Sept. 26. The daily chaos is taxing.
"I'm a basket case," Tech coach Justin Fuente said with a smile.
From August until season's end, Fuente is rarely expansive with reporters. But this topic animated him.
"It'd be nice," Fuente said of measurable roster guidelines. "I understand how difficult a task it is, too. I say that — football is such a different sport in terms of being so position specific. You can't line up your offensive linemen at DB, obviously. … If it hits one position group, it greatly affects not just your ability to play but the health and safety of the other players on the field for both teams. You can imagine — offensive line gets used a lot — but there's a bunch of positions where it's not just making sure you have a quarterback. It's the health and safety of the other people on the field. Do you end up playing with guys that should never be out there to begin with?
"I mean, we have a bunch of great kids in our program and some of them are really, really young and underdeveloped and are not ready to play in an ACC football game. Are we going to count those guys? Are we not? Nobody really knows. And I'm not criticizing the fact, because I do believe it's a very difficult decision to make."
Including walk-ons, Power Five rosters routinely exceed 100 — the FBS scholarship maximum is 85. The ACC usually caps travel squads at 72 but expanded the limit this year to 80.
Similarly, the NFL has adjusted for this virus season. Rosters remain at 53, but the practice squad was expanded from 10 to 16. Moreover, the minimum time on injured reserve was reduced from eight weeks to three weeks.
No matter the numbers, few will be surprised if infections disrupt schedules, beyond what we've already seen with Virginia Tech-N.C. State. Miami is set to host UAB on Thursday, followed by a busy Saturday that includes four conference matchups: Duke-Notre Dame, Clemson-Wake Forest, Syracuse-North Carolina and Georgia Tech-Florida State.
"If we've got enough guys that are healthy enough to play, and it doesn't matter who they are [to] make the game safe, then we should play even if we're at a true disadvantage that some of our best players aren't playing," North Carolina coach Mack Brown said. "That should not determine whether we play or not. But we would wait and our doctor would be the only one that would tell us that we couldn't play. …
"I trust doctors, and I trust coaches. I know coaches are competitive, and they want to win. But none of us are going to put a young guy on the field that's not safe, for him, or for the opponent."