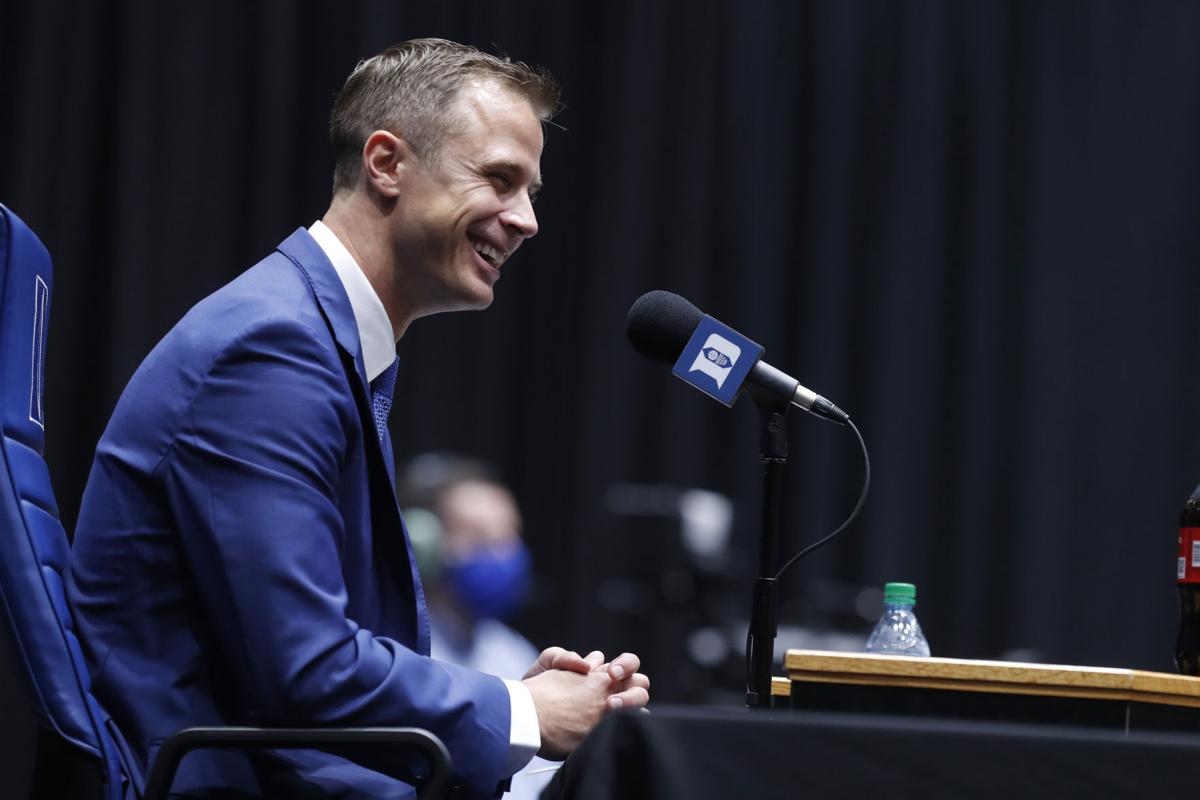 Jeff Jones has lived much of what Jon Scheyer and Hubert Davis are about to encounter.
Rookie head coach in the ACC? Check.
Promoted from in-house to succeed a revered figure? Check.
At the school where he started on a Final Four team? Check.
Oh, there are contrasts to what Jones experienced at Virginia and what Scheyer and Davis face at Duke and North Carolina, respectively. Chief among them are expectations and scrutiny.
The Cavaliers had never won a national championship when the university hired Jones in April 1990 — the Tar Heels and Blue Devils own 11 combined. Moreover, for all the interest in UVA basketball, it does not reach Duke-Carolina proportions.
Preparing for his ninth season as Old Dominion's head coach, Jones has the self-awareness and sense of humor to note another difference.
"At the very least, you have to give Carolina and Duke credit for not making a mess of it," he said with a laugh. "That's kind of what happened at Virginia. I'm obviously appreciative that it ended up being me, but I don't know that I made a whole hell of a lot of sense.
"[Duke and Carolina] were decisive. So I think there's a smooth transition."
Decisive, for sure. The Blue Devils announced Mike Krzyzewski's impending retirement and Scheyer's promotion simultaneously June 2. The Tar Heels elevated Davis four days after Roy Williams stepped down April 1.
Virginia's search to replace Terry Holland was 10-plus months of next-level weirdness.
The saga began in late June of 1989, when Holland accepted the athletics director's position at Davidson College, his alma mater. But rather than transition immediately, Davidson and UVA allowed Holland to coach a 16th and final season at Virginia, which he had guided to Final Fours in 1981 and '84.
A starter on the '81 team, Jones was Holland's youngest and least-experienced assistant, and few considered him a serious big-whistle candidate. But following a farewell tour in which the Cavaliers reached the second round of the NCAA tournament — Holland's final game was a 63-61 loss to Syracuse at Richmond Coliseum — the search veered sideways.
Then-athletics director Jim Copeland focused on two sitting head coaches: Providence's Rick Barnes and Stanford's Mike Montgomery. When Barnes accepted the job, Copeland informed Montgomery, who then publicly withdrew from consideration.
But Big East commissioner Dave Gavitt, a former basketball coach and AD at Providence, persuaded Barnes to remain with the Friars. Montgomery declined to reconsider, and Copeland turned to Jones.
At 29, Jones was the youngest head coach in ACC men's basketball history. He inherited a program that had reached eight of the previous 10 NCAA tournaments and returned all-conference talents Bryant Stith and John Crotty, a core that led Virginia to another NCAA bid in Jones' debut season.
But the most difficult challenges for a fledgling head coach, Jones said, were away from the court. University politics, department politics, office politics. Parents, donors, fans. Team chemistry, scheduling, recruiting.
"I told Coach Holland after my first season that there are 100 brush fires going on at all times, and you can't put them all out," Jones said. "There's always something going on. But what you try to do is make sure that nothing turns into a raging inferno."
Krzyzewski and Williams delegated considerable responsibilities to their protégés, grooming them for the succession in command.
"Jon's done everything, and in the last few years, we've taken it up to another level," Krzyzewski said.
"I'm sure they're aware," Jones said, "but until you're the one making the call — you got to go through it to really understand."
Likes Jones in 1989-90, Scheyer is about to have front-row seat as his boss/mentor coaches a final season. The XL difference is that Scheyer and Duke will be able to recruit transparently, knowing that he is succeeding Krzyzewski.
Jones and UVA had no such luxury during Holland's goodbye year.
"We couldn't even get started in a lot of [recruiting] situations," Jones said. "Why would you consider a school where you didn't know" who would be the head coach?
Davis vowed that each member of his staff would have Carolina basketball connections and followed through. Similarly, Scheyer's staff figures to teem with Blue Devils.
With few Cavaliers in college coaching, Jones didn't have the same option. So he retained Tom Perrin from Holland's staff and searched outside for his two other hires, determined to improve UVA's state recruiting.
South Carolina assistant Brian Ellerbe came highly recommended by then-Bowling Green coach Jim Larranaga, a Jones confidant, and Southern Methodist assistant Dennis Wolff had worked in the ACC at Wake Forest.
But more than three decades after the experience, Jones is now willing to share some intrigue about his search. Before hiring Wolff, who became a lifelong friend, Jones targeted then-Kentucky assistant Tubby Smith and then-Connecticut assistant Dave Leitao.
Both declined after extensive discussions.
Within a year, Smith was the head coach at Tulsa, and in 1997-98, he guided Kentucky to a national championship. Leitao became a head coach at his alma mater, Northeastern, in 1994 and coached UVA from 2005 to 2009.
Jones, Wolff, Ellerbe and Perrin proved an effective team. The Cavaliers' 1991 recruiting class included in-state prospects Cory Alexander, Jason Williford and Yuri Barnes, plus Junior Burrough, a North Carolina native who prepped at Oak Hill Academy in southwestern Virginia. That group helped UVA reach the Sweet 16 in 1993 and Elite Eight in '95.
Jones' program lost momentum after the Elite Eight season, and three years later, Holland, who had returned to UVA as athletics director in '95, replaced Jones with then-Providence coach Pete Gillen.
"I was not worried about the X's and O's," Jones said. "Maybe it was cockiness, but it didn't matter to me, Dean Smith, Mike Krzyzewski and all that. I didn't feel intimidated."
Given their playing and coaching experiences, Scheyer and Davis shouldn't blink either as they chase history that Jones came within one victory of matching. Only one man has played in a Final Four and then coached that program to the same stage. That was Dick Harp at Kansas in 1940 and '57.
Whether Davis and/or Scheyer join that club depends on how quickly they extinguish the brush fires.