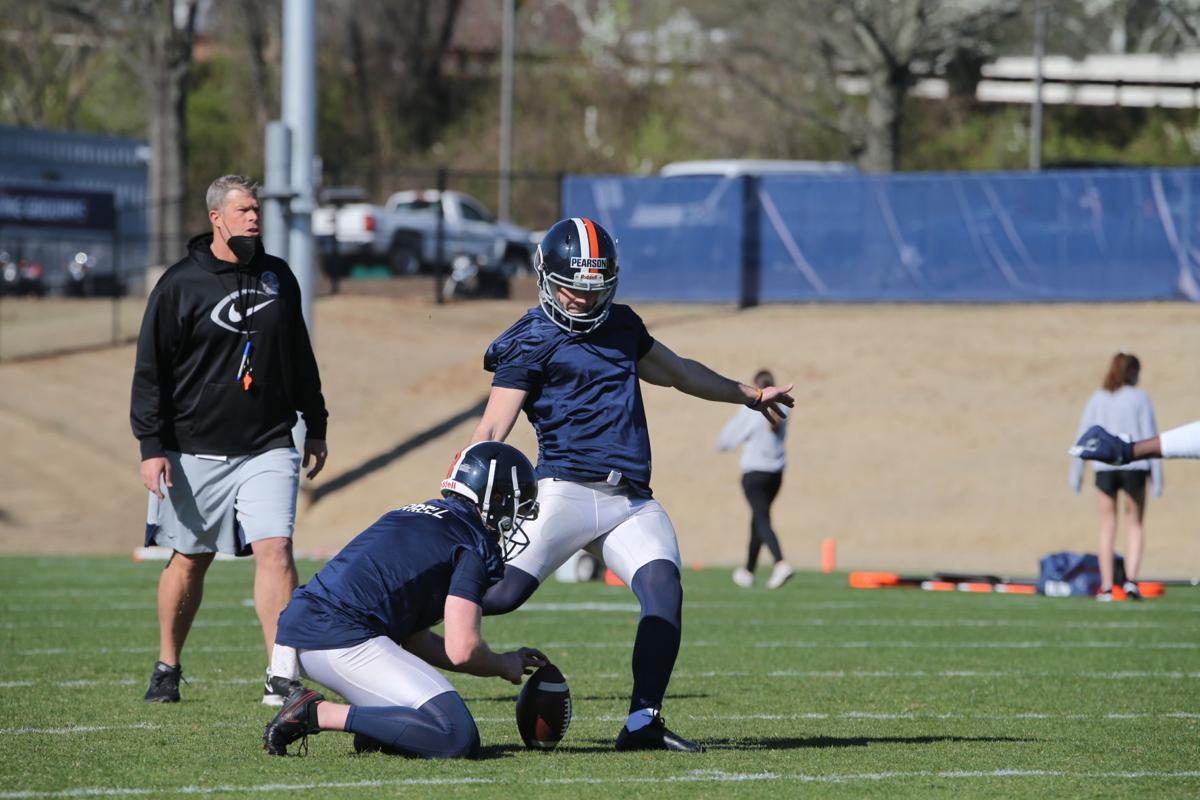 CHARLOTTESVILLE — As Hunter Pearson lined up to try a field goal in practice last season, linebacker Zane Zandier walked by the backup place kicker and loudly asked, "He's still on the team?" The playful quip, designed to rattle Pearson's rhythm, drew laughter from their Virginia football teammates.
Pearson still nailed the kick.
It's the kind of mettle UVA is looking for from Pearson as he competes with kickoff specialist Justin Duenkel this spring for the place-kicking job.
"You really get to see each one's character," said senior Danny Carraciola, who is handling the long snapping duties for both place kicks and punts this spring. "You get to see them through their ups and downs and really see who they are."
Thursday, Carraciola said, the duo showed that off by hitting field goals through gusting winds.
UVA must replace both kicker Brian Delaney, a three-year starter, and punter Nash Griffin, who held the job the past two seasons.
When asked last month, before the start of spring football practice, who would handle the place kicking and punting duties this season, coach Bronco Mendenhall revealed just how uncertain a situation it was.
"Just so you know, I had to bring a sheet just because I didn't know the answer to that," Mendenhall quipped.
Midway through spring practice, the answers Mendenhall had jotted down on his cheat sheet in March appear to be holding up.
Pearson is leading Duenkel in a tight competition for the place kicking job, while sophomore Brendan Farrell has been the team's top punter.
"I feel really good right now," said special teams coordinator Ricky Brumfield. "We're in a good position."
Mendenhall said Pearson and Duenkel are separated by percentage points in their accuracy. Brumfield said Duenkel, who sent 26 of his 43 kickoffs for touchbacks last season, has a stronger leg for distance kicks, but Pearson gets better height on his kicks, making it more difficult for opposing teams to block.
Place kicking was a bit of a mess during Mendenhall's first two seasons at Virginia. In 2016, Sam Hayward and Alex Furbank were a combined 5 for 10 on field goal tries. In 2017, Alex Mejia was steady on short kicks, going 8 for 8 inside of 40 yards, but 0 for 4 from beyond 40.
For the past three years, Brian Delaney has been a reliable place kicker for the Cavaliers, going 42 for 53 on field goals.
Last season, he didn't miss an attempt from 35 yards out or closer.
Punter has been perhaps the one position Mendenhall hasn't had to worry about during his UVA tenure. His first season, Nicholas Conte was an All-ACC selection after averaging 44.3 yards per punt. The next year, Lester Coleman took over for a two-year stint, averaging 43.7 and 41.8 yards per punt, and earning all-league honors in 2017.
The past two years, it's been Nash Griffin doing the punting for the Cavaliers, averaging 41.9 yards per kick in 2019 and 42.4 last season.
Now, UVA is turning both the punting and place-kicking jobs over to unproven commodities.
Pearson has been at UVA for three years and 37 games. He's played in two contests, none since 2018, when he went 2 for 2 on field goals and 6 for 6 on extra points.
Duenkel has kicked a single extra point in his college career, back in 2019.
Farrell has been a member of the Virginia team for two years and 24 games, but has yet to punt in a college game.
"I went into spring with some anxiety that way," said Mendenhall.