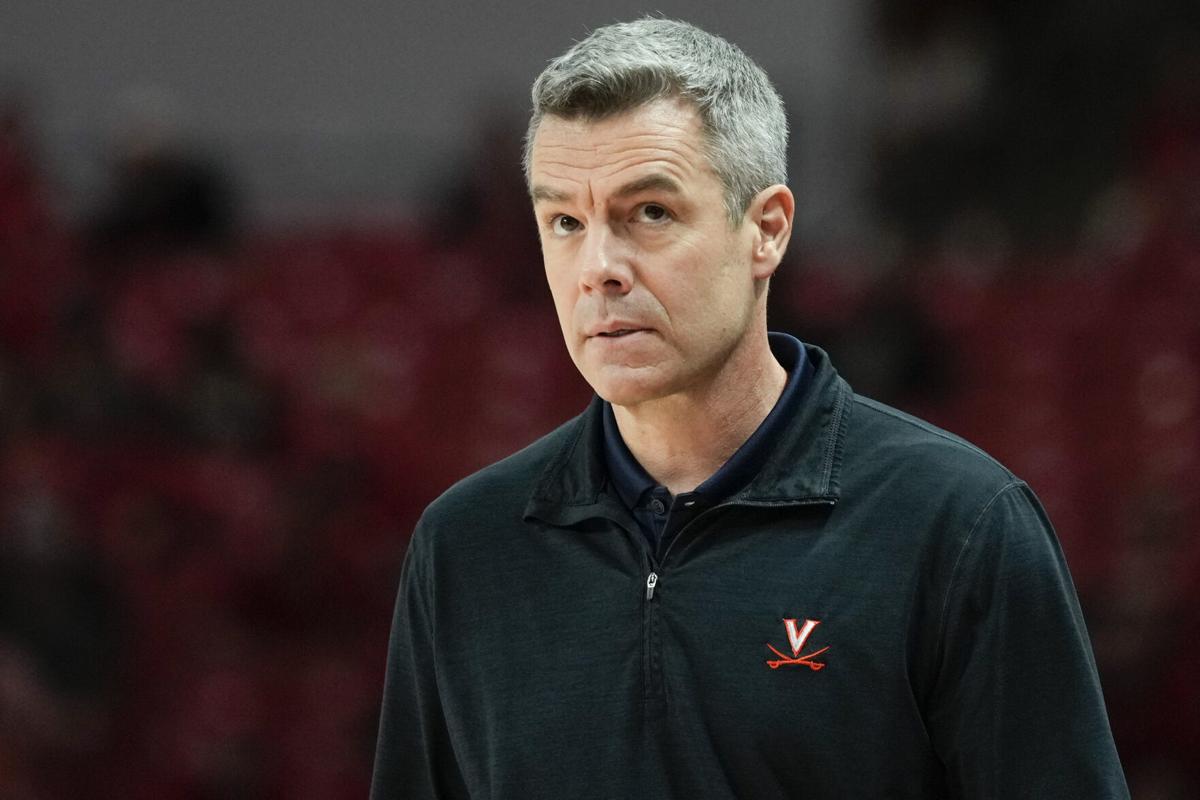 CHARLOTTESVILLE — Tony Bennett pushed his hand through his hair and laughed as he answered a question about his Virginia basketball team's eight first-half turnovers in its win over Coppin State on Friday night.
"Why I'm grayer," said Bennett. "We just have to keep trying to clean that up, but you have to play free and aggressive. Find that balance."
Bennett's team did clean up its ball security after the break, turning it over just three times in the second half. But it has been an area the Cavaliers (2-2) have struggled with early on this season, committing 54 turnovers in its first four outings, an un-Bennett like average of 13 per game.
UVA turned it over 17 times in its 67-47 loss at No. 15 Houston on Nov. 16, miscues that led to 16 Cougars points.
"It's always a point of emphasis," said Bennett. "You know, there are the nonchalant turnovers. … And then there's the ones where it's great defense. … It's sort of the nonchalant ones that I struggle with that are costly."
It will need to be a point of emphasis over the next two games as Virginia heads to Newark, N.J., to play in the Legends Classic.
It faces Georgia (2-2) on Monday night. The Bulldogs have forced 56 turnovers in their first four games, an average of 14 per game, with just over half (29) coming off of steals. Guard Aaron Cook leads the defense with six steals.
Virginia's second game in Newark will either be against Northwestern or Providence, who both go into the week undefeated. Northwestern has forced 65 turnovers in four games, an average of 16.3 per game, while Providence has turned opponents over 43 times in its four contests (10.8 per game).
"We know that you can't win a game having a lot of turnovers, so we have to eliminate that," said sophomore guard Malachi Poindexter. "I think sometimes we can get a little sped up but I believe if we just slow down, everything will go in our direction."
The turnovers are especially concerning because UVA has shown it's still very much a "work in progress," as Bennett has said multiple times this year. The Cavaliers are forging a new identity on emphasis, focused on the low-post scoring of East Carolina transfer forward Jayden Gardner, while adjusting to a dearth of outside shooting.
UVA ranks 12th in the 15-team ACC in 3-point field goal percentage, hitting just 30.6% of its shots from beyond the arc this season. Its 22 made 3-pointers are the fifth fewest in the league.
Defensively, with Gardner, Indiana transfer Armaan Franklin and its freshmen new to the program, and sophomores Kadin Shedrick and Francisco Caffaro in bigger roles, Virginia is still coming together defensively as well.
All that means a smaller margin of error for Bennett's team and that means it can't afford high turnover totals.
"It's a little tighter to the vest right now with this group, so every possession matters," said Bennett. "You don't want to give away the ones that lead to fast breaks or just an empty possession."
Playing Georgia on Monday will also reunite Bennett with a familiar face. Guard Jabri Abdur-Rahim joined the Bulldogs after spending last season at UVA, where he saw limited minutes in eight games. This year he's averaging 4.5 points and 3.3 rebounds per game while playing 18.7 minutes per outing for Georgia.
He started the opener against Florida International, but struggled, going 0 for 5 shooting and committing three turnovers. He's been more effective coming off the bench the past three games. In Saturday's loss to Georgia Tech, he posted career highs scoring 10 points and playing 22 minutes.