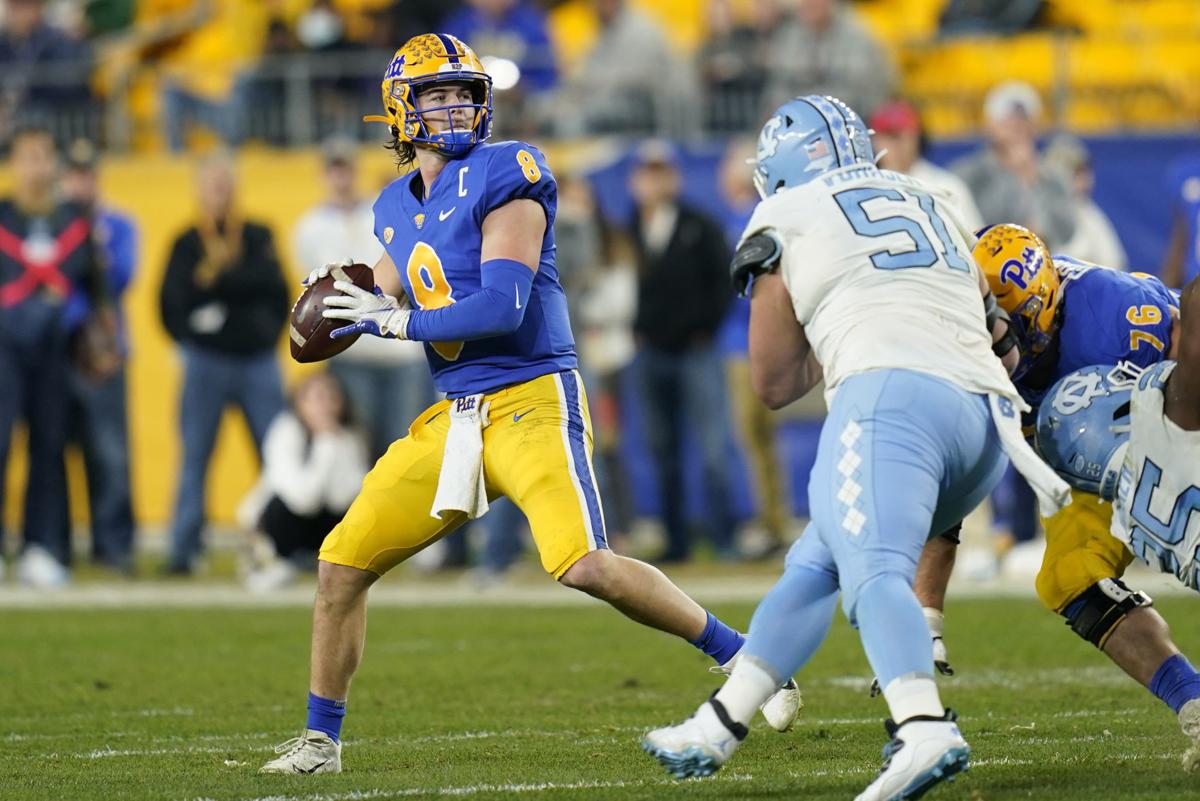 CHARLOTTESVILLE — Even as he spent the week preparing to face Virginia's defense, Pitt star quarterback Kenny Pickett admitted he doesn't know what to expect from the Cavaliers on Saturday at Heinz Field.
That's nothing new for the ACC's leader in touchdown passes.
"We've seen a lot of different defenses," said Pickett. "We prepare for one thing and we see another. We're prepared for what they've shown and we're obviously going to be prepared to change on the fly."
Virginia co-defensive coordinator Nick Howell said tricking Pickett, who has thrown 32 scoring strikes and just four interceptions, is largely a waste of time, considering Pittsburgh is 10 games into the season and Pickett, a fifth-year senior, has 49 career games under his belt.
"I don't think there's going to be anything that we do that's a surprise to them," said Howell. "Probably everybody's tried everything that's humanly possible to try to confuse him or whatever and go into a game and say, 'We're going to disguise this. We're going to pick him.' He's throwing the ball every game."
Indeed, Pickett — a four-year starter — has tossed multiple touchdown passes in every game this season and has thrown for more than 300 yards in seven of the Panthers' 10 outings, including the last four. That's helped the No. 18 Panthers (8-2, 5-1 ACC) to the top of the standings in the ACC's Coastal Division. They can clinch the title with a win Saturday.
UVA (6-4, 4-2) can clinch the Coastal by beating Pittsburgh and rival Virginia Tech in the regular-season finale, a task that becomes exponentially more difficult if the Cavaliers' star quarterback, Brennan Armstrong, misses his second straight game due to a rib injury.
Virginia's defense, meanwhile, has developed a late-season case of missed tackles that hurt the team in back-to-back losses to BYU and Notre Dame.
UVA has handled Pickett effectively in its previous two meetings with him, however. The teams didn't play last season, due to COVID-19's impact on the ACC schedule. In 2019, UVA won 30-14 in Pittsburgh, holding Pickett to a pedestrian 21 for 41 for 185 yards showing throwing the ball. He threw one touchdown pass and one interception in that game.
The year before, Pitt rode its running game to a 23-13 win. Pickett was just 7 of 14 for 61 yards and didn't throw for a score.
In both of those games, the Cavaliers sacked him four times.
This year's version of Virginia's defense hasn't been nearly as aggressive going after the quarterback, rushing just three for much of the year and using more of a 3-3-5 alignment. The result has been fewer long passes over the top of the defense but more rushing yards against UVA and far less pressure on opposing quarterbacks.
Virginia's 12 sacks in 10 games are the fewest in the ACC, a big part of the reason opponents are converting 41.5% of the time on the third against it, the third worst mark in the league.
In Saturday night's loss to Notre Dame, the Cavaliers did employ more four-down linemen looks but still didn't manage a sack in their 28-3 loss to the seventh-ranked Fighting Irish.
Pickett's mobility only makes that challenge greater.
"The quarterback is really skilled, capable of making any throw, mobile, he can scramble and elude pressure," said UVA coach Bronco Mendenhall. "He's difficult to sack."
Pickett's least productive game this season was against Virginia's rival, Virginia Tech, on Oct. 16 in Blacksburg. He threw for a season-low 203 yards that day and completed 59.5% of his passes, his second lowest mark this year.
Of course, the Panthers won that game 28-7, rushing for 208 yards, a good reminder that Pickett isn't alone in leading the Panthers' offensive charge.
Under coordinator Mark Whipple, Pitt has a scheme that challenges opposing defenses by spreading the ball around in the passing attack while maintaining an effective run game.
The Panthers rank second nationally averaging 531.1 yards of total offense per game. Wide receiver Jordan Addison is tied for the national lead with 11 touchdown receptions.
"I think, very similar to our offense, the ball goes to a lot of different places," said Mendenhall. "There's just a lot of different challenging concepts they use offensively, which have generated a lot of points. The diversity of what they do and the volume of players the ball is distributed to I think are probably the two biggest challenges."